Kanom Beuang Yuan – Pork-Shrimp Crispy Crepes
My favourite cook book of all time is the bright pink "Thai Food" by David Thompson. Then he writes his second book, the must have 2nd edition to his repertoire "Thai Street Food". If you like Asia food and the history and culture of it, you have to buy these books! You must buy these books. They truly are inspirational. And this is where I gained inspiration for this recipe which should delight you, here comes my version of Kanom Beuang Yuan – Pork-Shrimp Crispy Crepes.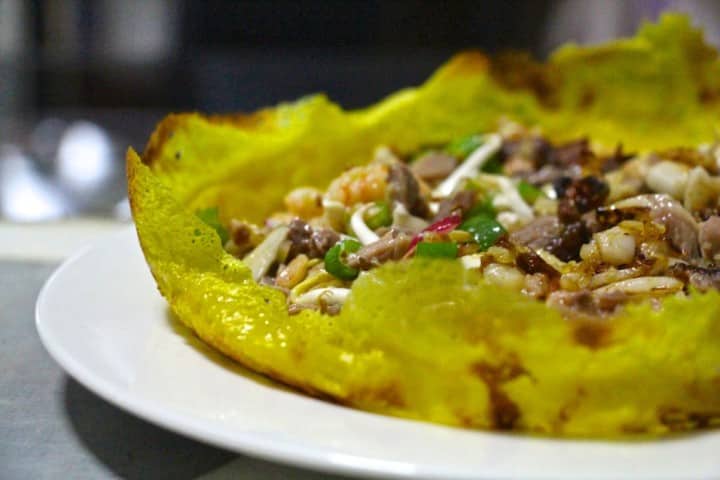 I love street food and of course I love Thai food. So Thai street food is right up there as the best in class in my opinion. Now Kanom Beuang Yuan is indeed that, and this recipe of mine is Thai street food. But I warn you now this is right up there on the complexity-meter. Originally this recipe comes from Vietnam, with Yuan being the old Thai word for Vietnam.
My advice is don't cook it, but jump on a plane to Bangkok and eat it there. See the sights, smell the smells, mix with the people. Plus this took me about three goes to be able to do the 'baskets', before one came out right. It is an instinct thing here, and you have to let it cook a little longer than you think is safe before burning. You will actually see smoke coming out from the side of the basket which is actually the spices cooking, not the basket burning. DON'T PANIC!!!
The results though were amazing. The basket was simply delicious and the mixed ingredients in the basket just so very tasty together. It is indeed a belter so maybe worth having a go at cooking it, if you can't get that flight booked. So if you are ready my friends I shall begin a rather long recipe for this wonderful Thai street food dish of Kanom Beuang Yuan – Pork-Shrimp Crispy Crepes.
This is enough for 4-6 depending how big you want to make them;
Phase I – the batter;
Place the flour in to a bowl and add about half of the coconut cream and mix with a whisk. This will go really thin in consistency. Then add all the other ingredients except the lemon grass and again whisk it up. It should form a nice thin batter that runs off a spoon. If too thick add a little more lime water. Pop in the lemon grass stalk and throw it in the fridge for at least 30 minutes to allow it to settle and the lemon grass to infuse.
Phase II – The garnish;
Mix all if this in a bowl and set aside.
Phase III – The paste;
Out with pestle and mortar and bash the combined ingredients into a paste. Set aside.
Phase IV – The Filling;
Take Phase III. Heat some oil in a large pan and fry off the paste. You will get amazing smells as this starts to cook. Stir in all the other ingredients and cook until the prawns are cooked and have turned pink. Quick taste test – salty.
Phase V – finishing off, the tough part;
Take a small wok and get it heating. Pour a little oil in and move that around the wok to coat all the sides. Then take a kitchen towel and wipe it to remove the excess oil. Careful here as you can burn yourself very easily here (as I did).
Back on the heat. OK here we go, the real tough part.
Ladle in some of the batter to make a thin layer, almost crepe like. Move it around so it covers most of the small work. Reduce the heat, and now sit and wait. It will puff up, may start to look like it is burning and may smoke. This is just the spices in there cooking off. After about 4-5 minutes it should start to peel away from the sides. With your fingers peel it away a little and pour a little oil down the side. Then again move the pan around so the oil gets under all of the basket. This will now start to fry it and make it crispy.
Nearly there. Keep checking the underneath to ensure not burning and when it is golden brown and crisp you are done.
Take Phase III and spoon some in to the basket as this will warm it and cause the greens to wilt a little.
Take Phase IV and spoon some on top of Phase III, again just to warm it with all the other ingredients.
Well done you have finished my Kanom Beuang Yuan – Pork-Shrimp Crispy Crepes. Move that from the pan to a plate and serve up.
You are going to love this as it is a major flavour-fest. The basket is zingy and turmericy, the filling is salty, the garnish is herby. All together BOOM. So good luck with this one and impress your family and friends as it does look bloody good too!!! Hope you enjoy the Kanom Beuang Yuan – Pork-Shrimp Crispy Crepes  as much as us.
ENJOY!!!