Chinese Chicken and Sweetcorn Soup
What can I say? The kids love chicken and sweetcorn soup. We have taken to going to Chinese restaurants and hawkers, ordering chicken and sweet corn soup and adding some plain rice to create a sort of congee thing that my Amy adores. Here is my spin on Chinese Chicken and Sweetcorn Soup. I am pretty certain your kids will love it also.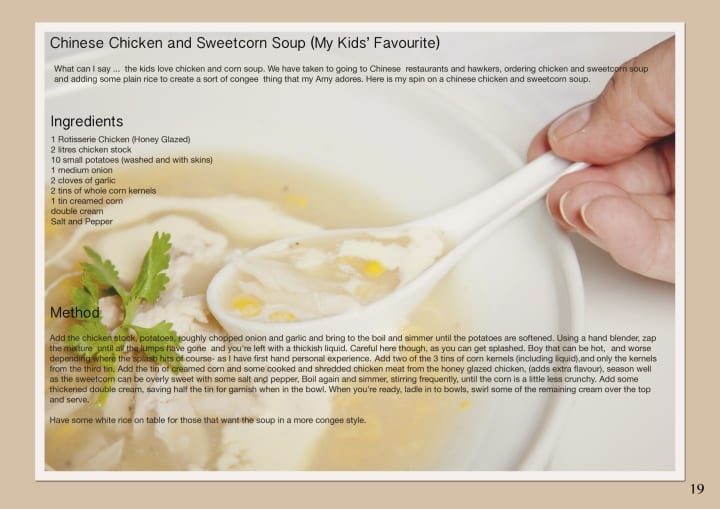 For a monster bowl of Chinese Chicken and Sweetcorn Soup, you'll need;
2 litres of chicken stock;
10 small potatoes chopped to cubes – I used washed ones with skins on;
3 tins of sweetcorn;
1 tin creamed corn;
1 roughly chopped mid-size onion;
1 tub double cream;
2-3 chicken breasts – simply boil until cooked and shred;
2 roughly chopped garlic gloves; and
A good pinch of salt and cracked black pepper.
Pop the stock in to a pot, add the chopped potatoes, onion, garlic and salt & pepper. Bring to a boil and then reduce to a simmer until the potatoes are softened. Then bring out your hand blender – a MUST have in all kitchens – and zap the mixture until all the lumps have gone and you're left with a thickish liquid. This is your Chinese Chicken and Sweetcorn Soup base.
Next take 3 tins of whole corn kernels. Add two of the tins including the liquid and drain the 3rd tin and just add the corn. Add the tin of creamed corn. Add some cooked and shredded chicken meat (I cheated here and went to the local supermarket and bought a rotisserie honey glazed chicken, and stripped the meat off).
Boil again and simmer, stirring frequently, until the corn is a little less crunchy. Add some the double cream, saving half the tub for garnishing when the soup is in the bowl.
When you're ready, ladle into bowls, swirl some of the remaining cream over the top and serve. Have some white rice on table for those that want to add to this the soup to make it more of a congee style.
"Winner, winner, Chinese Chicken and Sweetcorn Soup dinner." This really is a great dish. So very simple, but so very effective. My lot love this, and I am absolutely confident that yours will too.
ENJOY!!!
Connect with Us on Social Media