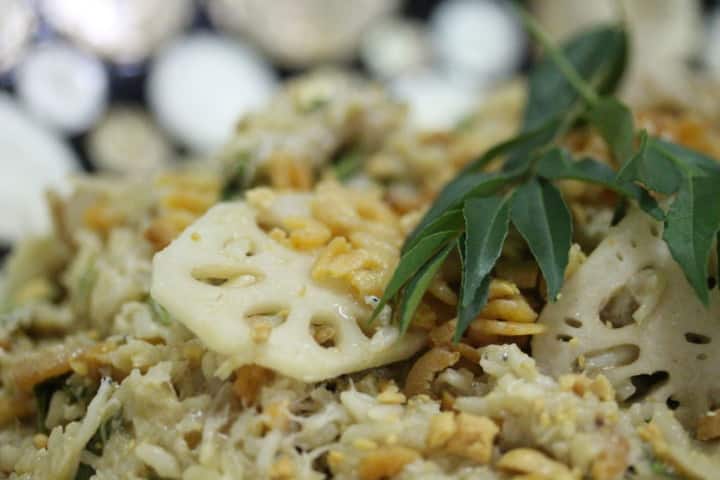 So this was a third fried rice dish I did on this day. Mary, Ollie and Glenda tucked in to this one. Easily enough for 4-5 people here.
Did they like this – hell yes. I got some ideas for this when reading a book on Peranakan foods, and spotting a rather interesting one called Nasi Ulam. I'll give something like that a go then for the gang – they being the more fishy eaters in the family. Came out a stonker – so hope you enjoy too.
You will need;
3 lemongrass stalks chopped finely, again only use the inner softer fleshy part and discard the woody exterior leaves;
2 handfuls of salted peanuts, that you bash up a little in a pestle and mortar;
1 packet of ripped up Thai basil – normal will do, but do try to get Thai basil, or Holy basil it is also known as;
1 packet of ripped up coriander or Chinese parsley;
1 packet of laksa leaves, basically strip the leaves from the woody stalks;
1 tub of processed crab meat;
1 packet of Ebi sliced to bite sized pieces, which is a sort of smoked eel from Japan – you could always use smoked haddock though as an alternative;
1 cup of dried prawns – just soak them in some cold water for 5-10 minutes to soften them a little;
1 cup of bean-sprouts;
3 finely sliced shallots;
2 tablespoons of finely chopped garlic;
10 or so thin slices of lotus root;
4 cups of steamed white rice;
4-5 kaffir lime leaves – simply roll them up in to a tube and then slice thinly;
A pinch of salt and white pepper; and
1 finely chopped chili padi.
Agreed, there are a lot of ingredient here for this dish. But therein lies the greatness. Imagine all these flavours popping off in your mouth. Quite an amazing variety, but a variety that absolutely was match made in heaven – well so the gang said.
Take that wok again (where would you be without one – phew!) and get on the heat, and swig in some cooking oil.
In go garlic, shallots, lemongrass, chili padi and fry this off for 5-10 minutes without burning it. In with the lotus roots, and lime leaves and stir fry again for 5 minutes or so. Add in the rice and mix all that through to make a nice even covering of the flavours on to the rice.
In with your salt & pepper, soy sauce, crab meat, shrimps, ebi and bean-sprouts. Cook this again for about 10 minutes or so.
Off the heat and stir through the laksa leaves, coriander, Thai basil and crushed peanuts.
Get it on the table quickly.
Enjoy my friends. Sort of a Nasi Ulam.
(Visited 29 times, 1 visits today)