Dragon Chamber @ 2 Circular Road
Wow, what a gem we found today. Well, when I say found it was actually recommended by my Boss. Thanks for that Pete this is a cracker. Now I'll warn you not to watch the first video if you don't want to get a spoiler of the rather special thing that happens when you rock up at 2 Circular Road. There is an additional beauty of an absolutely unique twist before you even get to be sat down and lifting up your chopsticks. More of that in the video if you want to watch. But, you can still watch the second video as that is #foodheaven. Enticing not spoiling!!!
They state;
"An immersive hidden restaurant serving guerrilla-style food that reinterprets delicious age-old Chinese dishes."
Man oh man I am so hooked now with that intrigue. And so today we took the boss recommendation. I kept this secret from the whole family advising them we were going some special, but not exactly where so they could not check it out beforehand. This was going to be a 'surprise' and it really was when we rocked up. You should have seen their faces.
It was just brilliant. If you watch the video you will see them all bemused and then WOW'd, hahaha. Winner!!!
WATCH THE VIDEOS HERE
As I mentioned the very cool 'arrival and entrance' is unique. The food is off-the-charts good, as you will see. There is food theatre constantly hitting you right between the eyes. The looks smells and tastes were umami on steroids.
This place is quality from top to bottom and left to right and is an absolutely MUST-TRY recommendation from the Kennett-crew.
I'll go to their crew again so you can hear from them;
"The flavours are immense, contrasting well-loved Chinese-American recipes, Dragon Chamber pushes the diner's comfort zone with adventurous dishes that may even shock diners with unusual Chinese techniques of nose-to-tail animal preparation. Among its own wild concoctions from The Dragon Chamber's kitchen, the underground restaurant also brings back age-old Chinese dishes that never caught on in mainstream restaurants, because of their unconventional ingredients."
One dish has a crocodile foot as the main ingredient and one of their soups even has crocodile pen!s – I kid you not. We'll be having that next time I think. I was worried it might get stuck in my throat hahaha. So when they say nose to tail they ain't joking. Bring it on. This is literally food-heaven. Plus a huge open kitchen so you can see the masters and artisans of their trade, in full action offering yet more food theatre.
Be proud Dragon Chamber @ 2 Circular Road your entire crew and product are just quality.
One thing is apparent here –
There is no appetite for mediocrity.
Find them at
2 Circular Rd,
Singapore 049358
Call them at +65 6805 8181
Enquire via contact@thedragonchamber.com
Book via events@thedragonchamber.com
Dragon Chamber @ 2 Circular Road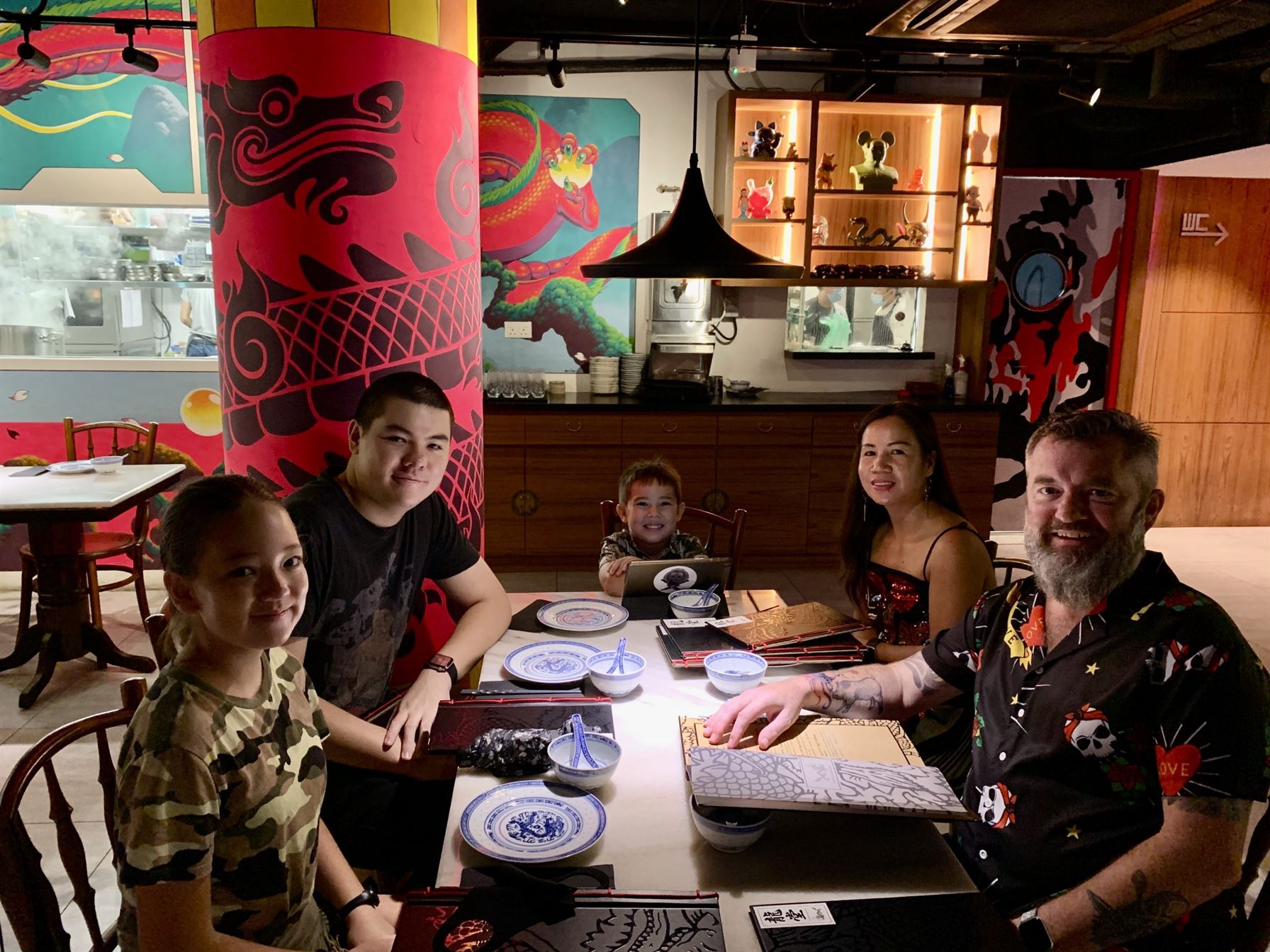 I'll have to share one food item that we ordered that is in the video only – whoopsy!!!
So you have to watch the video now!!! The serving of this was #foodheaven…
Wagyu Truffle Beef Hor Fun was just off-the-charts good. Finished off at the table-side with Spring onions and then the truffle sauce on top of the onsen egg and then the server mixes it all up. I kid you not a classic dish of 1, 2, 3 genius!!!
1 they hit the eyes with this food theatre of table-side, then 2, the truffle sauce aroma smacks you in the nose along with that lardy/beef/smokiness, and then 3 you eat and also get the textures of crunch and soft. Wow. One of the very best things this gob has ever eaten. It's a stunning dish, it really is. Watch the video. Holy Moly, I loved this dish!!!
Let's get their full explanation of this dish so I don't underplay it; "Hor Fun' wok-fried noodles served with premium US Wagyu Shortribs, crispy deep-fried hor fun strips, poached egg and finished with truffle gravy."
And there you have it. Our little foray into pastures new today. What a find. What an absolutely cracking find. Thanks again to my boss Pete for highlighting this to me. We'll be going back here that is for absolutely certain. 
I'll say it again Dragon Chamber @ 2 Circular Road, be proud of the serving to the cooking crew because that was exceptional. 6 hours later and we are still talking about our experience. One of the best from an end-to-end experience, with theatre and incredible food to wow your senses. It's up there folks. Go and you will absolutely!
ENJOY!!!
Connect with Us on Social Media