Brekkie from The Cheese Shop, just the best for 2023
So the kids were treated like Royalty again this morning for brekkie. A brekkie that came courtesy of our BFFs at The Cheese Shop on Joo Chiat. I had a little delivery yesterday which inspired me to pull the brekkie tother for them this morning. That inspiration initially came from seeing crumpets on the online delivery portal. My kids have never eaten crumpets. I am such a terrible English parent. Today I will rectify that shortcoming from their foodie lives with Brekkie from The Cheese Shop.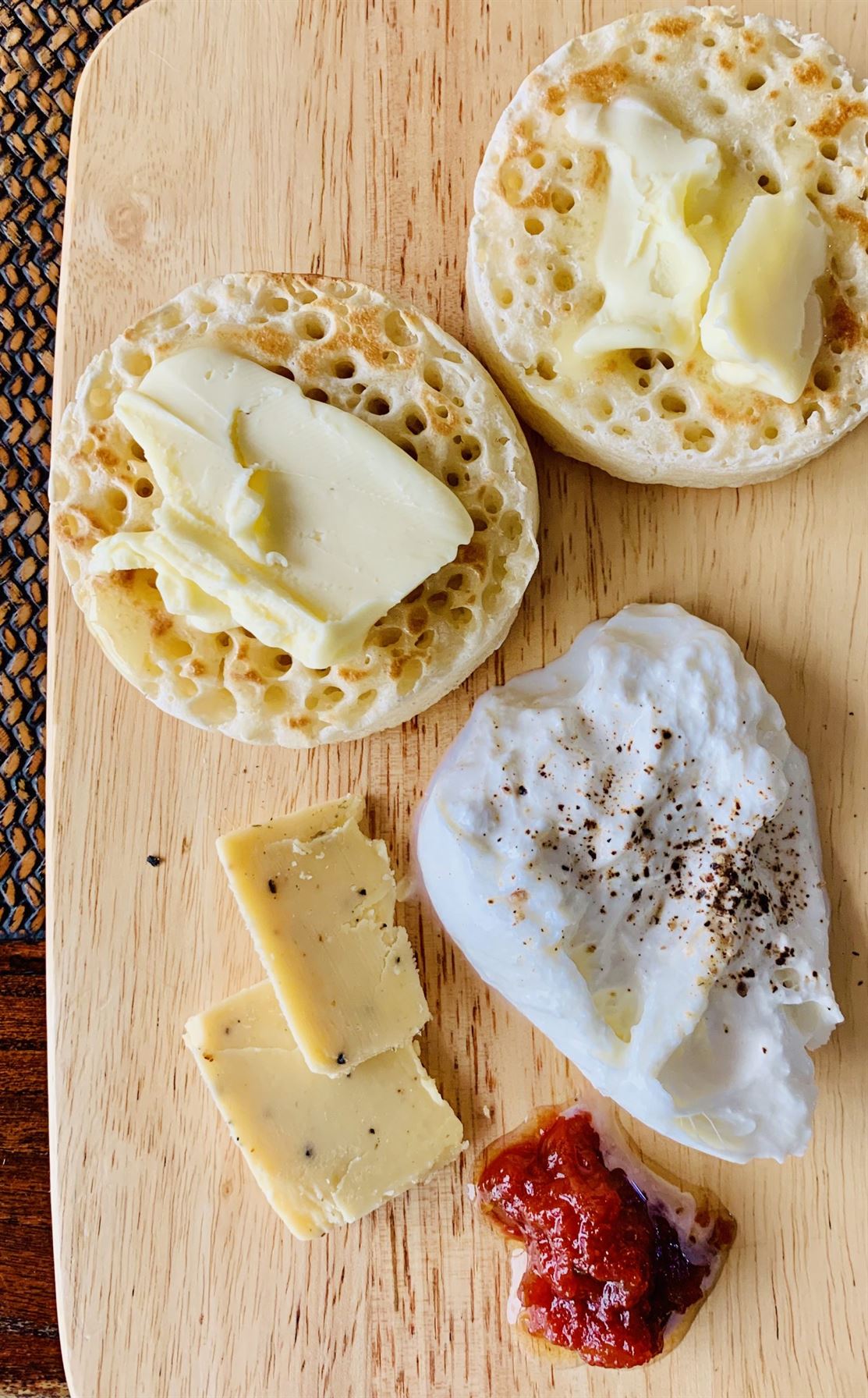 I'd take that any day of the week at a fancy hotel for breakfast. Simple but so good-looking. Let's get stuck in The Cheese Shop brekkie platter…
Nothing for me to do apart from plating. So what did I plate?
Brekkie from The Cheese Shop
English Crumpets 'w' the incredible French Janier raw cream salted butter
Burrata

– so stunningly creamy. I did a wee sprinkle of some cracked black pepper

Godminster Vintage Organic Cheddar with Truffle – holy moly, a stunner of a cheese
All nicely paired 'w' Bloody Mary

Salsa (soooo good!!!)
And that was all I had to do for brekkie this morning from The Cheese Shop. Toast some crumpets, cut some cheese, and spoon some salsa. So easy and so absolutely delicious. Incredible in fact. Great work from our BFFs at The Cheese Shop. You made my job easy today. This was Brekkie from The Cheese Shop – ENJOY!!!
The Cheese Shop Singapore
The Cheese Shop Singapore is a specialized store that offers reasonably priced, high-quality cheeses and other natural foods. It is a retail and online store with physical sites in the east and west of Singapore that specializes in fine cheeses, wines, and food.
The Cheese Shop Singapore Address
What are the origins of the humble breakfast?
Breakfast is a meal that has been consumed in many nations worldwide since prehistoric times. In written English, the term "breakfast" first appeared in the 15th century, literally meaning "to break the fast of the prior night." The equivalent word in Old English was "morgenmete," which translates to "morning meal." Every area and culture has its own distinctive traditional breakfast menu, with a wide range of food options. The earliest inhabitants of the United States usually started their days by eating whatever was most readily accessible, which could include bread, eggs, or other similar foods.
Here are a heap more Breakfast Recipes for you to try from ISLIFERECIPE