DB Bistro Moderne
Hmmm well I thought this man, this chef, a tad arrogant – well he is French after all, but… I have to say this restaurant is bloody good. Food it top drawer. Save your money though as it isn't cheap. I welcome you to DB Bistro Moderne @ Marina Bay Sands.
Off I went to take Amy to Hi5 one day, and then after Mary, Ollie and Jude joined us to go to lunch. Where to go? We are in Marina Bay Sands, in the theatre – what's that opposite a pizza joint, excellent. Ahhhh no tables for an hour OK – bugger. What's that next door? DB Bistro Moderne. DB what? Ahhh it's Daniel Boulud's restaurant.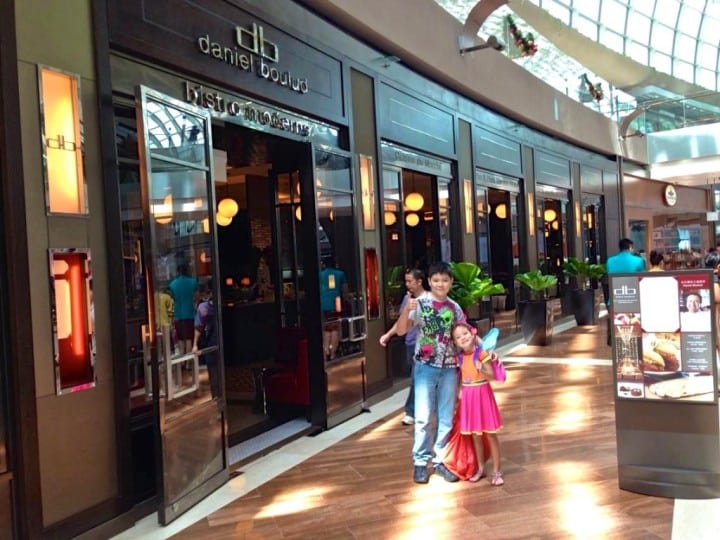 Now I'll state again that this is up there again on price-o-meter but bugger me it was truly inspiring food and 100% a place you should try if you live in NYC or Singapore (yes he has one in each city). You just have to. French influence of course, but with little fusion spins throughout the amazing menu options. I will take you on our journey through DB Bistro Moderne.
To start let's have some oysters – French of course and SO SO fresh. Sprinkle of salt, pepper and a wee squeeze of lemon and boom! Delicious! Not fishy at all, just briney. Man these were good!!!
Next up a sharing soup. French onion soup to be exact. This was brilliant. Actually made with beef consommé as a stock. Oh man oh man! Gruyere cheese atop, caramelised onions and croutons. Best I have ever had as a standard soup, but I will still say Gourmet Plus, on Frankel is the best ever.
Yep a thirst kicks in – so alongside my beer I have a Bloody Mary. Check this bad boy out. Look at the skewer sticking from the top. A prawn, a pickled chili, rolled ham and capers, asparagus, a tomato etc. spicy with a major kick of horse-radish. Wow this was the ultimate pick-me-up. It was soooo good – BUT at $28, the pick-me-up was actually getting me off the floor with an empty wallet. But I have to say well done to DB Bistro Moderne, it was a damn fine Bloody Mary.
Hey Daniel you have copied me (remember my previous blog?). I had to try his though to compare. Not bad. Nice and crunchy sprouts, with nice and smoky/salty bacon. But mate add some chill and this would be a winner. This was the one dish we did not finish, so we did a take home. Everything else was devoured. Says something right. Not disappointing, just not up to the standard of the rest it has to be said. Daniel mate, try my recipe Asian Sprouts with Bacon.
Amy orders a Croque Monsieur – and boy did she order well. This was absolutely gorgeous. Packed with beautiful smoky ham. Seriously this thing was DEEP and topped with melted gruyere cheese – come on!!! Nice one DB Bistro Moderne.
BUT the very best was yet to come. The best burger I have EVER had in my life. The menu describes it as; "The original DB Burger – Sirloin burger filled with braised short ribs and foie gras, served on a parmesan bun." As soon as I saw burger and foie gras I was hooked. DB Bistro Moderne you sure are on to a winner here. This thing is incredible.
This was just incredible. A burger made of ground steak, filled, yes folks filled, with braised rib meat and a huge lump of foie gras in the middle. You have to be kidding me right. Nope. That is indeed what it is. A huge burger, like 2 inches deep, filled with slow cooked, braised, melt-in-mouth rib meat and then a big blob of the ultimate foie gras. I am having naughty thoughts about it right now!!!
Medium rare if you don't mind. And yes we'll take three of those please. The bun was delicious. A horse-radish mayo atop and I think some fennel and tomatoes beneath. It was simply exquisite. The VERY best I have ever had. Well done DB Bistro Moderne.
To close I would say DB Bistro Moderne is a must try. We had all the kids and indeed it was truly a family affair. The staff were wonderful, helpful, engaging, chatty, and actually just really fun. The balance was perfect. You have to try.
ENJOY!!!
Connect with Us on Social Media