Thai style orange juice prawns
One of those recipes that you have to ask yourself; "You have to be kidding me, Thai style orange juice prawns... are you serious?" Believe me I am absolutely 100% serious and this is turned out a superb dish.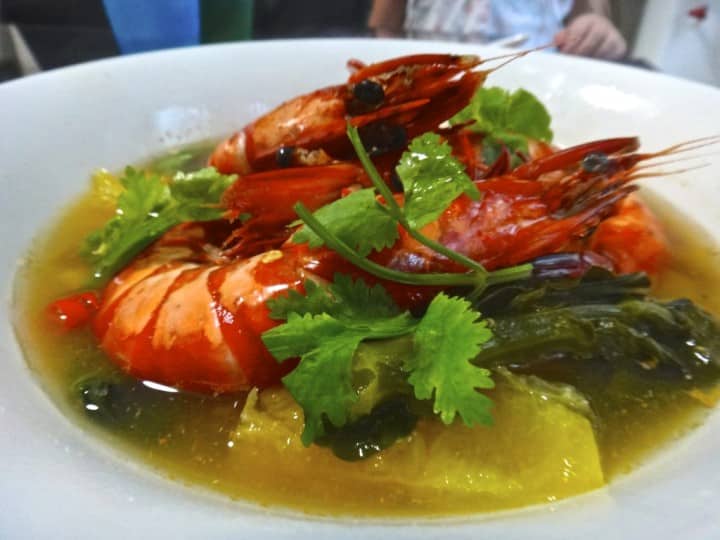 This one is whacky, I'll give you that. Orange juice, orange segments, chili and fish paste – does not exactly sound like a marriage made in heaven now does it? But I was only applying the same core underlying principals of Thai food – sweet, sour, spicy, salty, my Thai style orange juice prawns.
This will easily make enough for 4-6 people depending on appetite. You will need;
2 litres of chicken stock;
2-3 snapper fillets (or any firm white fish) cut in to bit sized slices;
3 prawns per person – I trimmed off the antennae and cooked them whole for extra flavor in the shells;
2 cups of orange juice;
1 orange peeled, cleaned and segmented;
1 handful bok choi or similar greens;
1 handful of halved cherry tomatoes;
1 handful of long beans cut in to 1″ pieces;
1 sliced zucchini or eggplant;
1 tablespoon of brown sugar;
2 tablespoons of tamarind paste/liquid;
4 tablespoons fish sauce; and
1 handful of ripped coriander, for garnishing the finished soup.
For the soup 'base', you will need;
4 roughly chopped shallots;
2 roughly chopped chili padi;
1 inch galangal or young ginger roughly chopped;
4 roughly chopped garlic cloves;
4 roughly chopped kaffir lime leaves;
½ teaspoon of shrimp paste; and
1 tablespoon fish sauce.
Make the 'soup base' first by combining all the ingredients in a blender and blitz until all mixed up. Set this to one side;
Take a soup pot and add in the 2 litres of chicken stock, turn on high heat and bring to the boil;
As it is reaches boiling point add in the orange juice, tamarind, sugar, fish sauce, and the soup 'base' you just made;
Bring to the boil and then reduce to a simmer;
Add in the tougher vegetables now for about 3-4 minutes on their own;
Once they are done in goes the rest of the ingredients;
This will only need another 3-5 minutes, literally until the prawns goes pink and the fish is cooked through.
Serve this up in big bowls, and sprinkle with some coriander and some more chopped chili if you so desire. There was much debate in family Kennett as I prepared Thai style orange juice prawns as they were watching me get the ingredients ready and thought I was daft. But there was no debate after the first spoonful went in their gobs, as after that all were slurping and not saying a single word. That's all I need to see – ENJOY!!!
Is Life a Recipe YouTube Channel
(Visited 23 times, 1 visits today)