Cheese Tomato & Ham Mini Frittata
Strawberry Blonde could not work out what she wanted for brekkie this day, so I resorted to a Bill Wallace Friendly recipe to use up the left-overs and bits and pieces from the fridge. It came out rather special and rather delicious it has to be said. And she ate like a Princess today which is always good right? So she had ChillaxBBQ Stay@Home Recipes #18, which just for her today, as alone she had Cheese, Tomato & Ham mini-Frittata. Hence it being mini I suppose…? Fair shout actually, as this is a one-person dish.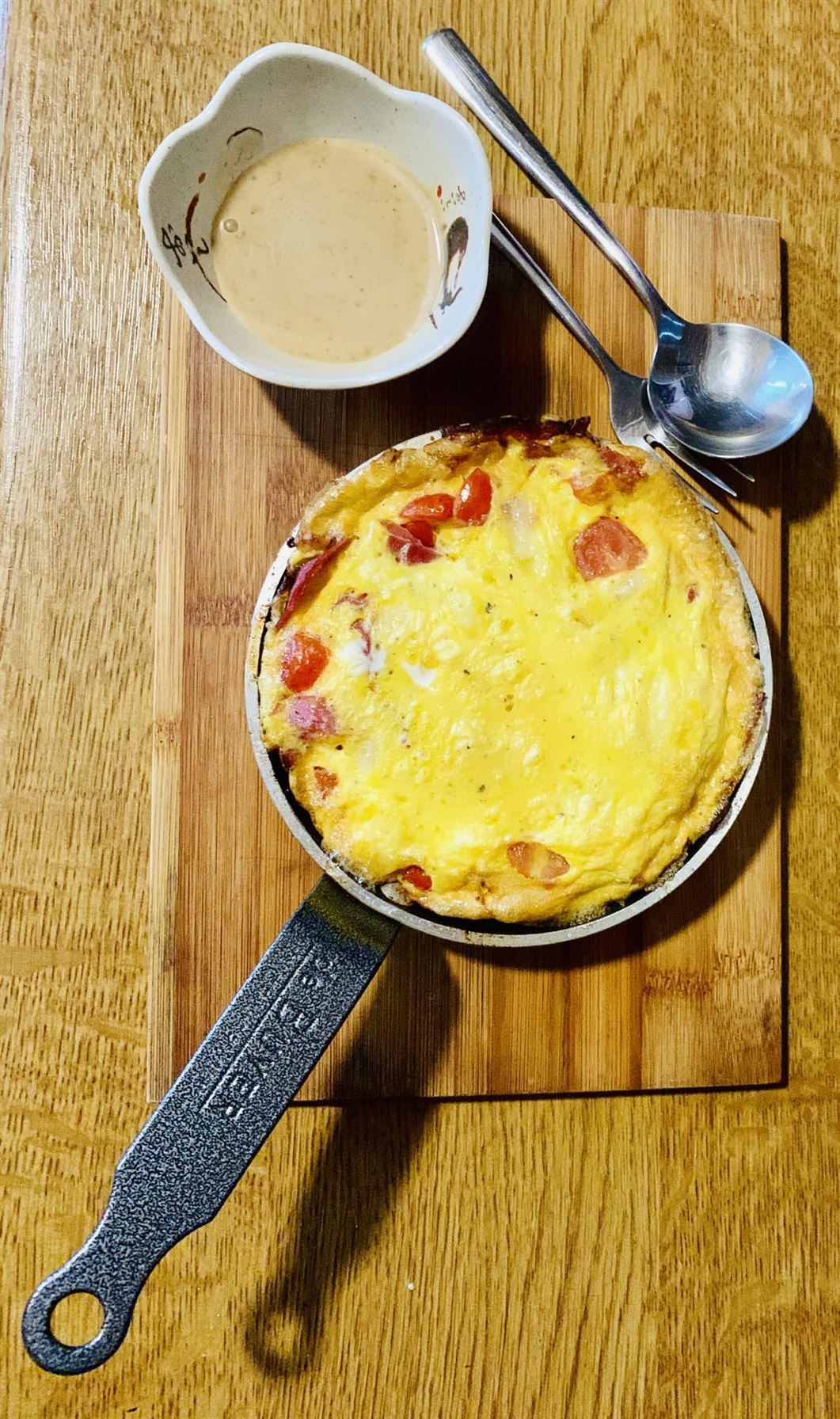 You'll need for the one-person dish;
2 beaten eggs;
2 slices of finely sliced ham;
5-6 Cherry tomatoes cut in half;
1 Tsp of finely chopped garlic;
Sea salt & cracked black pepper;
Japanese sesame salad dressing – Strawberry Blonde would shower in this if she could, but it does sort of go with everything…
ChillaxBBQ Stay@Home Recipes #18 goes like this.
Mix all the ingredients in a bowl;
Season with a little sea salt & cracked black pepper;
Pour into a mini fry-pan (oven-friendly if you have one);
Get that on the gas and watch until the underside is nicely golden brown (like the picture above);
Then whack it in the oven at 180 degrees for 5-1 minutes;
It will puff up as the eggs cook, I love this about Frittata;
Cook this until nicely browned on top and the middle feels spongey, not like liquid.
And that is it. Serve ChillaxBBQ Stay@Home Recipes #18 how you want. In or out of the pan. I like it in pan cos it is all Chef-like and restaurant stylee. At the end of the day, it will taste the same, so really who cares. You could sprinkle some chilli flakes on top for colour and texture, you could also add some smoked paprika into the egg mix in the 1st place when mixing. These are your choices for yet another easy and easily adaptable recipe for Stay@Home. But as this was for Strawberry Blonde it was 'toned-down' to what it could have been. This was Cheese, Tomato & Ham mini-Frittata – ENJOY!!!
Connect with Us on Social Media