Thai Mussels Recipe
Thai Mussels Recipe, is another from ChillaxBBQ. This time it is our ChillaxBBQ Thai Styled Seared Mussels. These had their first airing at AJ's 1st month party at Club Meatballs. It was something a little different, to mix up the meat dishes. As usual, we have kept this so simple for you. But again, as usual, we'd still like you to invite us round to cook it for you. Delicious Thai Mussels Recipe.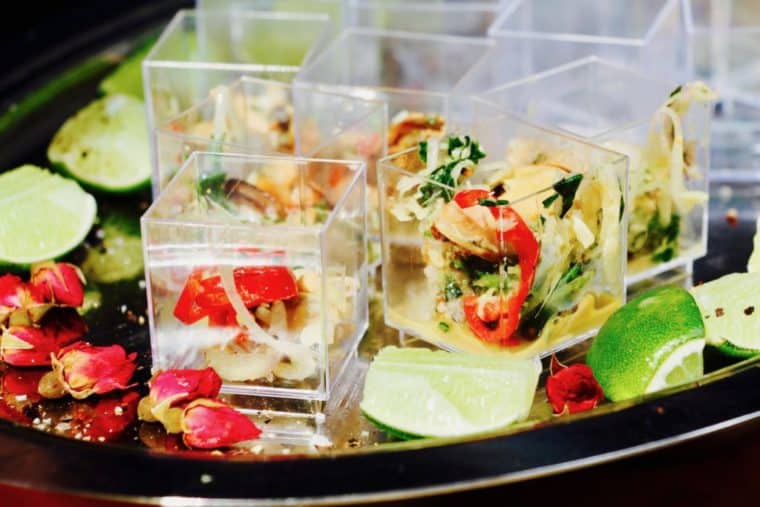 Here comes Thai Styled Seared Mussels. a Delicious Thai Mussels Recipe.
Get a big pan on the BBQ coals and get it hot;
Drizzle in a little oil and get that smoking;
In with;

About a kilo of fresh mussels with or without shells (your choice);
Finely chop up about 3 lemon grass stalks (chop off top and tail and remove any woody outer skins first);
Roll up 5-6 Kaffir lime leaves, and finely slice;
Finely chop up, the cleaned roots, of some coriander;
2 tablespoons of finely chopped garlic;
3 finely sliced Jalapeno peppers (your choice of heat here – today we were cooking for 100, so had to tame it down); and
A good sprinkle of sea salt and cracked black pepper.
Get that stir-fried through until the mussels are cooked nicely. Off the heat and stir in some roughly ripped-up Thai basil and fresh coriander. Serve up with some toasted crusty bread, and some sliced lime wedges as you can see in the photo.
That's that my friends, Delicious Thai Mussels Recipe. Seriously how easy was that? The aroma from this is killer. It looks incredible with all those vibrant colors, and it is a little quirky way of serving. Seemed to be accepted by all though as the Thai Styled Seared Mussels flew off the serving platter. So please have a go yourself or bell the boys and me. Either way, I know you will – ENJOY!!!
Thai Coconut Curry Mussels: another quick and simple Thai Mussels Recipe for you
Ingredients:
2 pounds (about 1 kg) of fresh mussels, cleaned and debearded
1 can (13.5 oz / 400 ml) coconut milk
2 tablespoons red curry paste
1 tablespoon vegetable oil
1 onion, thinly sliced
3 cloves garlic, minced
1 red bell pepper, thinly sliced
1 cup chicken or vegetable broth
2 tablespoons fish sauce
1 tablespoon brown sugar or palm sugar
Juice of 1 lime
1/4 cup chopped fresh cilantro leaves
Thai basil leaves for garnish
Red chili flakes (optional, for extra heat)
Salt, to taste
Instructions:
Prepare the Mussels:

Scrub and clean the mussels under cold water, removing any dirt or debris. Discard any mussels that are open and do not close when tapped.
Remove the beards (the hairy part) from the mussels if they are still attached.

Prepare the Curry Base:

Heat the vegetable oil in a large pot or deep skillet over medium heat.
Add the onion and red bell pepper. Sauté for a few minutes until softened.

Add Flavors:

Add the minced garlic and red curry paste to the pot. Cook for about 1-2 minutes until fragrant.
Pour in the coconut milk and chicken or vegetable broth. Stir well to combine.

Add Seasonings:

Stir in the fish sauce and brown sugar (or palm sugar). Allow the mixture to come to a gentle simmer.

Cook the Mussels:

Carefully add the cleaned mussels to the pot. Give everything a good stir to ensure the mussels are coated with the curry sauce.
Cover the pot and let the mussels cook for about 5-7 minutes. The mussels are ready when they have opened up. Discard any mussels that remain closed after cooking.

Finish and Serve:

Squeeze the juice of one lime over the mussels and curry.
Taste the curry and adjust the seasoning with salt as needed.
Sprinkle chopped cilantro leaves over the mussels.
Optionally, garnish with torn Thai basil leaves and red chili flakes for extra flavor and heat.

Serve and Enjoy:

Ladle the mussels and the fragrant coconut curry sauce into serving bowls.
Serve with steamed jasmine rice or crusty bread to soak up the delicious sauce.
This Thai coconut curry mussels recipe is a wonderful blend of flavors – the creamy coconut milk, the spicy red curry paste, and the freshness of the lime and herbs. Enjoy your meal!