Kontiki Restaurant, Passion Wave @ Marina Bay
Mates who are still down Tanjong Katong Road, have told me about Kontiki Restaurant, Passion Wave @ Marina Bay. Today we get the chance to experience it ourselves. It was all Mary's idea. We'd had a wonderful day at Satay by the Bay, and the kid's waterpark there. Where to go for dinner though?
"How about a walk over the barrage, and have dinner at that place they built after we moved?" said my Mary. Which, of course, is exactly what we did do. We found Kontiki Restaurant, Passion Wave @ Marina Bay right next to our old condo. Why couldn't they have built this place when we still lived there?
We ate like Kings and Queens for dinner this evening. It is such a great restaurant;
– The staff were just incredible – so friendly and attentive;
– Chef even stops you if you pop to the loo to ask how the food was;
– The decor is quirky, which I love. With guitar seats, anvil tables, deck-chair tables, driftwood statues etc. You have to see it;
– Pricing was not that bad. It certainly was not cheapest, but certainly not the most expensive;
– To the food. The food. Guys, you have to take a walk, as we did, or get a taxi here. The food is exceptionally good. It is fresh. It is perfectly cooked. A few additions you can add on just knock it out of the park for me. What a top restaurant on Upper East Coast.
I'd book as it get bloody busy folks; service@kontiki.sg or +65 6268 5225
They are located @ Passion Wave @ Marina Bay, 11 Rhu Cross, #01-02.
Go get 'em, I know you will not be disappointed. What did we eat today.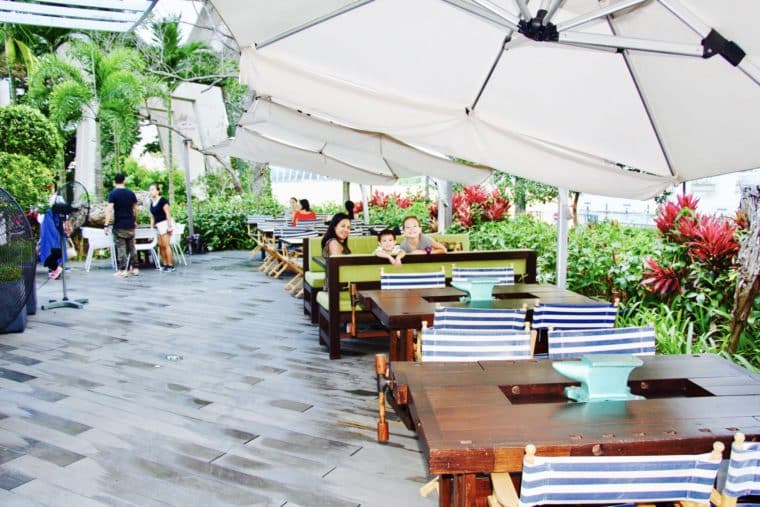 And then my Baby Jude decides he is going to try and outdo the Chef (sorry Chef, I think he might have had you with this dish), but creating his own dish at dessert. He has not named it yet, but it is basically cold chips, with a vanilla ice cream and tomato sauce marinade. Truly inspiring Baby Jude. Who'd have thought of that amazing match made in heaven Kontiki Restaurant, Passion Wave @ Marina Bay, watch out you have some competition, it seems. Watch him below.
There it is folks our amazing dinner at Kontiki Restaurant, Passion Wave @ Marina Bay. All for the sum of $161, for four of us. We had 1 starter, 3 mains, 2 desserts, 2 lagers, and 1 cider. I think that is damned good pricing, especially when you look at what was served up. Amazing. We'll be back. You should absolutely go, and if you do – ENJOY!!!