Cheesy Creamy Garlic Spuds
These came out absolutely great – a must-try is my fabulous Cheesy Creamy Garlic Spuds. They'll go with pretty much anything, but they are quite rich, so be warned. I had these with some roast pork, which I had marinated with paprika. So a perfect combination of heat, pork and Cheesy Creamy Garlic Spuds. Oh yes, a winner of a 'side' dish is this one.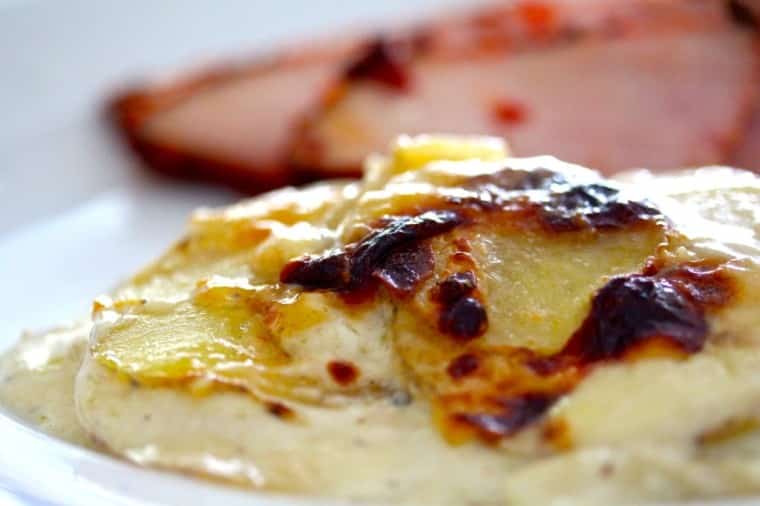 To easily feed 4-6 with Cheesy Creamy Garlic Spuds as a substantial side dish, you will need;
10 medium-sized potatoes – I left the skins on, but washed them and then finely sliced them on my mandolin;
1 tub of full or double cream;
1-2 packets of mixed grated cheese;
10 finely chopped garlic cloves; and
The usual good pinch of sea salt and cracked black pepper.
This really is a very very simple recipe but has great outcomes. Cheesy Creamy Garlic Spuds, really are so easy to make – here we go;
Turn your oven on to 240;
Get a pan on the boil with some salted water, and drop the thinly sliced spuds. Blanch them in the hot water for 2-3 minutes – drain and set aside;
Take a medium-sized oven baking tray and lay the potato slices in an overlapping fashion all over the bottom to a double thickness;
Sprinkle with salt and pepper;
Spread garlic all over;
Pour half the tub of cream all over;
Sprinkle evenly all over with grated cheese;
Place another double layer of potatoes, sprinkle with salt and pepper, pour on the rest of the cream, and again a sprinkle of cheese all over; and then
Place another layer of potatoes and just cheese this time.
In the oven for 15-20 minutes until the cheese is nicely browning. It should not need any longer than this as the potatoes are pretty much cooked already. Finished. Serve this up with your main course and hey presto Cheesy Creamy Garlic Spuds that will knock your socks off.
I think you'll agree, that even a child could make my Cheesy Creamy Garlic Spuds. Simple and delicious, in fact simply delicious. These are a must make, so go on then – ENJOY!!!