Pie n Mash Recipe
So from from my previous blog of "Pie n Mash with Mr C of The Shamen" – here comes the recipe for said dish from The Semi-Naked Chef. This came out very well I think bearing in mind the conditions, literally baking pies at a BBQ pit with a portable oven. Plus add to that that I had never cooked or prepared pies before. Not a bad bloody outcome. And believe me everything from scratch from pastry, filling to eel liquor. Phew quite a task – but for my mucker Cockney Spencer Campbell – no issue!!!
Here she blows – the finished look you are after.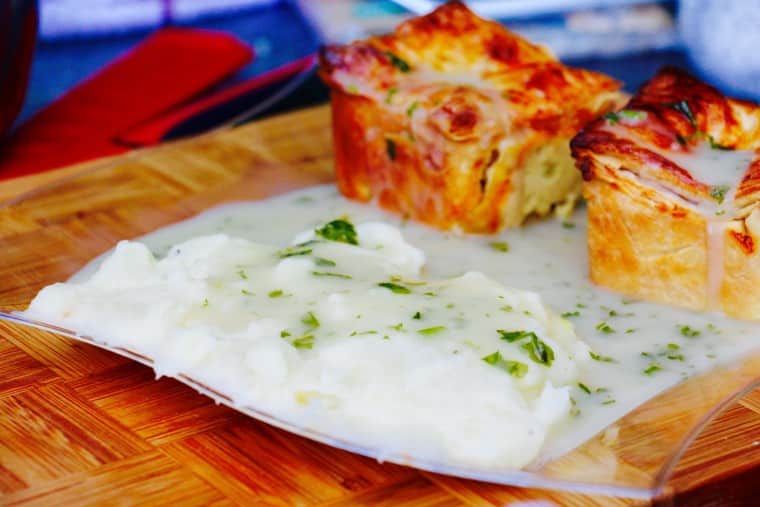 Not bad right?
Short crust pastry for the pie bottom and flaky pastry for the top. Stuffed with minced beefy goodness. Are you ready to begin?
Now I made absolutely bloody tonnes of pies as had 40+ people at the party, so here is a sensible amount to make about 10 or so pies. You will also need pie cases – I actually used square muffin cases as you can see from the pie shape. It worked perfectly. I would just say up front do you want big pies or small pies, or even one pie? I ended up using all the spare pastry and meat mix to make two big buggers in bread tins that ended up round mates houses being consumed over the next few days. Nice!
Here we go.
First up is the short crust pastry;
250 grammes plain flour;
125 grammes salted butter;
Pinch of salt; and
1-2 eggs.
In a large bowl place the flour. Chope the butter to small cubes and throw on in. Now 'massage' this continually. This will kill your hands I bet. Keep going. You want this to turn to a crumb like consistency. Yep like crumbs. Takes a while believe me, so keep going, come on you can do it. When you get to this point add in the eggs, a pinch of salt and start the process again. Massage massage massage. What should happen is that it all comes together eventually in a big ball – jut like this.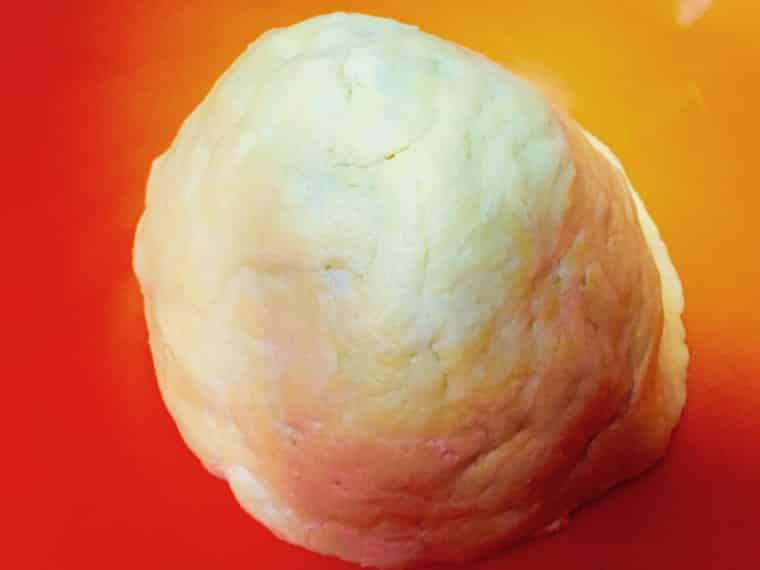 Now you need treat this as a bad child. Leave it alone and banish it to the fridge for a couple of hours to chill down. Now this is just the short crust pasty folks. I will completely admit I cheated and bought the flaky pastry – that I could not be arsed to make at all. That is painful, layer, butter, roll, layer, butter, roll etc. No thanks. But I demand the short crust from you – OK? This is after all a complete pie n mash recipe from The Semi-Naked Chef.
Once you have let it chill pull her out of the fridge. You'll need a nice flat service, some plain flour, a rolling pin and some butter. I got Amy to rub a thin layer of butter in to the muffin tins, double non-stick basically.
Pull a lump of the pastry off the big lump, sprinkle some flour down on the work surface and then slam down the pastry. Flatten it out by hand and sprinkle some flour on top. Then commence rolling. Up and down and side to side to keep the shape roughly square. You want to get this nice and thing, as nothing worse that great big thick lumps of pastry in your pie. So about a cm thick type thing. This next bit was all rather painful and took forever to do. Putting it in to the muffin mould and then pushing in to the corner and then trimming off the excess to leave just enough to stick the flaky pastry on top too.
I'll finish this bit off now. Assume the mixture is done as below. Spoon that in to each pie, and then rub some egg wash over the short crust pastry sides, and then cut to size the flaky pastry and sort of glue it together. I then took a sharp knife and stabbed a couple of small holes in the top of the flaky pastry to let the steam out, and with a fork then went around all four sides of the flaky pastry gently pushing it down to stick it to the short crust pastry. You can see that from the picture above. See the little grooves all the way round the pie – looks fancy like. To finish brush the top of each pie with more egg wash and that will give you that gorgeous colour on top of each pie – sort of professional like yes?
OK let's go to the filling now;
500g minced beef;
1 roughly chopped onion;
2 finely chopped garlic cloves;
2 heaped teaspoons tomato puree;
1 heaped teaspoon English mustard;
2 tablespoons of plain flour;
1 handful chopped mushrooms – I used button (any would do); and
1/2 can of Ale – I used Kilkenny (can I say that?).
Brown off the minced beef in a large pan with a little olive oil. When that is cooked add in the garlic, and onion and cook for about another 3-5 minutes. Add in a little plain flour, you want to sprinkle this in to avoid any lumps. Why flour? Well my friend you are making a gravy from all the minced beef juice. A nice thick gravy.
Add in the mustard, mushrooms, tomato puree, beer and a very good pinch of salt and cracked black pepper. I also added in a little seasoning liquid, and a beef stock cube about now.
Cover the pan and let this simmer away for about 20 minutes. You are done. Have a wee taste. It may need a little more salt & pepper so oblige if that is the case. Maybe even a little more English mustard, up to you and your personal taste. This is your pie n mash recipe courtesy of The Semi-Naked Chef.
And that my friends, is that. A delicious – in fact super delicious pie filling and pastry. Once you have done assembling all the pie elements, whack them in a 200 degree oven until the pastry is risen and golden brown like the photo. Carefully slide them out and serve. I tell you what I challenge anyone to say these aren't bloody delicious. In fact these were still being eaten a day or two later they were that good – and I don't mind saying that myself folks.
Pie n Mash Recipe – from The Semi-Naked Chef – ENJOY!!!