La Barca Beans
I ate the dish alongside the best steak I think I have EVER had. This experience was at La Barca restaurant. Off home, I ran to recreate, replicate and the outcome is as follows, my version of La Barca Beans.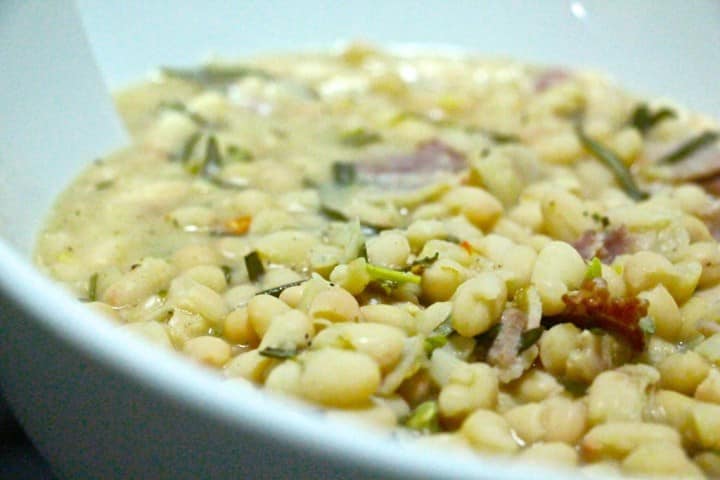 La Barca Beans can be consumed at this beautiful hidden away restaurant, La Barca Ristoranti, that serves huge chargrilled steaks, with hot stones for you to cook further if your preference is more well done. And accompanying that monster steak is this dish of white beans. I found these so delicious, I thought I would have a go at re-creating the dish.
For a nice side dish for four PAX you'll need;
2 tins Cannellini beans including the juices;
1 tin of butter beans including the juices;
3 sprigs of rosemary including stalks;
4-5 sprigs of thyme including the stalks;
2 finely chopped chili padi;
3 finely sliced garlic cloves;
Some good Olive oil; and
A good pinch of sea salt and cracked black pepper.
This is quite a simple recipe as usual. This is my La Barca Beans;
Tip the three cans of beans in a saucepan and get that on high heat;

Add in the rosemary, thyme, chill, garlic and sea salt & cracked black pepper;

Bring to a boil and then reduce to a slow simmer and let those ingredients infuse for 5 minutes or so;

You are basically letting the herby flavours get into those beans;

And that is that!!!
Serve in a nice white side dish and just drizzle a little Olive oil over the top. This is absolutely delicious and really would go well with anything, especially a huge chargrilled steak. You simply must try my La Barca Beans – ENJOY!!!
Connect with Us on Social Media