Asian Bubble and Squeak – Breakfast?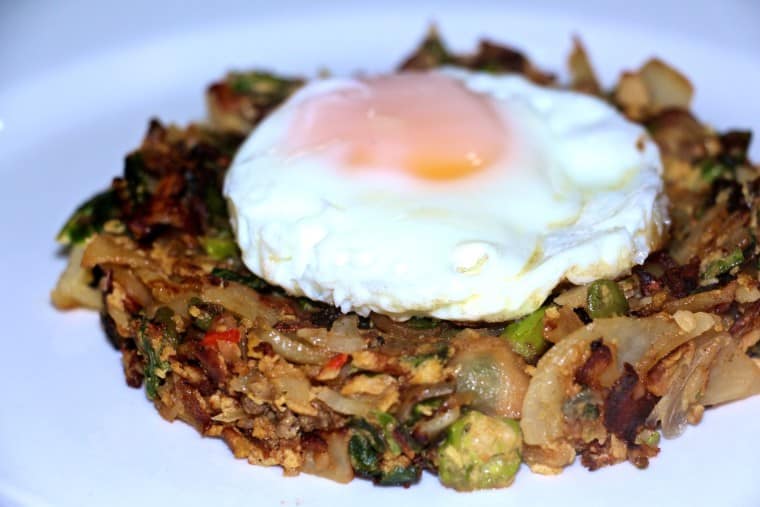 So last night we happened to be at a Thai restaurant over Geylang way. An absolute belter of a restaurant, one I am likely to write up a review about after this post as it truly is worth a visit. And one actually that has massively transformed since our last trip two years ago now. What difference – well the only difference is the look of the place, the food remains the same amazing quality.
Anyway we came home from the dinner with some packed food, namely kai lan in garlic, and Thai spicy basil beef. That will be perfect for an Asian bubble and squeak. Now for those who do not know what Asian bubble and squeak is – it is a breakfast made of left overs that you happen to have in the fridge. You sort of chop them all up and combine in a bowl and fry them. Hey presto. Now those leftovers could be anything at – hence adapting it this morning to make Asian Bubble and Squeak. Enough here for four for breakfast.
In a bowl add;
2 eggs;
1 cup of kai lan with garlic (could be any left over greens to be honest);
1 cup of Thai spice basil beef (again could be any left over meat – chicken, ham, pork knuckle, pork belly);
1/2 a rasher of back bacon finely chopped to small cube;
1 heaped teaspoon of minced garlic;
3 potatoes – if you have no left overs, simply peel, cut in half, boil in salty water until nearly cooked, and grate them. When grated just pat them with some paper towels as you want the starch of the potato not the liquid;
1 small red onion, sliced and chopped; and
A good pinch of salt & pepper.
Mix all these in the bowl so that they are all nicely combined.
I then simply fried it off with some olive oil in a pan until nicely browned and all cooked. I then used my fancy chef cooking ring things to stack up some of the mixture as you'll see in the photo. Quickly knocked up a fried egg for the top and served away.
Looks pretty good for left overs right? Truly Asian Bubble and Squeak in my thinking.
Two teenage boys – one English/Japanese and one Filipino knocked these back in about 5 minutes flat.
Clean plate time.
So come on and give Asian Bubble and Squeak a chance. Be creative, just chop up your left over stuff in to one bowl, add a couple of eggs, maybe some chili and you are off and running. Mandatory though is some potato, greens and onion. Rest is up to you – just pop that friend egg on top after though.
Asian Bubble & Squeak for Breakfast – Enjoy!!!