Banh Mi
This is a stunning recipe. I guarantee you will all love my version of the infamous Vietnamese sandwich, Banh Mi. I created this for our trip to St John's Island with our usual gang of friends. Lets knock up something different for the trip, I thought. And that is exactly how this recipe came in in to being.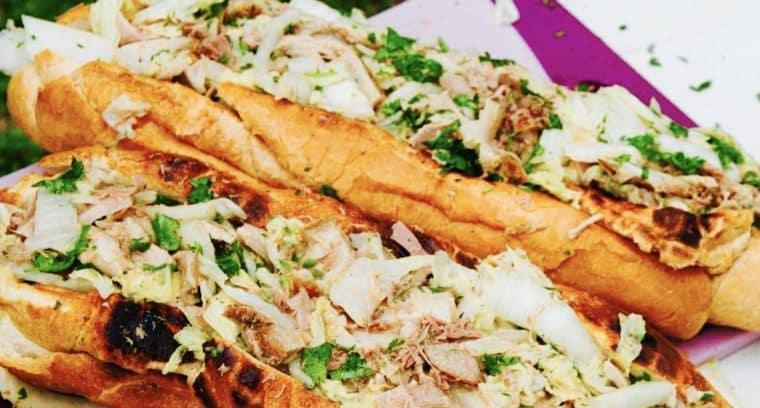 This made up two big loaves of delicious Banh Mi. This fed quite a few on the day, but was soon gone. It was cracker, and I don't mind saying that myself. Here we go, to make this beauty of a dish you will need;
2 crusty loaves;
1 think sliced Chinese cabbage;
2 tablespoons of finely chopped garlic;
1/2 a pack of salted butter;
Sea salt & cracked black pepper;
1 pork knuckle cut into bite-sized pieces (I grabbed this from Cold Storage);
2 packets of duck rillette;
2 packets of roughly chopped coriander; and
Fish sauce.
In a big pan throw in the butter, garlic, salt, pepper and cabbage with a little oil too;
Cook that slowly until the cabbage starts to wilt and then take that off the heat;
Cut the loaves lengthways, but not all the way through;
Open them up and then grill both sides until nice and crispy;
Mix the pork meat with the duck rillette;
Add in the cabbage mixture;
Add in the coriander;
Mix it all through;
Spoon that mixture equally into the loaves;
Drizzle the fish sauce over the top;
Cut into bite-sized pieces and serve.
So there you have it. My version of Banh Mi. I think you'll agree that it looks damned good. Believe me the taste was on par. So very easy to make, so very exceptional outcomes. You really should give this one a go. It is an absolute belter – ENJOY!!!