Dumplings and Delights Await: Unveiling the Charm of Jin Hua Xiao Chi
Jin Hua Xiao Chi: Tired of the same old culinary routines? Craving a taste of authentic Chinese comfort food? Enter Jin Hua Xiao Chi, where flavours dance and dumplings take centre stage! Imagine crescent-shaped pan-fried delights stuffed with the perfect blend of minced meat and seafood. Hold up – did I mention they're rated 8.5/10 by a discerning food critic?
Plus Jin Hua Xiao Chi came highly recommended by my Islifearecipe.net business partner, Spencer. His words: I've been going there for 20 years. Best in Singapore…" Now, that means a lot to me, so today off we went.
But hey, Jin Hua Xiao Chi isn't just a foodie's paradise. It's a time machine to 1989, when a pioneering homegrown brand embarked on a mission to redefine Singapore's dining scene. With a focus on "Jing Hua" cuisine (yes, they coined the term), these dumpling artisans will have you exploring uncharted flavour territories – don't let me forget to focus in on the Jin Hua Xiao Chi Chinese 'pizza' – that is an OMG moment!!!
So, why keep reading? Whether you're a culinary explorer, a dumpling devotee, or simply seeking a taste of Singapore's gastronomic history, Jin Hua Xiao Chi has you covered. Unravel their tale, savour their creations, and let your taste buds embark on a journey of dumpling-driven euphoria.
Ready to dive in? Let's slurp, nibble, and giggle our way into the world of Jin Hua Xiao Chi!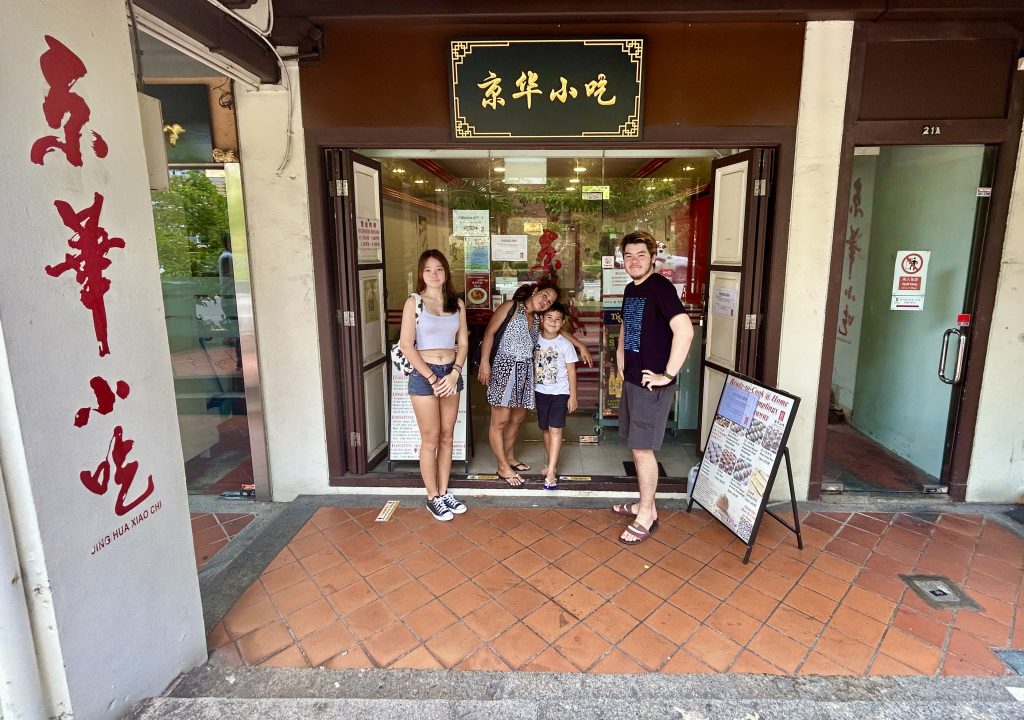 Jing Hua Xiao Chi (京华小吃), is a Chinese expression that means "Beijing Snacks" or "Beijing Street Food" in English. The words "Jing Hua" and "Xiao Chi" stand for Beijing, the capital of China, and snacks, respectively.
Beijing is renowned for having a diverse range of traditional and contemporary snacks available on its streets. Jianbing (a savoury Chinese crepe), Baozi (steamed buns with a variety of fillings), Lü Da Gun (rolled donkey meat sandwiches), Guan Chang (fried intestines), and other dishes are examples of well-known Beijing street food.
What's on the Jing Hua Xaio Chi Menu, and what did we eat today?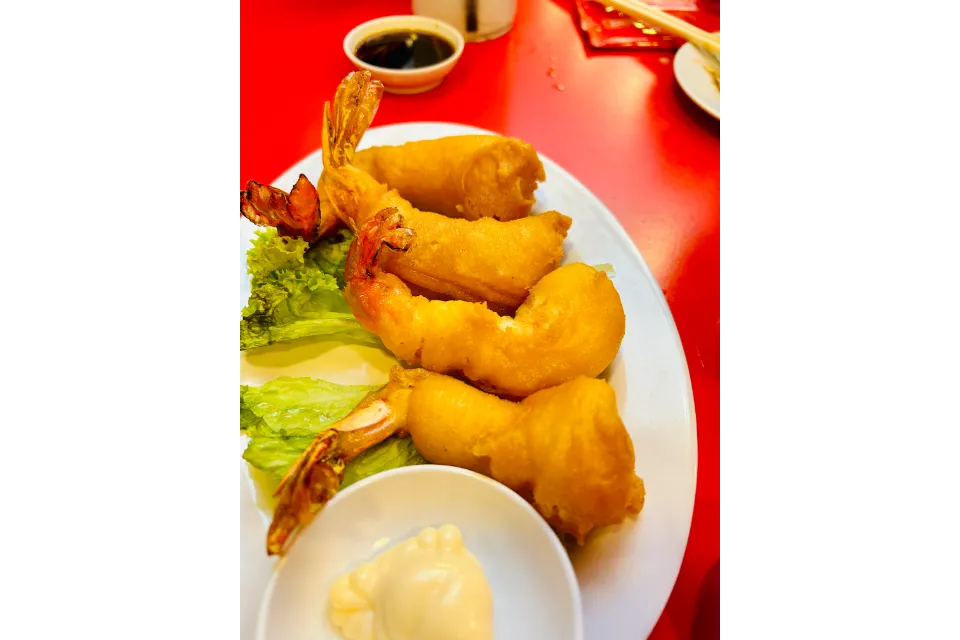 Jin Hua Xiao Chi Golden Fried Prawns (
金黄炸虾)
@ SGD $11.50 for 4 pieces
Beauties. The batter is exceptional, almost akin to British Fish and Chips beer batter. Now that's a skill and a half. Not oily or greasy just crunch to perfection. We'd order these again and again.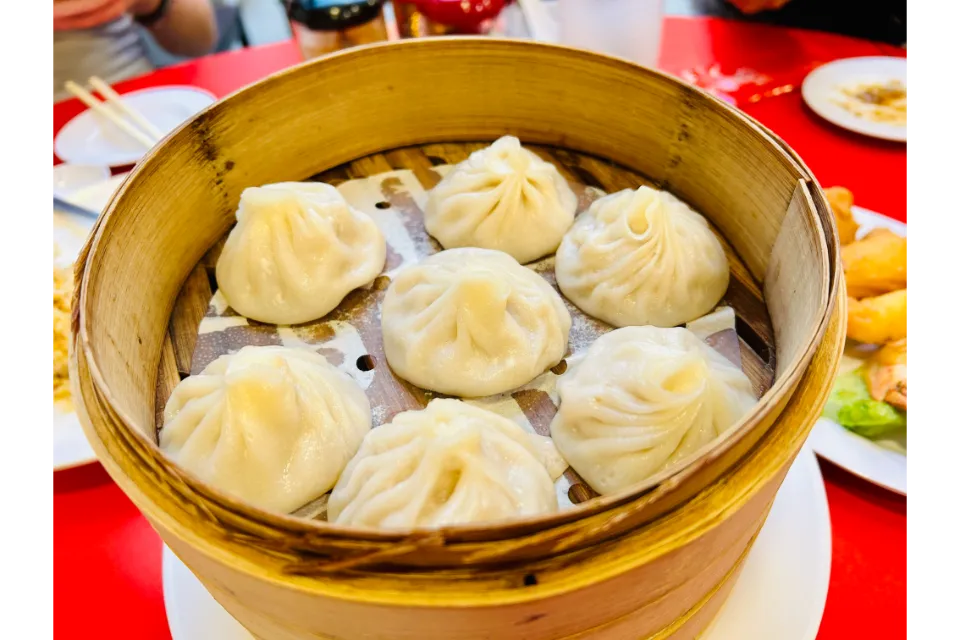 Jin Hua Xiao Chi Xiao Long Bao (
小笼包)
@ SGD $9.90 for 7 pieces
Really not bad at all. Up there with the best, but I would say still pipped at the post by the masters of craft Din Tai Fung. That is seriously one very high bar to reach. But these were delicious and we ordered two steaming baskets.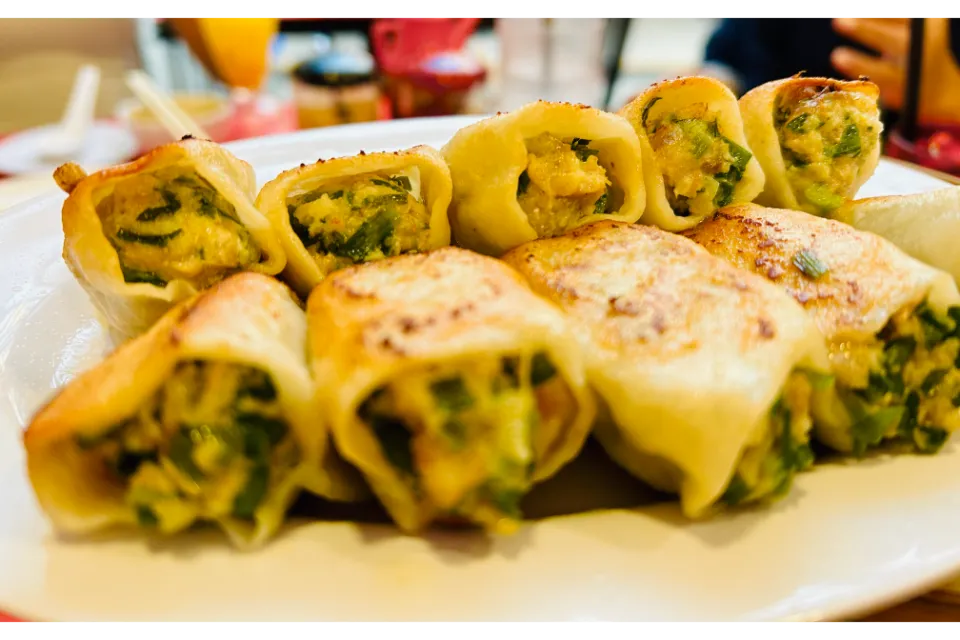 Jin Hua Xiao Chi Pan-fried Mixed Seafood and Pork Dumplings (
海鲜猪肉水饺)
@ SGD $11 for 10 pieces
Akin to Japanese or Korean 'pot-stickers' or gyoza, these were belters. Crispy and chewy all in the same mouthful. These are seriously good, and you can see why these are one of their signature dishes on the menu. 
Jin Hua Xiao Chi Chinese Pizza (
中国披萨)
@ SGD $13.20
Saving the nest to last. I could have eaten this all to myself. The filling is pork, chives, ginger, and so on, very similar to my mother-in-law's infamous Japanese Gyoza. But then there is the pastry, and that with the filling is the OMG moment. It's like an empanada skin. It's crispy, it's chewy, it's savoury, and it is more-ish. So, so more-ish.
This is without a doubt the best thing on the menu in my humble opinion. It is a cracker and I would return just for this.
Chinese pizza," is a term often used to describe a type of street food or snack found in various regions of China. It's not exactly the same as Western-style pizza, but it shares some similarities. Chinese pizza usually consists of a flatbread or dough base that's topped with various ingredients such as minced meat, vegetables, sauces, and spices. The toppings can vary widely based on the region and the vendor's creativity.
Singapore's Dumpling Expert is Jing Hua Xiao Chi
A ground-breaking local company in Singapore that specializes in Jing Hua cuisine is Jing Hua Xiao Chi. Having been around since 1989, the name "Jing Hua" refers to the restaurant's emphasis on providing unique and genuine culinary delights. The restaurant's superb and varied selection of dumplings and other Chinese delicacies is well-known.
The Pan-fried Mixed Minced Meat and Seafood Dumplings, one of their standout dishes, has won praise for its distinctive flavours and texture. But my most awesome favourite was the Chinese 'pizza'.
Singapore's Chinatown, on Neil Road, is where the original restaurant is situated. It has grown to be a well-liked destination for both locals and tourists, thanks to its delicious dumplings cooked by hand.
Jing Hua Xiao Chi has a lengthy history and a dedication to quality, making it known as a top choice for fans of dumplings and Chinese food.
What does Jing Hua Xiao Chi have to say about itself?
A Flavourful Adventure at Jin Hua Xiao Chi: Our Conclusions
In the heart of Singapore's culinary landscape, Jin Hua Xiao Chi stands as a testament to tradition and innovation. With its rich history dating back to 1989, this homegrown gem has mastered the art of crafting delectable dumplings and authentic Jing Hua cuisine.
From the satisfying crunch of pan-fried dumplings to the savoury blend of flavours in each bite, the dining experience here is truly exceptional. Whether you're a local exploring its nostalgic roots or a traveler seeking a genuine taste of Singapore, Jin Hua Xiao Chi promises a culinary journey that transcends time and tantalizes taste buds.
So, dive into the world of flavourful dumplings and let the legacy of Jin Hua Xiao Chi unfold on your palate. It's not just a meal; it's a delicious rendezvous with tradition and taste!
What's the address and contact details of Jing Hua Xiao Chi?
Address:
21/23 Neil Rd, Singapore 088814
Telephone:
6221 3060
Reservations: quandoo.sg
Order: oddle.me, grab.com, foodpanda.sg
What are the opening hours of Jing Hua Xiao Chi (京华小吃)
| | |
| --- | --- |
| Saturday | 11:30 am–3 pm, 5:30–9:30 pm |
| Sunday | 11:30 am–3 pm, 5:30–9:30 pm |
| Monday | Closed |
| Tuesday | 11:30 am–3 pm, 5:30–9:30 pm |
| Wednesday | 11:30 am–3 pm, 5:30–9:30 pm |
| Thursday | 11:30 am–3 pm, 5:30–9:30 pm |
| Friday | 11:30 am–3 pm, 5:30–9:30 pm |
"Jing Hua Xiao Chi" (京华小吃) translates to "Beijing Snacks" or "Beijing Street Food."
This refers to a variety of traditional and local snacks that are popular and commonly found in the streets of Beijing, China. These snacks showcase the rich culinary culture of the city and often have a long history.
Some examples of Beijing snacks include:
Jianbing (煎饼):
A type of savory crepe made from a batter that's spread thinly on a griddle and topped with ingredients like eggs, scallions, cilantro, and a variety of sauces. It's then folded up and often enjoyed as breakfast or street food.
Douzhi (豆汁):
A fermented mung bean soup that has a distinct tangy flavor. It's often paired with savory items like fried dough sticks (youtiao).
Ma Hua (麻花):
A twisted, deep-fried dough snack that's slightly sweet and covered with sesame seeds.
Liangfen (凉粉):
A cold dish made from mung bean or pea starch noodles often served with a tangy and spicy sauce.
Chaogan (炒肝):
Sautéed pig liver and intestines seasoned with various spices.
Erduoyan Zhagao (耳朵眼炸糕):
A type of fried dough cake with a crispy outer layer and a chewy inside, named after its shape resembling an ear and an eye.
Baozi (包子):
Steamed buns are filled with various fillings such as meat, vegetables, or sweet bean paste.
Youtiao (油条):
Deep-fried dough sticks that are often enjoyed with soy milk or porridge.
Lv Da Gunr (驴打滚):
A dessert made from rolling sticky rice balls in a sweet syrup and coating them with crushed soybeans.