Balinese Sweetcorn Soup
It truly is not every day that you can say that you have eaten an amazing soup half way up a Balinese volcano. Well yes Mary and I did a few years back now. Off we went one year for a trip to Bali, which was luckily paid for by my company as some recognition of sales delivered. It was just Mary and I as well, so an "adult" encounter with lots of self-indulgence without the kidlets. Oh yeah and it was 5*'s all the way. We experienced this restaurant one day on a 4×4 off-roading experience and I just had to try to make it at home myself, and this is my Balinese Sweetcorn Soup.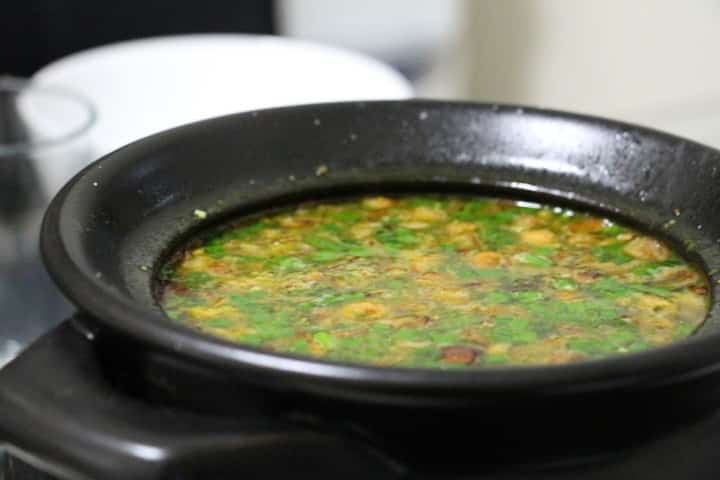 The soup experience was not in a 5* restaurant, so no silver service here. It literally was up a volcano in a rain forest, but the taste certainly was 5*. As I mentioned it was on a 4×4 experience, visiting local indigenous villages and people, seeing how they carve volcanic blocks from river beds to use in temple construction, sampling local foods, visiting rice padi farms, seeing the most beautiful scenery and culminating of course with the trip up the volcano.
Half way up the volcano we reached a bamboo platformed restaurant, literally in the middle of a rain-forest jungle at a high altitude. Man did the rain-forest live up to its name, it was belting down! I spotted this pretty nondescript soup sitting on one of the serving tables – but ended up having about 6 bowls of it ignoring everything else as this was far from nondescript – this was a truly amazing version of Balinese sweetcorn soup. A CRACKER!!!
I asked for the recipe, but there was not much English being spoken, due to where we were. I received a great deal of blank looks. So I had to try to make this up from the taste and look of the soup I was eating and enjoying. I think I have got very close to the experience with this recipe – this is damn good I have to say. My Balinese Sweetcorn Soup. There is an interesting 'twist' to this soup- as it becomes 2 soups in one. This will make about 4-6 bowls.
Stage 1 – the standard soup base;
3 Litres of chicken stock;
2 cans of sweet corn kernels;
3 beaten eggs;
3 cloves of finely chopped garlic;
1 packet of deep fried shallots;
5 Spring onions finely chopped – include the white and green parts;
A bunch of lightly chopped young (middle bits) celery leaves and stalk; and
10 or so Kalamata olives finely chopped; and
Salt & Pepper of course.
Take a big pot, and add all the ingredients apart from the celery leaves and egg and bring to the boil. You could also use the water from the sweetcorn to add more corny flavour to Phase 1. Then reduce the heat to a simmer for approximately 10-20 minutes and you are done my friends. You have made Phase 1. Take it off the heat and stir in the beaten eggs so they form a stringy texture, serve in bowls and sprinkle on the celery leaves as garnish.
Stage 2 – and now to the secret of the 2-in-1 soup. The condiment – this is is so so good:
3 stalks of finely chopped lemon grass – usual top/tail, and remove a few outer layers first;
10 or so shallots, or 3 red onions finely chopped;
2-3 finely chopped chili padi (depending on your capacity!);
4-5 limes for their juice;
2-3 tablespoons of fish sauce; and of course
Salt & Pepper.
This really is a condiment subject to your own taste buds, but it needs to be hot, sour, salty. So more fish sauce if you like salty, more lemon juice if you like sour etc. Make this the day before you make the soup and store in the fridge to allow the flavours to blend and muddle if you can. Basically combine all the above in a bowl. When you are ready to eat Balinese sweetcorn soup, serve this up with it.
The plan is to have a few sips of the soup without the seasoning as it really is very tasty in its own rights, and then add some of the condiment mix and taste again. It is amazing how different the soup becomes, both are equally lovely but the latter is my absolute favourite. BOOM!!! Get those flavour fighting it out in your gob, this is one almighty soup, the glorious Balinese sweetcorn soup.
I always have great memories of Bali, and that holiday when I eat this. I you like it too. Try to enjoy it somewhere high too to get the same experience we did. If you can't find a volcano, maybe just go upstairs, or sit on the roof. My Balinese sweetcorn soup. ENJOY!!!