Tono Cevicheria @ Duo Galleria BRILLIANT Latin American Menu (2022)
Tono Cevicheria Update (2022)
Sad to say that Tono Cevicheria @ Duo Galleria is now permanently closed. It was a cracking lunch, but it seems they got smashed by Covid. It is also evident that Toniito's @ Jewel went the same way, but has since ben bought out and slightly tweaked to a new brand with similar menu.
I had taken two additional days off after Vesak Day this year giving me a whopping 5 days off in a row. Now that is cool. I was able to spend time with the kids and wifey, showering Jude, getting him ready for bed, doing science with him before bed, and having lunch-times off with the wifey. Now you probably saw we went to Tonito's again at Jewel so Amy and Ollie could experience it.
We sort of indirectly met the Chef and Owner, Daniel Chavez, and his Exec Chef Kelvin Khok. Whilst we were chatting to them they introduced us to their other restaurants and so today because we could, we did Tono Cevicheria @ Duo Galleria with Wifey.
Have a look HERE if you didn't read our Tonito's #2 yet.
A short cabin ride to the rather cool new Duo Galleria. One of those new concepts of residential and commercial office towers, with F&B beneath. It's supposed to negate the need for you to go anywhere. Wake up, go downstairs, go to work, eat your dinner, go upstairs to bed. Not my cup of tea, but the restaurant surely was. Let's have a look shall we @ Tono Cevicheria @ Duo Galleria with Wifey.
Quite a small place, but a quality space. We sat outside which was gorgeous as there is this beautiful natural Breeze channelled between the buildings. Next time though we definitely need to sit in the fairy light grotto seat methinks.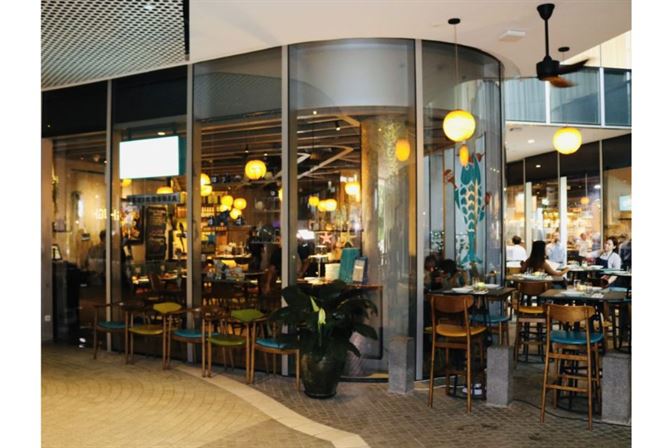 Quite a strange shape to this place. Right on the corner. I can't really comment on what the inside looks like apart from what I could see through the windows. Suffice to say the place is groovy. Like it a lot. Same same but different to Tonito, oh yeah and no 115' waterfall either.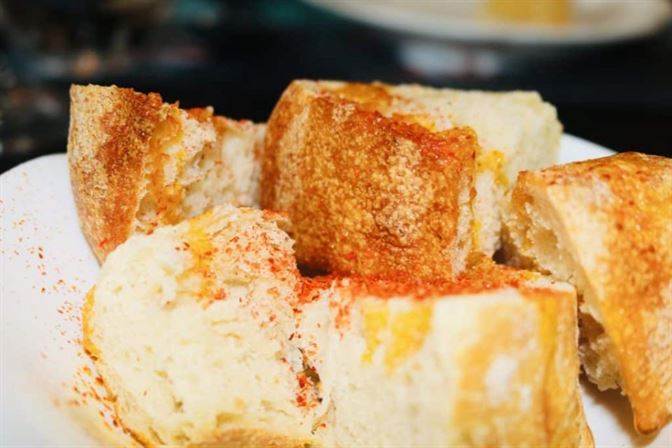 The food cometh. Some crusty bread up first with some Olive oil and smoky paprika. Nice and spicy. Great start guys if someone is commenting on your bread.
Wifey gets stuck into her first dish and a cracker this is. Pulpo 'Al Olivo' – octopus, black olive mayo, chimichurri, crispy garlic and some mystery red fried crispy bits. OK, wifey was VERY quiet for 10 minutes or so.
She said the octopus was incredibly soft like butter so no chewing gum experience here, and the sauce was sour, salty and sweet all in one. The presentation was just beautiful, colours and textures all over the place. Amazing.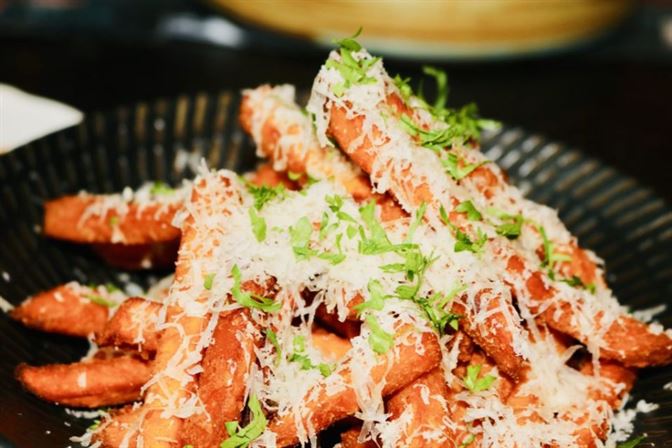 Next up she gets stuck into Camotitos, AKA sweet potato, drenched in parmesan cheese, and a fantastic Molkajete sauce. Holy shit, best sweet potato chips ever. Crunch experience like never before as usually sweet potato can be a tad soggy – not these bad boys. So good!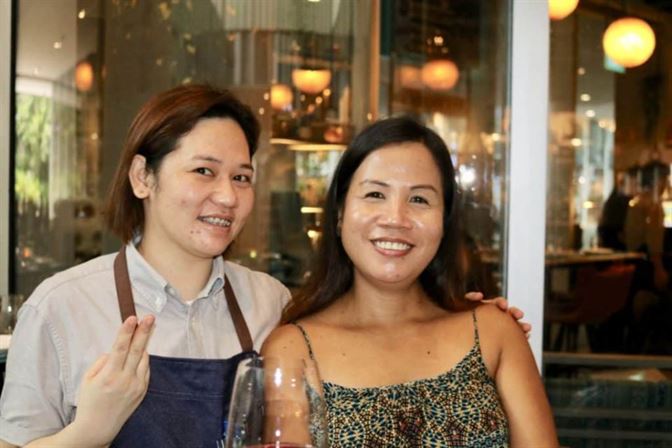 A big pat on the back to this young lady Chef Chavez and no I don't mean my Wife. She said she was new but she was bloody brilliant.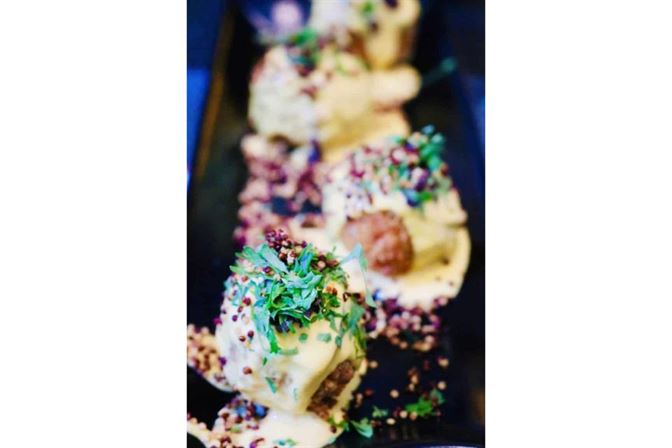 My two dishes up next. I wanted to try this so much when I saw it on the menu. But that mention of Quinoa sort of threw me. Vegan stuff and me don't mix.
But, holy moly I am so glad I did order this, because it was amazingly good. Check out how stunning that plating is.
This dish is surely up there with the best for flavour and texture. Just awesome. Huancainas, AKA potato croquettes, yellow chilli, smoked cheese and that rather surprising crispy Quinoa. Brilliant, seriously just brilliant. This is die die must try food.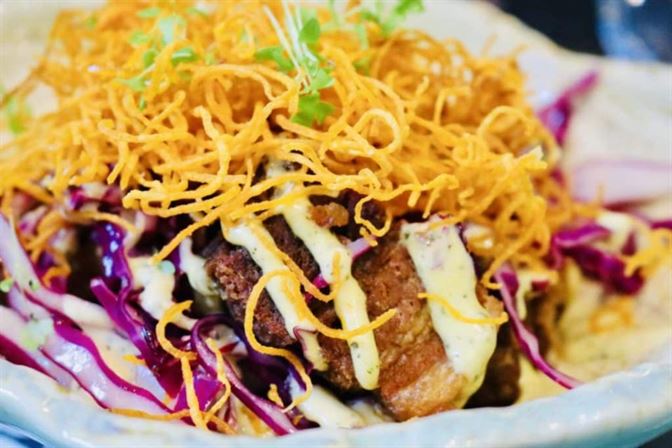 And finally in comes my main. Chicharron La Lucha. Oh yeah, baby. Get this, the orange curls on TOP are indeed orange. Yep, that is fried zest. Goodness knows how they do that. This is deep-fried pork belly, with Peruvian chilli mayo (double yummy), some fresh red cabbage, and that insane orange zest.
Just to prove that it was indeed date lunch ha ha. Wifey and I having some quality time together with no distractions from those small people.
As it's closed how about trying a similar place that is still open. Here are some Islifearecipe reviews of Latin American F&B in Singapore
Our conclusions of Tono Cevicheria
I tell you what Chef Chavez you are turning into a bit of a legend in the family Kennett household. That was one hell of a lunch.
I don't know if your Exec Chef was in, amazing to see she has the same name just she is from Mexico, but the food was exceptional and the serving staff were just brilliant. Big call out to the young Filipina that just started with you. She was ACE. Seriously was one of the best lunches for a while, made even more special because it was just Wifey and I for once. Tono Cevicheria @ Duo Galleria with Wifey was an absolute cracker.
We had a blast at Tono Cevicheria, we had time alone, we had an amazing new food experience. Get yourself down here if you are in the city folks, it is brilliant, believe me. I guarantee you will – ENJOY!!!
Address & Telephone Number
This is now the address of where it used to be. Now, permanently closed.
#01-49/50 DUO Galleria, Singapore, Singapore
Connect with Us on Social Media