Ice Edge Cafe & Bar (Downtown East) 2022 Update
Sadly it is indeed another restaurant that bites the dust because Ice Edge Cafe & Bar (Downtown East) is permanently closed now.
Ice Edge Cafe & Bar (Downtown East) Review
What a nice surprise find this was. An afternoon with the kids at Wild Wild Wet caused major hunger. Could we wait until we get home? Quick let's get a taxi. As we traveled up the escalator Ollie spotted a sign. This is worth a look we thought! And so glad we did. What a cracking restaurant. A nugget at Downtown East. Here comes Ice Edge Cafe & Bar @ Downtown East.
This place was founded in 2009 and was originally focused on 'artisan' gelato. They made their own recipes for it and used only quality ingredients. I had some for dessert and I totally accept the difference from standard ice cream.
Their gelato has a serious WOW factor to it. Ice Edge Cafe & Bar @ Downtown East has now blossomed into a fusion and traditional recipe restaurant, cum sports bar. They openly state that they research to ensure a complete and awesome experience. I like that!!!
They are a mix of West meets Japan and Korea. It was just an incredible menu at first glance. That's all good, but what did we eat?
Let's check out the food we consumed at Ice Edge Cafe & Bar (Downtown East)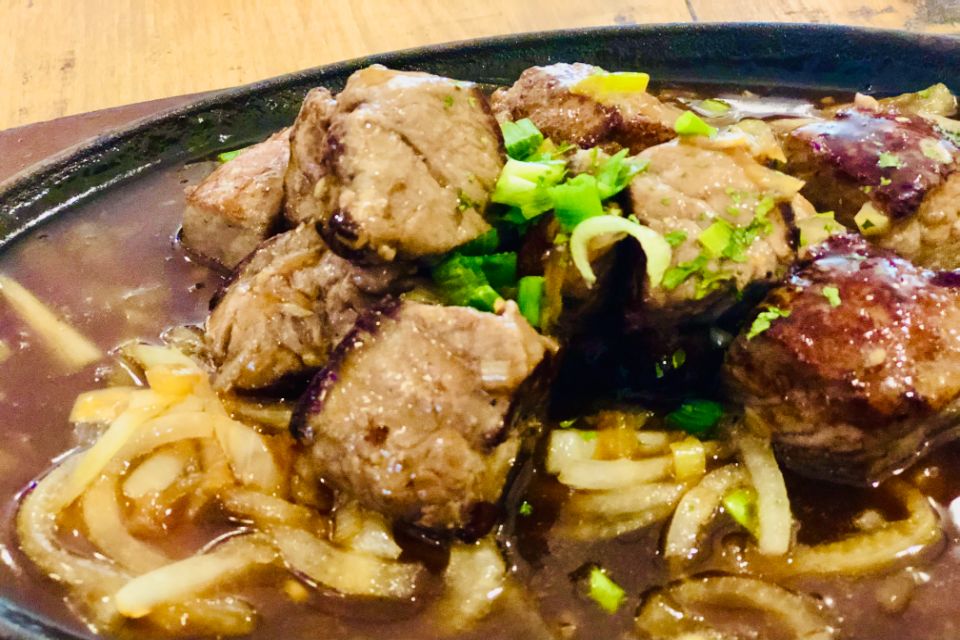 I opt for the Grade 7 Wagyu on Sizzling Platter, AKA Saikoro Steak with Aglio Olio Spaghetti.
OK, I am going, to be honest here. I think ChillaxBBQ steak is way way better. It was nice, but I think ours is way better when we do our BBQs. More seasoning fellas.
The sauce was bonkers good though. Sort of soy, honey, teriyaki, a version of a French Onion soup. Absolute classic sauce. Loved it so much. And the Aglio Olio Spaghetti was plain and simply superb. Absolutely stellar!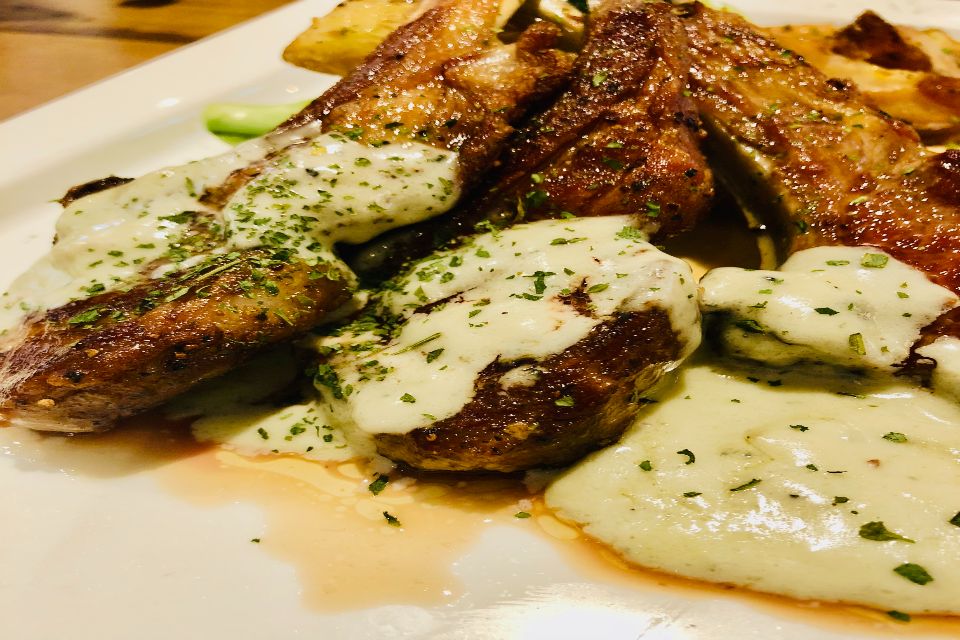 My Mary gets stuck into the lamb rack with Roquefort blue cheese sauce. Would you have ever thought the two would be good bed companions?
These guys have mastered the Kama Sutra, believe me. This is a MUST-try dish. It is simply superb. The flavour match is bonkers. EAT IT!!!
Ollie goes alternatively with the Korean Wagyu Beef Kimchi Pizza.
This was fusion on steroids, believe me. Wagyu beef strips. Kimchi. Pickles. Some Japanese mayonnaise cum Thousand Island Dressing sauce to boot.
It was seriously a bonkers combination, but man oh man does it work together. An absolutely cracking pizza Ice Edge Cafe & Bar @ Downtown East.
Bring on another one. Loved it!
Only one photo of dessert is needed. The incredible Creme Brulee, and a dollop of Rock Melon Gelato
Creme Brulee with rock melon gelato. Holy moly this was so so good. Baby Jude even got stuck into this, using bacon crisps to scoop up the gelato. Hmmm, Baby Jude, you have given me an idea.
Bacon and melon, oh yes! Seriously though this is one hell of a dessert. It's a cracker!!!
Our conclusions of Ice Edge Cafe & Bar (Downtown East)
If you are anywhere near Downtown East, this place is a must-visit. Ice Edge Cafe & Bar @ Downtown East is plating up incredible food. It's well worth a trip, believe me.
One complaint though! It's sort of on a corner, so you have two ways to miss it and meander past.
The owners have, therefore, clearly incentivized the staff to encourage footfall. Anytime a person walks in anywhere near to this place you get a SHOUT of; "HI WELCOME!", and then a sprint with a menu to show off their wares to a potential new customer.
OK, OK, doesn't sound so bad right? But repeat and repeat every 30 seconds, and yep it becomes a tad annoying.
Ice Edge Cafe & Bar @ Downtown East management. Move your check-in desk away from where people are eating if you are going to continue the shouting exercise. It gets in the way of your really excellent food. It's just so so annoying.
The kids and I even came up with a better solution. Get the girls to sing. The film Moana has a great song in it; "So what can I say except Hi Welcome, come and try our delicious food, there's no need to pray it's OK Hi welcome, I guess it's our way of being us, Hi welcome, Hi welcome…" Etc. Much better.
Come on you can do it, PLEASE! Or just stop the other technique. Apart from that, this place is truly a die-die must-try.
ENJOY!!!
Address & Telephone Number of Ice Edge Cafe & Bar (Downtown East)
Address: 
1 Pasir Ris Cl, #02-333, Singapore 519599
Connect with Us on Social Media