Filipino cucumber, tomato, onion, ginger and vinegar salad
Filipino cucumber, tomato, onion, ginger and vinegar salad
Here we are in Tagbilaran, the Capital city of Bohol, in the Philippines. I happened to be in a tricycle (the motorbike taxis of the Philippines – a tuk tuk by any other name) with Ollie and Jimboy (Mary's boy) on the way back to our hotel after watching a film in the city centre. We were cruising along at speed, and I spied the sign below. Any restaurant with a sign with a picture of beer on it has to be a winner in my book. Also the fact that it had an open pit BBQ in action in the front of house (as you'll see later). Of course this became our dinner destination this evening. Thank goodness I spotted the sign – it was excellent. And one dish on the menu that really stood out was the Filipino cucumber, tomato, onion, ginger and vinegar salad.
Usual no frills affair, plastic furniture and all that. But that just adds to the charm and the experience for me. I loved every minute we spent in this place. It absolutely was pig out time! We had a huge portion of BBQ roasted pork belly, chicken, fish and just the most amazing salad. This recipe is in honour of that so very simple salad. But boy oh boy it is so so good. It will go so very well with meat, or any dish that is smoky and fatty. This salad cuts through that, almost acting as a pallet cleanser because of the citrus and the ginger – this is Filipino cucumber, tomato, onion, ginger and vinegar salad.
If you happen to be on the beautiful island of Bohol, and in Tagbilaran, pop in and say Hi at C. Gallares Street Tagbilaran City, Philippines. You will not be disappointed. It's a top joint!!!
This will make a fair sized salad to accompany a meal. Easily enough to support a main dish for 4-6 people. Although, to be honest, I'd eat all this to myself given the chance. A wee sprinkle of salt on top and I am in heaven with my Filipino cucumber, tomato, onion, ginger and vinegar salad.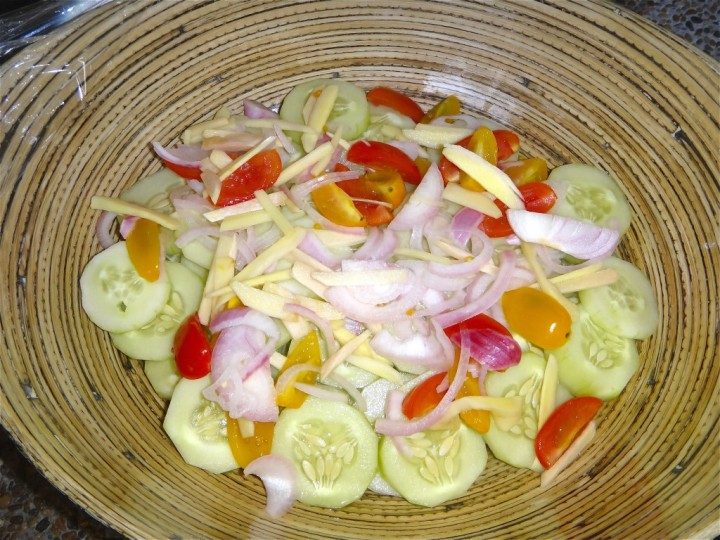 You will need:
2 Chinese cucumbers. Simply cut off the ends, cut in half lengthways and then slice thinly;
4 inches or so of young ginger cut into matchsticks (as in meaning real thin and about 2inches long);
5 medium sized tomatoes cut in to quarters;
3 small red onions roughly chopped;
3/4 cup of white vinegar (if you can get Datu Puti, Filipino authentic vinegar is all the better); and
2 tablespoons of salt.
You'll need a serving plate with a lip as there are juices flowing with this one;
On that plate lay out the cucumber;
In a bowl add the ginger, onion, tomato, salt and then cover all with the vinegar. Literally just so the tomatoes and onions are covered;
Let this sit for a while, say 10-15 minutes.
When you're ready to serve simply pour the tomato mix over the cucumber.
This really is just sublime. Who would have thought of ginger with tomato and cucumber. It's a match made in heaven it seems. I even sprinkle little more salt over when eating this. It is already sour, salty and sweet all in one salad. I have to say this is my favourite salad of all time. Delicious. My Filipino cucumber, tomato, onion, ginger and vinegar salad. 
And a big thank you to Leopoldos Liempo Restaurant, Tagbilaran City, Bohol, Philippines – ENJOY!!!
Is Life a Recipe YouTube Channel
(Visited 395 times, 1 visits today)