No idea of origin but I think I got the idea from a cookery show hosted in South Africa.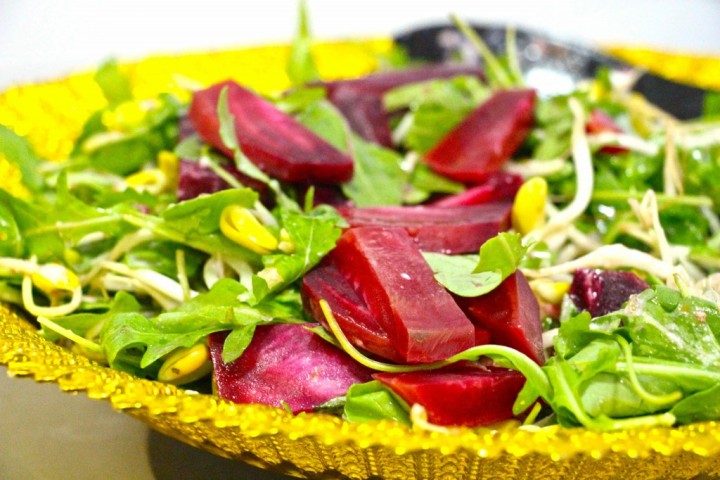 Could not 100% validate that though, but hey it is what it is, and what this is is delicious.
A lovely salad with citrus overtones that would therefore accompany a dish that is quite rich. Easily enough here for 4-6 people plus.
Two stages to this – bloody easy though.
Phase I, the dressing; mix in a cup/bowl the following and set aside
3 tablespoons lemon juice
3 tablespoons good olive oil
A good pinch of salt and pepper
A teaspoon or so of Yuzu Jalapeño sauce – or use tabasco and add a teaspoon of lime juice
Phase II, the salad; mix in your serving bowl the following
2 large beetroot, that I simply peeled, boiled in water for 15-20 minutes and cut in to cubes
A cup of lemon leaves roughly chopped
A packet of fresh bean sprouts
A packet of rocket – simply rinse with water and drain
A packet of lightly toasted coconut cream powder – simply put in a hot dry pan, when light brown tinge comes get it out quick as it will continue to cook even off the heat. If you can't get coconut cream powder any coconut would do, such as desiccated
So now you have your salad.
Simply stir up again the dressing and pour that on over and give one final toss.
Serve up – how pretty does this look and wait until you taste. Quite amazing!!!