The Kongsee at Gemmill Lane: Reinventing Singaporean Cuisine
The Kongsee: A Fusion of Tradition and Innovation
At Gemmill Lane, a few doors down from Bar-a-Thym, the Kongsee stands as an impressive space that's been around for over a year now, expertly blending heritage with innovation. Helmed by renowned Chef-Partner Willin Low, the Kongsee introduces a modern twist to traditional Singaporean fare, redefining the 'Mod Sin' dining experience.
Serendipity
I was due to meet some friends at Merci Marcel on Gemmil Lane, on arrival at 5pm I checked if the beer was on happy hour, sadly not, so I asked how much and was taken back at the Bohemian Lager being sold for $20.50 and so I walked across the street to The Kongsee to check it out and at $12 for a craft lager it was much more reasonable. A loss for Merci Marcel as they will never see me again for drinks!
Cocktail Hour
Whilst there I got chatting to the team about the venue, what they offer and since it was not a planned blog what came next certainly got me excited about writing this up. The Bar Manager April brought out their Signature cocktail called The Kongsee on the house! She had me at Hello!
The drink was sweet but so yummy, nothing short of spectacular!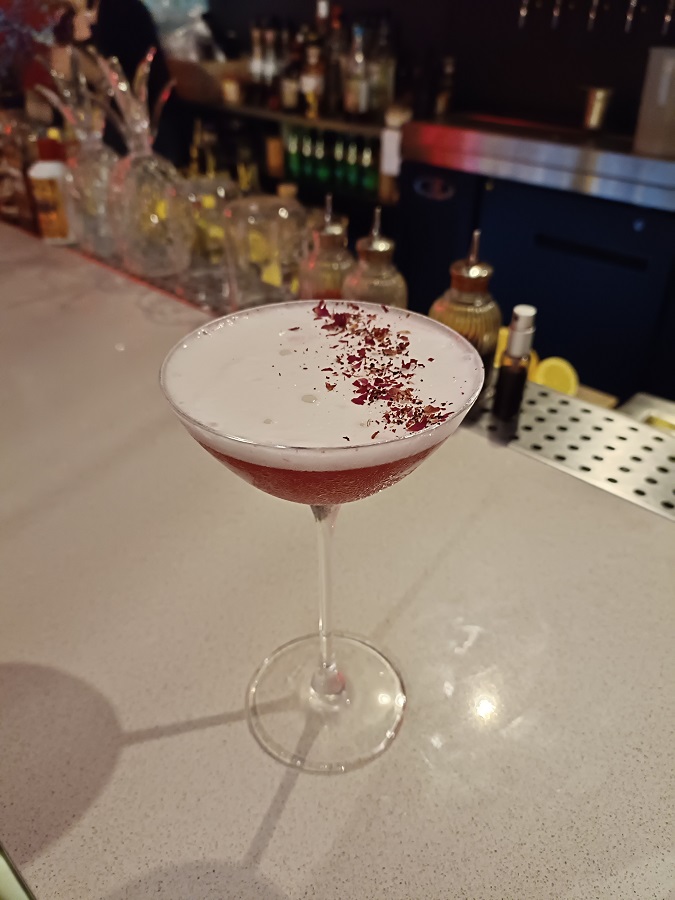 Ambience and Decor: Imbuing Cultural Significance
Situated amidst the historic backdrop of Gemmill Lane, the Kongsee exudes an ambiance that pays homage to Chinese culture. The decor fuses traditional elements with contemporary aesthetics, creating a perfect setting for a unique dining experience.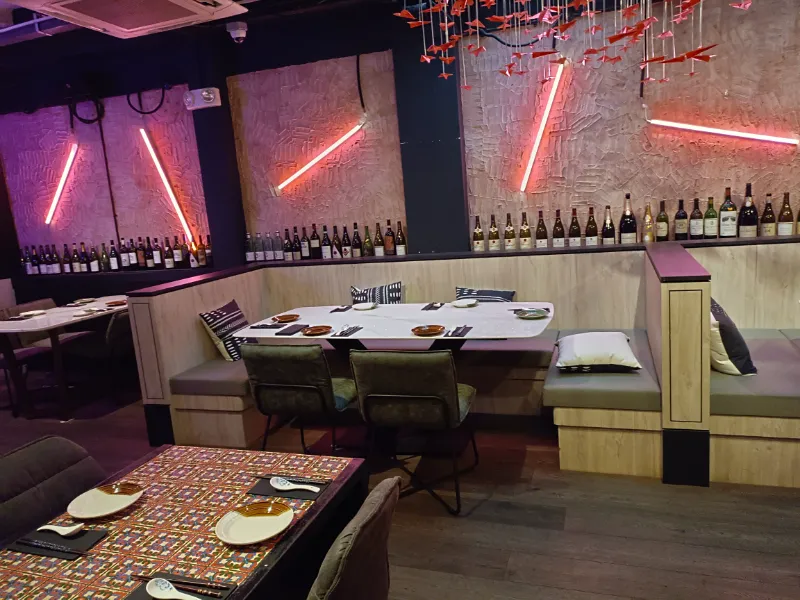 The video was taken at 5pm and trust me the place was jam packed throughout the whole night, so make sure you make a reservation.
The Culinary Journey at the Kongsee
Dining at the Kongsee is more than just a meal; it's a culinary journey that tantalises your senses. Chef Willin Low's skillful prowess brings a modern interpretation to traditional Singaporean dishes, delivering a feast that pleases both the palate and the eye.
On this occasion we were not planning dinner here and was going to head over to China Square to Missy G's where Grolsch sells for $9 a pint! April came out and gave us these salty bar snacks to wet our appetites and we ended up staying for several more beers!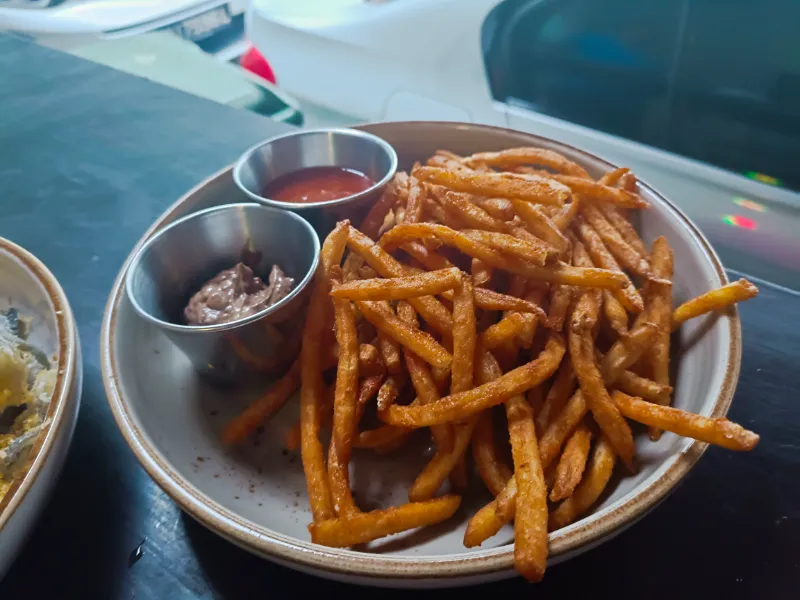 Signature Dishes: A Gourmet Delight
The Kongsee's menu boasts an array of signature dishes, from the KFC (Kongsee Fried Chicken) Free Range GG French Poulet Chicken, Shrimp Paste, Sricha Mayo $32 and Barramundi Ceviche Pickle Onion Dressing, Savoury Ice Cream, Papadam $22. Every dish is carefully curated and meticulously prepared, offering an exquisite blend of flavours that echoes Singapore's rich culinary heritage.
The Beverage Selection: A Perfect Companion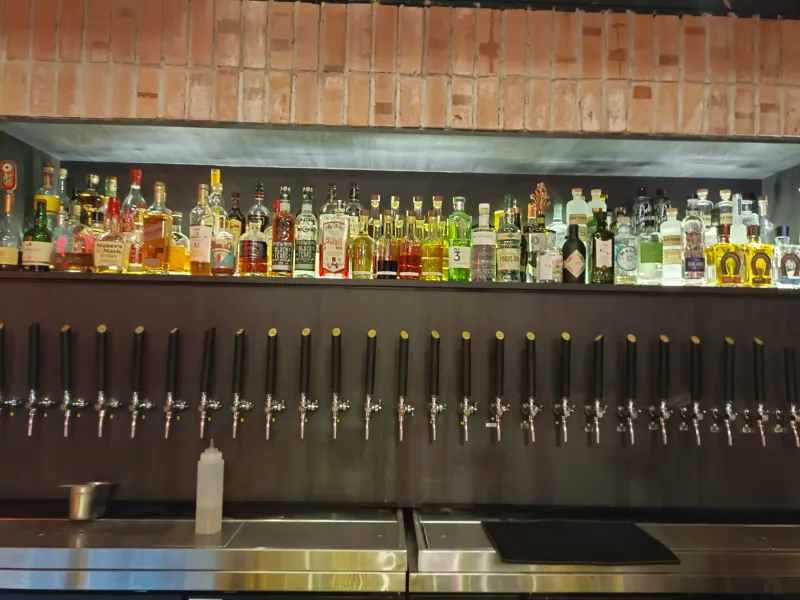 To complement the epicurean journey, the Kongsee offers an impressive selection of beverages. The curated wine list and creative cocktails enhance the gastronomic experience, providing the perfect pairing for every dish. Just look at those craft beer taps! Another visit with Brian in tow is a must!
April not content giving us a Cocktail and bar snacks she finished us off with Sour Plum flavoured Vodka shots that's handmade in-house!
Kongsee at Gemmill Lane: A New Chapter in Singaporean Cuisine
In essence, the Kongsee at Gemmill Lane is not just a restaurant; it's a celebration of Singaporean cuisine and Chinese culture. Under the expert stewardship of Chef Willin Low, it breathes new life into traditional dishes, offering a memorable dining experience that transcends the boundaries of the ordinary.
Dining at the Kongsee is like embarking on a captivating culinary exploration, where each dish unravels a story, and each flavour transports you on an unforgettable gastronomic adventure.
Is Life a Recipe and our Families will be heading here real soon! The Tok Panjang Feast looks like the one!
Recommended For 6-8 Pax, Limited to 2 Seatings A Day, Available during Lunch Only $248++
Mains – Choice of 6 Mains
Roxy Crab Laksa (GF)
Iberico Lor Mee Kia
Sichuan Soba (V)
The Kongsee Ayam Penyet
Nasi Ulum with Iberico Satay
Black Angus Ramly Burger
Hae Bee Hiam Pasta
Lamb Kut Teh (GF)
Cold Seafood Platter (GF)
Sides – 2 Portions of each side dish
Masala Brussel Sprouts (V)
Kou Shui Ji Salad
Sichuan Dumpling (V)
Ngoh Hiang Dumplings
Dessert – 6 Portions
Home-Made Kaya Ice-Cream
The Kongsee Address, Tel. No. & Socials
Address: 10 Gemmill Ln, Singapore 069251
Telephone: +65 8828 7664