Asian Beef Carpaccio
A little home-grown recipe this. It's a Carpaccio that I call Asian, because it was created here in Singapore and does have coriander in there. So there we go, Asian Beef Carpaccio
it is, and shall remain. Carpaccio is basically a cold dish of raw
beef
– yep turn the eyes off and enjoy it, it is delicious. I mean just have a look at the photo – what do you think?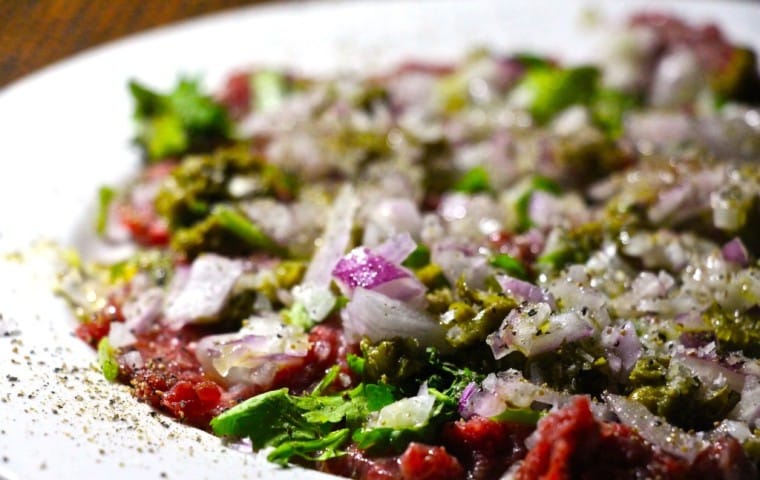 To make a really good sized portion of Asian Beef Carpaccio, you will need;
Two good rib-eye steaks – (cut all the fat and any hard bits of gristle out. Then with a tenderising hammer bash the crap out of it. Keep turning the steaks to get a nice even thickness. You then roll this up in to a sausage and wrap in cling film and place in the freezer for later);
4 finely chopped small red onions;
1 packet of coriander chopped up finely;
1 small jar of salted capers chopped roughly;
A good drizzle of Olive oil; and
A good pinch of sea salt and cracked black pepper.
Once you have had the steaks in the freezer for about an hour you are ready to go. But why steaks in the freezer? You are basically hardening the meat to make it easier to thinly slice. So when you have taken the meat from the freezer, and removed the cling film, take your sharpest knife to slice that meat as thin as you can. It will make a difference for your Asian Beef Carpaccio.
Lay the beef on a plate and then sprinkle over the top in this order;
The chopped onion;
The chopped capers;
The chopped coriander;
Drizzle with Olive oil; and
Sprinkle with salt & pepper.
You are done – now dig in and enjoy this puppy. It's damn good. This is my Asian Beef Carpaccio. If you like fresh meat, not chewy, and Asian inspiration like the hards, and some sour from the capers, well you will love this one. Its simple, but looks all restaurant-like I think you'll agree – ENJOY!!!
Is Life a Recipe YouTube Channel
(Visited 109 times, 1 visits today)