Asian Beef and Prawn Salad
With an invite to my good friend and neighbour, Ben's birthday, with his wife Jacelyn. I thought the honourable thing to do was to knock up a quick dish. What came from the Semi-Naked Chef was this absolute knock-out Asian Beef and Prawn Salad. I don't mind saying this myself, but a few guests also said was so good too.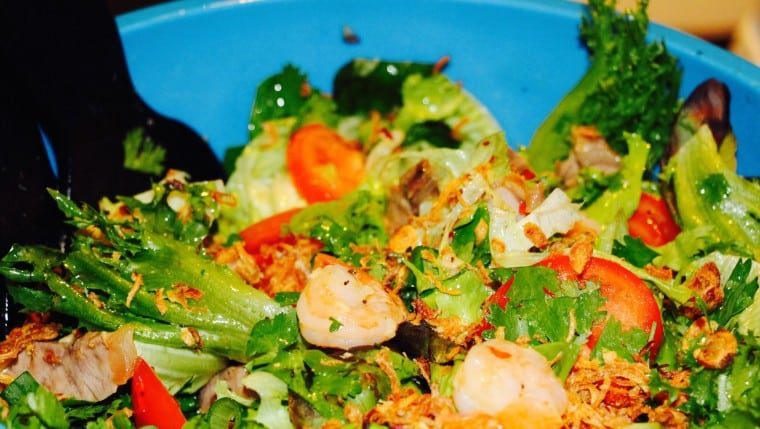 Amrita one of the party friends commented something along the lines of; "I knew there was a chef here after I had tasted the salad, and had to find out who it was…"
Another party goer said; "You have converted me to eat salads again…"
Not bad hey. Very proud of myself in fact!!!
There are 4 elements to this Asian Beef and Prawn Salad; The dressing, the salad, the beef and the prawns. To make this easy let's cover each off separately – as all you do when ready to serve is mix the 4. Nice.
This will make a big old bowl full.
The Dressing;
3 tablespoons of plum sauce;
3 tablespoons of lime juice;
1 tablespoon of white or brown sugar;
2 tablespoons of fish sauce;
A good pinch of salt and cracked black pepper;
1 inch knob of finely chopped ginger; and
1 finely chopped chili padi.
Put all these in a bowl and give it a good mix until the sugar has dissolved. Have a little taste. You want this sweet, sour, salty, and of course with some heat. This is one of the best dressings I have ever created to be honest – it's sticky because of the plum sauce, so it coats everything it touches with this liquid, jammy, honey like consistency. Damn this was good.
Pop this in the fridge until you are ready.
The Prawns;
I bought a pack of frozen prawns (about 30 of them in there) – peeled but with the tails still on;
1 tablespoon of finely chopped garlic;
1 good sized knob of butter or Ghee;
A good drizzle of olive oil; and of course
A good pinch of salt and pepper.
Drizzle the oil in a pan and get that hot. In go the prawns, butter, salt and pepper, and garlic. Cook these off on a high heat until the prawns are nicely cooked through and pink in colour.
Off the heat and stand to one side to cool.
The Beef;
I used 3 fair sized sirloin steaks – any steak will do though;
Salt and pepper; and
Olive oil.
Make sure the steaks are not cold. Take them from the fridge about 10 minutes before you're ready, as you really should not cook meat from cold and you want it room temperature ideally.
Rub the steaks with oil, and the salt and pepper on both sides. Take a good pan and heat that up with no oil. When nice and hot sling in the steaks and sear both sides – basically browning the meat, as the char gives the flavour. Then out of the pan and whack in an oven, set at 200 degrees for about 5-10 minutes depending how you like the meat – less time will give you a rarer cooked steak. I went for about 5 minutes and then left them covered with foil and a tea towel to rest so it retains the juices, and warm the meat in the middle. Again whilst resting just leave it to one side to cool as well.
When it is cooled you want to slice the steaks as thinly as you can, almost paper thin is good.
The Salad;
When the prawns and beef are cooled and after you have made your dressing, get the salad leaves a going. As once you have this you throw in the beef and prawns and pur of the dressing. Give it a toss or two to get that dressing coating and serve.
1 packet of mixed salad leaves;
1 packet of coriander roughly chopped;
1 packet of basil that I simply took off the stalks and ripped up;
4 Spring onions finely sliced including the green stems;
4 truss tomatoes that I simply sliced up thinly;
And a handful or two of fried shallots for sprinkling on the top AFTER you have tossed the salad.
And that as they say is that. A pretty simple, but VERY effective and super delicious Asian Beef and Prawn Salad. Again don't take my word for it, the party goers were the critics and their statements say it all. You have to try this one!!!
A little some the Semi-Naked Chef has knocked up for you. So go on try my Asian Beef and Prawn Salad ENJOY!!!