Asian beef and popcorn
You simply just must try this, sounds crazy but it is so so good. Some of the ingredients for Asian beef and popcorn
will sound a tad crazy, but believe me together they work so so very well. You get flavours and textures all in one. This received a massive thumbs up from all that were eating it this day.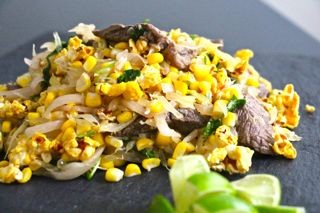 I made this recipe up having seen an article in an inflight magazine that used popcorn. With my impending birthday/house-warming BBQ coming soon I have been practicing a few new dishes, and this is absolutely going to be on the menu on 28th. My Asian beef and popcorn is pretty simple to be honest and man is this ever effective.
This will make a big salad.
3 trimmed rib eye steaks. I sliced them thinly and gave a wee bash with a tenderiser hammer;
6 corn on the cobs – simply trim off the top and bottom and then cut the kernels away from the cob;
4 finely sliced red onions;
1 cleaned and peeled pomelo;
1-2 finely chopped chili padi;
3 limes – squeezed for their juice;
1 packet of salty popcorn; and
2 packets of finely chopped coriander.
Fry the onions off in some butter – not for too long though, you want to keep them crunchy;
Fry off the beef in some oil – this will only take minutes if you have sliced it finely enough;
Place the corn kernels in to a colander and dip in some boiling water for a minute or two to blanch them. Again not for too long as you want to retain the crunch;
Mix all of this in a bowl and add the lime juice, pomelo, and coriander;
At the very last minute ping the pop corn in the microwave and when all has popped gently stir these in to the salad and then serve.
Sounds freaky right, Asian beef and popcorn. Give it a try and you will understand why my friends. This is amazing – ENJOY!!!