ChillaxBBQ Stay@Home Recipes #45 – Brekkie Burger Bagel
Another day, another recipe. One for Strawberry Blonde and Jude Jude's breakfast today. Yes, it is #BillWallaceFriendly, as everything is from the fridge and freezer. I'd taken a couple of Wagyu burgers from the freezer to thaw and get to the room temperature. But how to cook? Something fun for the kids using all the bits and pieces in the fridge? Hmmm, I have Bagels, I have cheese, I have butter, and of course, I have burger. Oh yeah, and I have kids. Two very hungry kids. As usual, that is how a recipe is created, and today that was ChillaxBBQ Stay@Home Recipes #45 – Brekkie Burger Bagel. Is it a recipe of just cooking & plating? Who cares, the kids wolfed it up.
How does she look? Well, check her out… Look at those curves. Voluptuous even.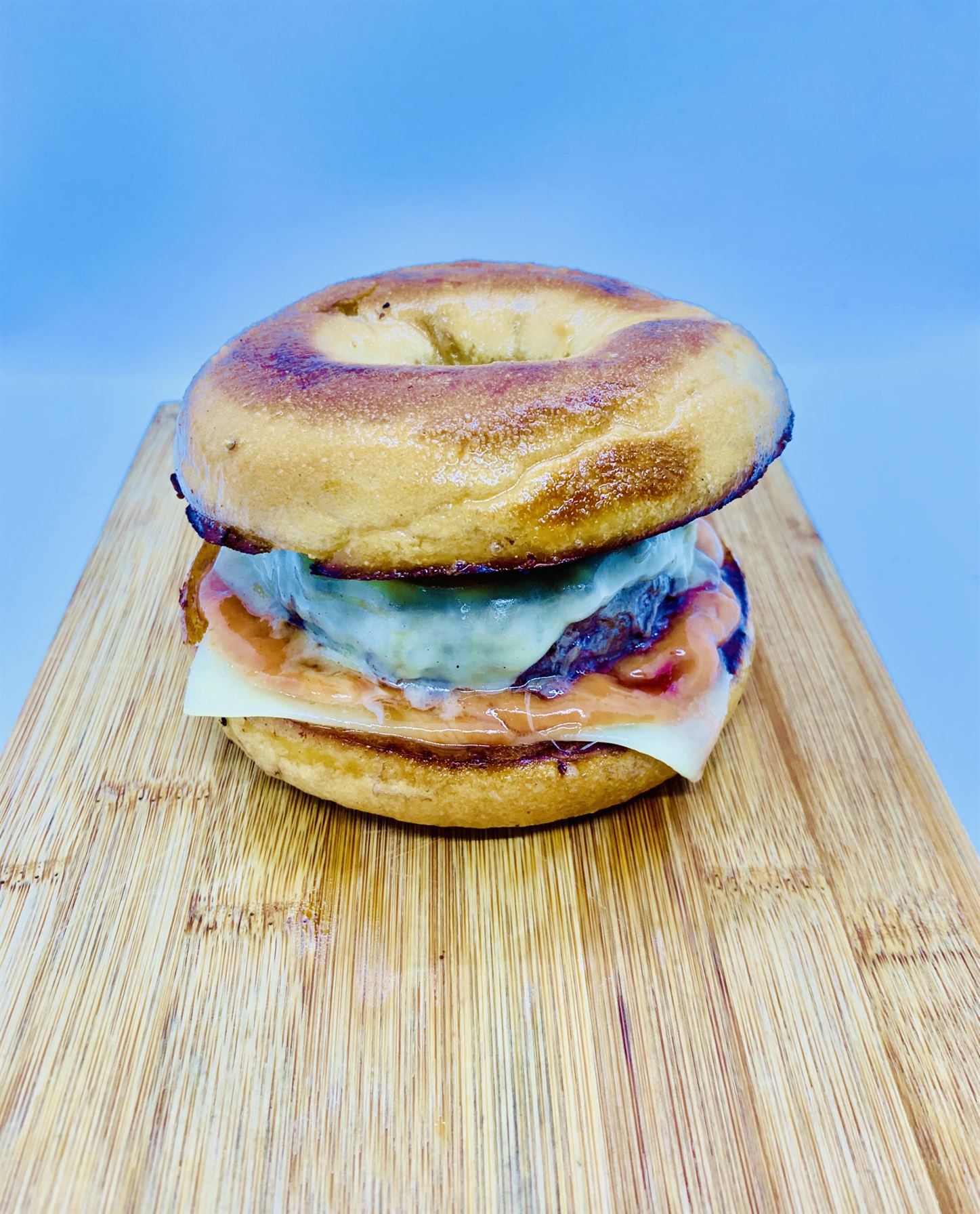 ChillaxBBQ Stay@Home Recipes #45 – Brekkie Burger Bagel
This was a monster 1/4Lber so 241, as in 2 kids for 1 burger for brekkie;
1/4 Lb Wagyu burger (or equivalent)
2 thin slices of tomato – season with a little sea salt & cracked black pepper
2 slices of Gouda cheese
1 Bagel – cut in half
2″ knob of salted butter
A dollop of salad cream and tomato sauce
And Sesame Street style cooking & plating starts with 1, 2, 3…
In a big frying pan throw in that Wagyu burger – no need for any oil as these are fatty as;
On both sides sprinkle some sea salt and cracked black pepper – a fair bit as these are thick burgers and need the seasoning;
The burger will take about 5 minutes on each side – I had to cook to medium-well today – Wifey's orders;
By now the butter should all be melted, so slip in the Bagel pieces and toast them off until nice and golden brown;
Pop them on your serving platter and slap one of the cheese slices on top of the bottom slice whilst it is warm;
Squirt a dollop of tomato sauce and salad cream on the cheese slice and mix it up to make your very own Thousand Island Sauce;
When the second side of the burger is nearly cooked slap on the 2nd slice of cheese and watch that meltdown;
Pop the burger on the bottom bagel slice with the cheese;
Lay your seasoned tomato slices on top of the burger with the melted cheese;
Pop the glistening buttery bagel on top and serve that beauty up;
There you go…
I love this one. ChillaxBBQ Stay@Home Recipes #45 – Brekkie Burger Bagel. A new recipe for the kids. A sharing platter as it was a monster burger, a stack and a half of yummy goodness. Looks bloody good. Tasted amazing too (yes, I did steal some from the children). I think you'll agree that it was pretty simple too. Go on have a crack, and get the kids helping – ENJOY!!!