ChillaxBBQ Recipes: Brekkie Burger Bagel
Brekkie Burger Bagel is a cracking recipe for the kids: Another day, another recipe. One for Strawberry Blonde and Jude Jude's breakfast today. I'd taken a couple of Wagyu burgers from the freezer to thaw and get to the room temperature. But how to cook? Something fun for the kids using all the bits and pieces in the fridge? Hmmm, I have Bagels, I have cheese, I have butter, and of course, I have burger. Oh yeah, and I have kids. Two very hungry kids.
As usual, that is how a recipe is created, and today that was ChillaxBBQ Stay@Home Recipes #45 – Brekkie Burger Bagel. The kids wolfed it up.
How does she look? Well, check her out… Look at those curves. I'd say voluptuous even. This is way better than McDonald's breakfast bagel Singapore, and is a cracker of a Breakfast bagel burger recipe.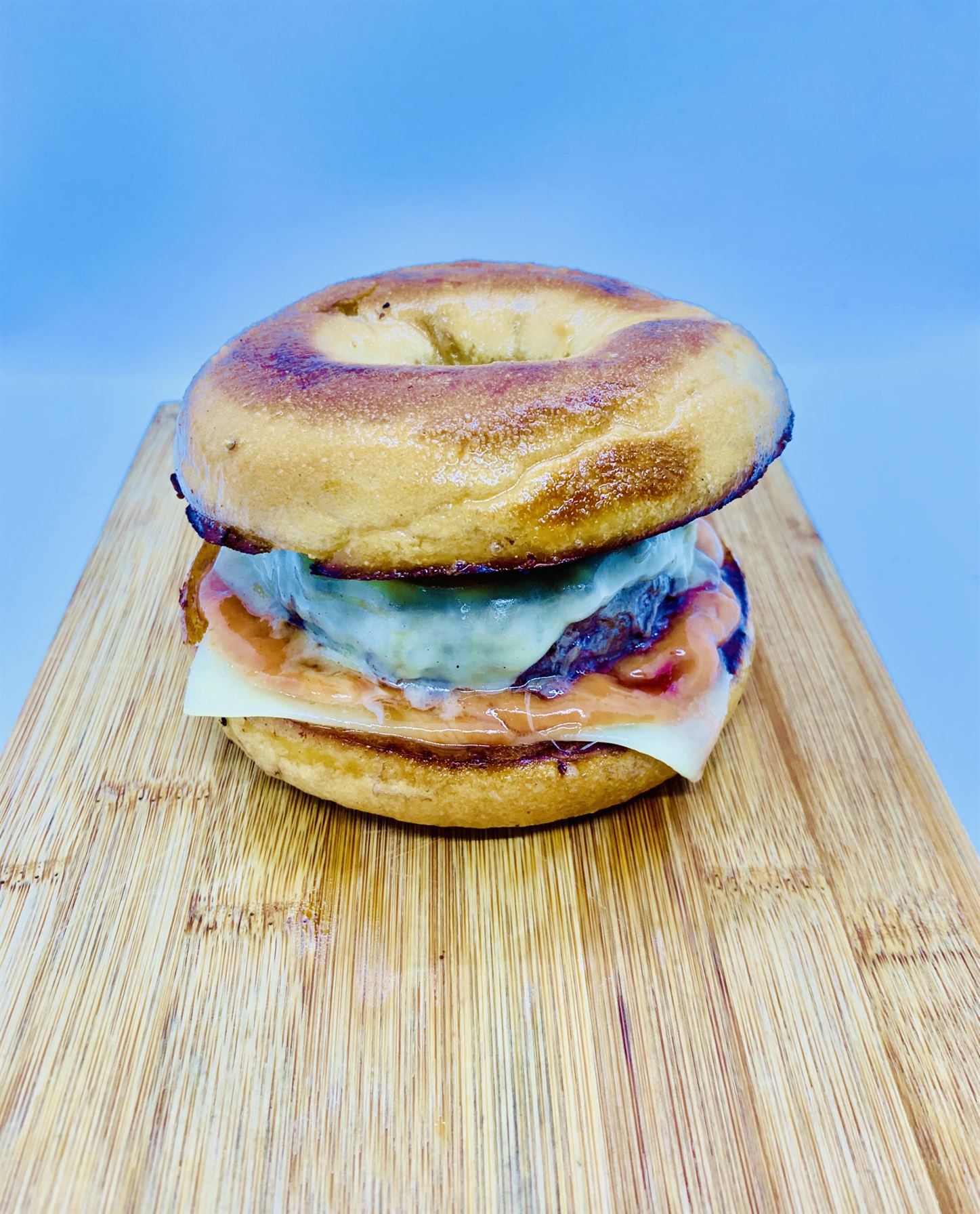 ChillaxBBQ Stay@Home Recipes – Brekkie Burger Bagel
This was a monster 1/4 pounder so I only used one burger for two Bagels;
1/4 Lb Wagyu burger (or equivalent),
2 thin slices of tomato – season with a little sea salt & cracked black pepper,
2 slices of Gouda cheese,
1 Bagel – cut in half,
2″ knob of salted butter, and
A dollop of salad cream and tomato sauce.
And Sesame Street style cooking & plating starts with 1, 2, 3…
In a big frying pan throw in that Wagyu burger – no need for any oil as these are fatty as,
On both sides sprinkle some sea salt and cracked black pepper – a fair bit as these are thick burgers and need the seasoning,
The burger will take about 5 minutes on each side – I had to cook to medium-well today – Wifey's orders,
By now the butter should all be melted, so slip in the Bagel pieces and toast them off until nice and golden brown,
Pop them on your serving platter and slap one of the cheese slices on top of the bottom slice whilst it is warm,
Squirt a dollop of tomato sauce and salad cream on the cheese slice and mix it up to make your very own Thousand Island Sauce,
When the second side of the burger is nearly cooked slap on the 2nd slice of cheese and watch that meltdown,
Pop the burger on the bottom bagel slice with the cheese,
Lay your seasoned tomato slices on top of the burger with the melted cheese,
Pop the glistening buttery bagel on top and serve that beauty up, and
There you go…
I love this one. ChillaxBBQ Recipes – Brekkie Burger Bagel. A new recipe for the kids. A sharing platter as it was a monster burger, a stack and a half of yummy goodness. Looks good. Tasted amazing too (yes, I did steal some from the children). I think you'll agree that it was pretty simple too. This is way better than McDonald's breakfast bagel Singapore, and is a cracker of a Breakfast bagel burger recipe. Go on have a crack, and get the kids helping – ENJOY!!!
Is Life a Recipe YouTube Channel
What is a Brekkie Buger?
A brekkie burger is a delicious breakfast option that combines the flavors of a classic burger with the convenience of a bagel. The dish typically includes a juicy sausage or burger patty, topped with ingredients like caramelized onions, fried egg, cheese, avocado, and various sauces, all sandwiched between a sliced bagel. It's a hearty and flavorful way to start the day, and it's loved by many for its satisfying and comforting taste.
One popular variation of the brekkie burger bagel features a Wagyu burger patty topped with tomato slices, Gouda cheese, and other delightful toppings. Another version includes a combination of hot breakfast sausage, maple breakfast sausage, hot sauce, and cheddar cheese, served on an everything bagel.
Some fast-food chains, like McDonald's in Singapore, have also offered their own version, which includes ingredients like chicken ham, grilled mushrooms, round egg, and melty cheddar, served on bouncy buns. But I am confident this is way better.
The brekkie burger is a versatile dish that allows for various combinations of flavours and ingredients, making it a popular choice among my family of breakfast lovers.
---
People also asked about Breakfast Burger Bagel Recipes…
How do you make this wonderful recipe?
To make a delicious family breakfast, start by spreading a mayo/mustard mix on the bottom half of each bagel. Then, top it with a cooked sausage patty, caramelized onions, and a fried egg. Spread more of the mayo/mustard mix on the top half and place them on top of the eggs to finish. Serve warm or wrap in foil for transport.
What are the ingredients for a breakfast bagel burger?
The ingredients for a breakfast burger can vary, but some common ones include bagels, cooked sausage or burger patties, caramelized onions, fried eggs, mayo, mustard, and cheese. Additional toppings like avocado, bacon, and different sauces can also be added for extra flavor.
Can I use different types of meat for the breakfast bagel burger?
Yes, you can use different types of meat. The recipe allows for flexibility, and you can use breakfast sausage, bacon, ground pork, or even Wagyu beef patties as the main protein.
Is the breakfast burger suitable for vegetarians?
The traditional breakfast recipe is not suitable for vegetarians as it typically contains meat, such as sausage or burger patties. However, vegetarians can customize the recipe by using plant-based sausage or meat substitutes for a vegetarian-friendly version.
How long does it take to prepare a breakfast bagel burger?
The preparation time for this breakfast can vary depending on the recipe and cooking techniques. On average, it takes around 20-30 minutes to prepare the ingredients and cook the sausage or burger patties, eggs, and onions. However, it may take slightly longer for more complex versions with additional toppings and sauces.