Toasted Crostini 'w' Skirt & Blue Cheese
Dinner tonight was three new recipes that I was testing on the family. This was a cracker. Raiding my GrillMaster #2 box from our BFF Shaun @ Butcher Box, I grabbed an amazing lump of skirt steak (AKA hanger, Chef cut…). Click on the Orca logo on the webs site and you'll be transported to all their goodies. Fast becoming one of my all-time favourite bits of meat to cook with is skirt. It's a bitch to prep if it comes with the gnarly bit connecting the two hanger steaks together, and will then also likely need lots of fat trimming. But if it is cleaned up already it is a piece of piss to cook. Like season well with sea salt & cracked black pepper, 2-3 minutes a side, rest, carve across the grain – done! Easy. So dish #1 for dinner tonight was;
Toasted Crostini 'w' Skirt & Blue Cheese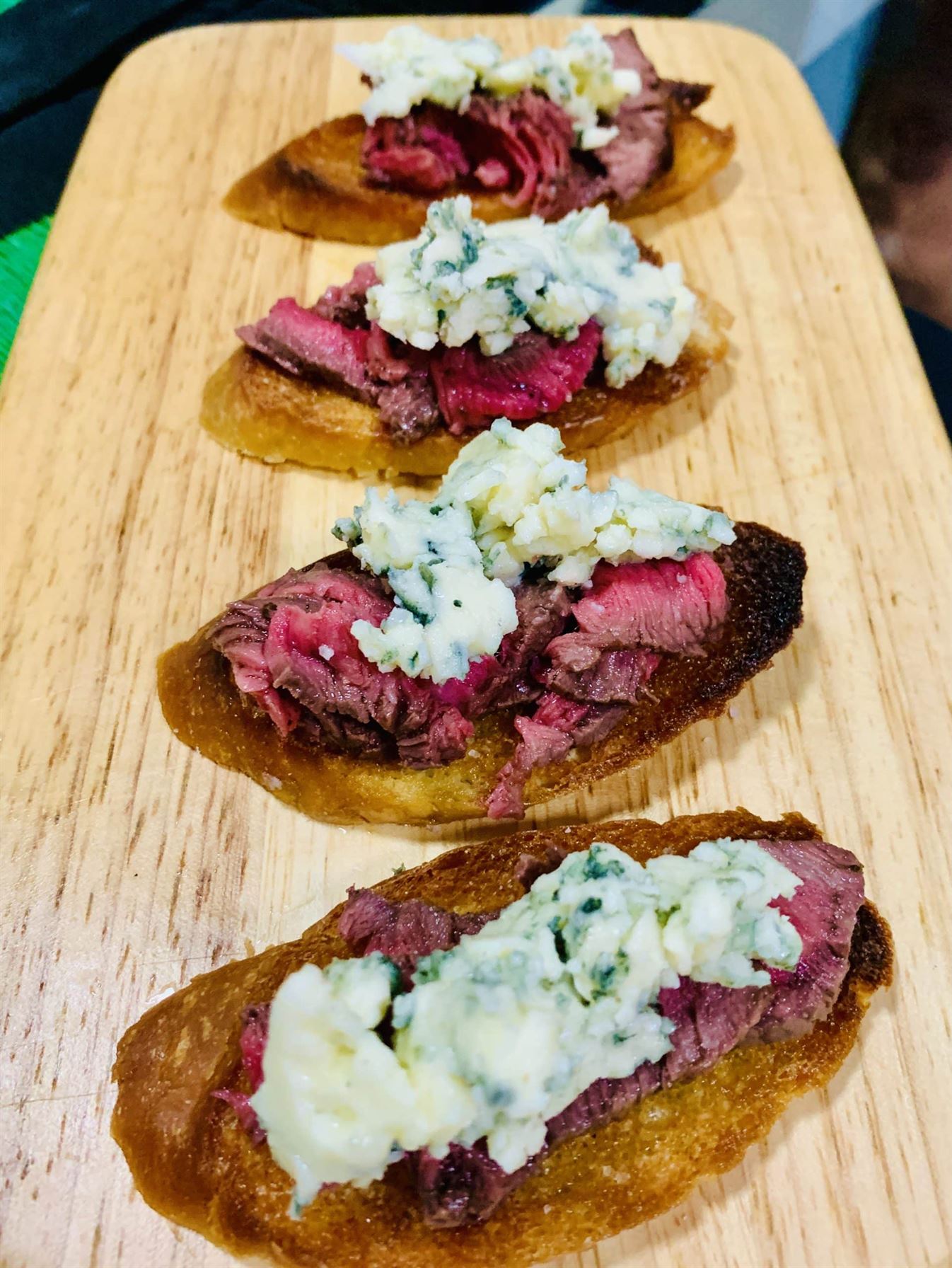 Here we go, no separate ingredients as a piece of piss to be honest;
Thinly slice a baguette up – on the angle to give a larger serving area;
Drizzle on both sides with olive oil and in the oven until crisped and golden brown;
Make sure your steak is up to room temp, and then season your skirt with sea salt & cracked black pepper;
Heat your skillet up – I added a little Wagyu beef dripping to get things going and get that shirt in;
Cook this for like 3-4 minutes per side at high heat and then rest for 10 minutes;
Slice it as thin as you can, paper-thin if possible and your knife is sharp enough;
Lay some of those super-thin slices on the toasted crostini and give a sprinkle of a little more sea salt & cracked black pepper;
Crumble over some blue cheese and serve up.
They smell incredible, look amazing and taste off-the-charts good. Toasted Crostini 'w' Skirt & Blue Cheese. A must for our next ChillaxBBQ. Some luck guinea pigs at home today to be the first to try this new recipe. It's a cracker. We'll surely be seeing this one again on a plate near you soon.
ENJOY!!!
Connect with Us on Social Media
(Visited 54 times, 1 visits today)