Onglet Beef 3-ways 'w' Chimichurri Sauce
I bet you're all asking yourselves what the hell is Onglet? Actually, so did I when our Partners at Orca Marketing popped this in a Jamboree box I bought recently. I did ask Shaun for a box of unusual and new cuts though, so it's all on me. I also admit I did Google a bit for this. I remember Shaun mentioning that it comes with a gnarly bit of tendon/gristle right through the middle. And holy shit yes there was. BUT, on either side of the gnarly bit are these most amazing Onglet steaks, as they are known in French cooking.
In some locations, they are also called Butcher's Cut, because the butcher will save the best pieces of meat for himself. It is known to be extremely beefy in flavour. I tell you, when I cut open the packet, gave the beef a rinse and popped it on the chopping board all you. could smell was beef. It was like a jerky smell. Quite incredible actually.
Daddy-pedia time; Onglet is also known as hanger steak or butcher's steak. It is prized for its flavour. A surprise for me is that it actually comes from the diaphragm. I must get this added to my arm Tattoo. It is cut from the plate or upper belly. I love the butcher's steak story because butchers would often keep it for themselves rather than offer it for sale. The rationale is because Joe Public believe this to be a throwaway piece of meat, but actually, as we found out today, it is one of the most tender and absolutely super-flavourful cuts of meat ever.
Get this. As I was thinking as I butchered it, the Onglet steak resembles Flank. It's a weird V-shaped pair of muscles, AKA crura, with that horrible gnarly inedible membrane running down the middle. Called Hanger Steak as they literally 'hang' from the diaphragm. The Onglet is potentially the most tender cut, aside from the tenderloin. So my question is; "Why the don't we eat more of this cut?"
It may be because it is known by so many different names. Occasionally seen on menus as Bistro Steak, Hanger Steak, Arrachera (Mexico), Fajitas Arracheras (Texas), Lombatello (Italy), Longhaas (Flanders), Świeca Wołowa (Poland), and Solomillo de Pulmón or Entraña or Entécula' (Spain). It is sometimes named incorrectly as Flap Steak or Flap Meat. WRONG cut folks.
Back to the cooking and prepping. I absolutely do recommend asking a major favour of your butcher to trim out our friend the gristle piece as that is one ball-ache piece of butchery. If you go for butchering it yourself, please make sure your paring knife is super-sharp.
It took me about 30 minutes to get the Onglet from this;
to this (the remaining fat is all marbling and not gristle folks – AKA flavour, and not elastic bands);
ChillaxBBQ Stay@Home Recipes #38 – Onglet 3-ways 'w' Chimichurri Sauce
One recipe I need to detail is my homemade Chimichurri Sauce. This is a winner. You can make a load of this and store it in some Tupperware in your fridge for a couple of weeks at least. As you will see in this blog alone I used it for the salad and on the fillet. It's an absolute stunner of a bed-fellow to any number of recipes I reckon. And it really is quite easy to make. It's citrus, it's herby, it's garlic, it's salty. It's excellent. It's a must-try. This will go with beef, pork, chicken, even fish I reckon. Make up a batch of this and you'll see what I mean. You'll even end up trying it on your bloody cornflakes I bet.
Home-Made Chimichurri Sauce
You will need;
3 supermarket packets of fresh herbs – 3 each of these;

Mint
Oregano
Parsley
Corriander
Rosemary (if you can get it – I could not so I used Rosemary infused Olive oil)

6 fresh limes;
8 peeled garlic cloves;
A good quality bottle of Virgin Olive Oil;
Sea salt & cracked black pepper.
It's as easy as 1, 2, 3…
Finely chop all the fresh herbs together and pop them in a mixing bowl;
In a pestle & mortar add in a good sprinkle of sea salt and the garlic cloves;
Bash the garlic cloves to a paste and add a sprinkle of cracked black pepper;
Add this to herbs and give a good stir through;
Squeeze in the juice of the 6 limes;
Add a load of Olive oil – you are basically covering the herbs with the oil;
Give a good sprinkle of sea salt & cracked back pepper and mix thoroughly.
Pop all that in your Tupperware.
First, though give it a taste test. Make sure the seasoning is to your taste. I like it sour and salty, so added a little lemon juice and a pinch or two more sea salt. That's going to be perfect with this meat. The strong beefy taste will be a perfect bed-fellow for a herby citrus topping. Oooooh I can't wait.
Dish #1 Onglet Open Sandwich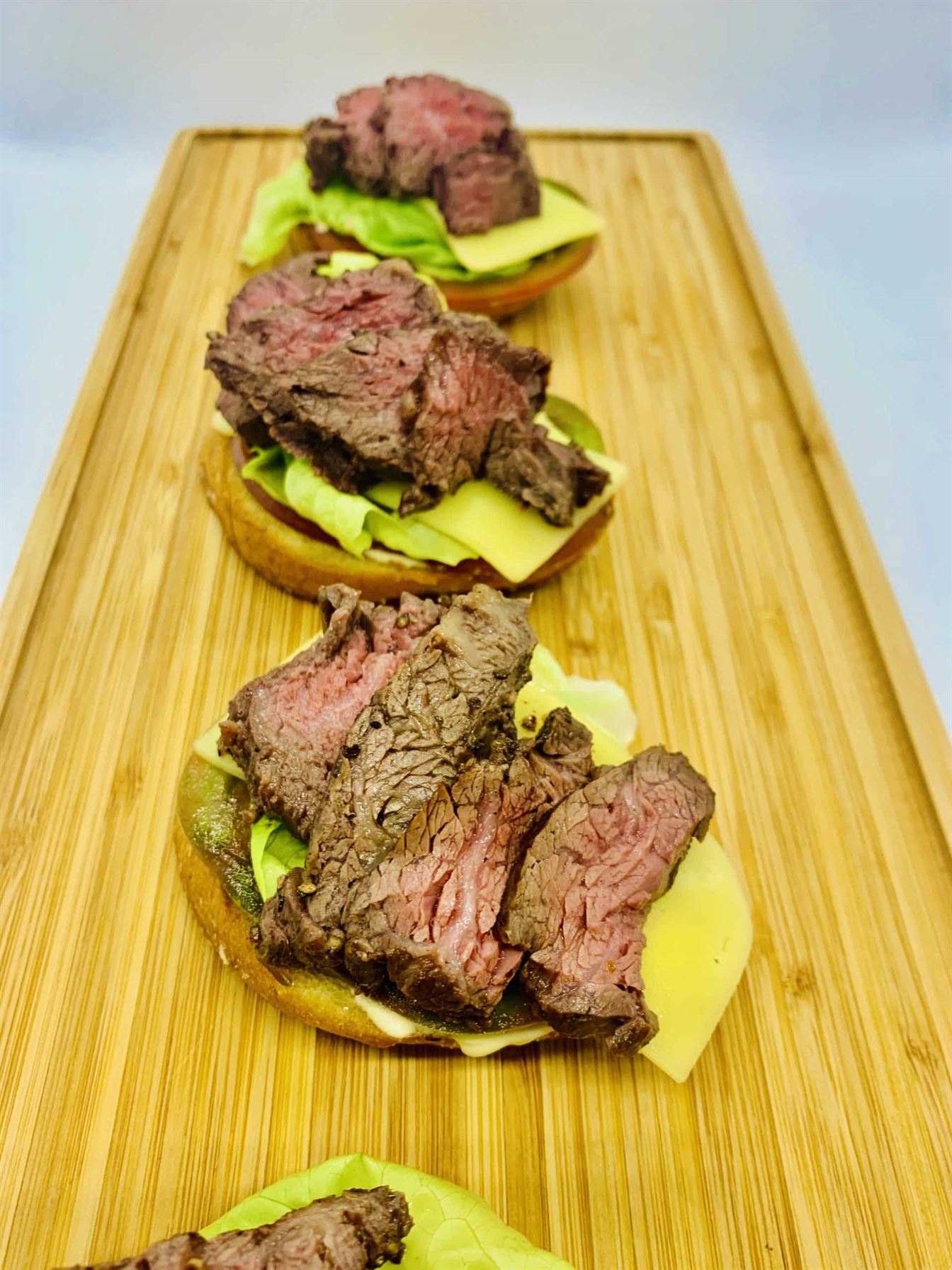 Slice up a baguette on an angle so you have more flat surface area to work with;
Melt off some salted butter in a large pan and fry off the bread slices until lovely and crisped and brown;
Set them down on a platter – it's all about adding layers onto the bread slice in this order now, so;

a layer of some Japanese mayo – I did a couple with Horseradish cream too (equally WOW!!!);
a thin slice of tomato;
a young lettuce leaf;
a slice of Emmental cheese
a few slices of that beautiful beef Onglet fillet, just as I have done in the picture
a little sprinkle of sea salt
You could drizzle some Chimichurri on top of the meat – I did not because of the kids
And that is that.
A beautiful looking and stunning tasting open sandwich.
It's a must!!! And this is just dish #1.
Dish #2 Onglet Fillet 'w' Chimichurri Sauce
Dish #3 Onglet & Tomato Salad 'w' Chimichurri Sauce
So there you go folks. A cut of steak that kept the boredom away for an hour or so in butchery practice. 10 minutes to cook and then an hour or so of fun creating Onglet Beef 3-ways 'w' Chimichurri Sauce. My homemade Chimichurri Sauce really is to die for. Keep it in the fridge and keep on drizzling. It really does go with everything. Onglet is now potentially one of our favourite cuts of meat too. If you like super-beefy flavour, super-tender with fatty marbling too, then this is your cut. Give it a go. It is really an underestimated but stunning piece of moo-cow. I hope you like the 3-recipe variant too for this blog. We had them all for dinner, so hit with flavour and texture explosion. Of course, you can take your time, one at a time and – ENJOY!!!
Connect with Us on Social Media