The Meathouse by 18Chefs is one die die must try experience. Please believe me. I was at Century Square today, down Tampines, to visit the newly opened Mall and my favourite shop on earth – Tott. Well guess what happened? Actually let me go back in time a tad first. This one fated food and eating occasion that is all a tad strange.
I had never heard of The Meathouse by 18Chefs.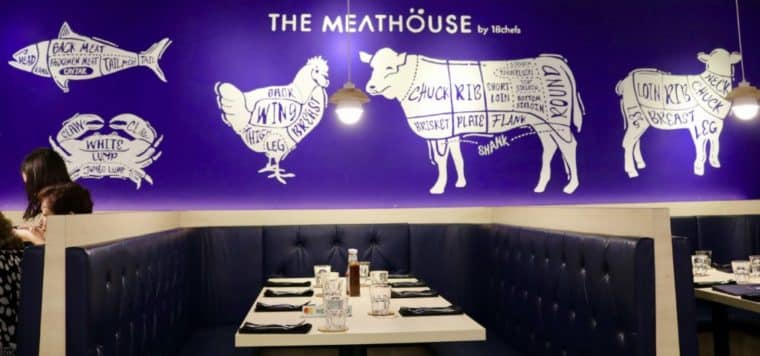 Now that looks familiar doesn't it folks. Hmmmmmmm. I feel really at home here, I wonder why…..?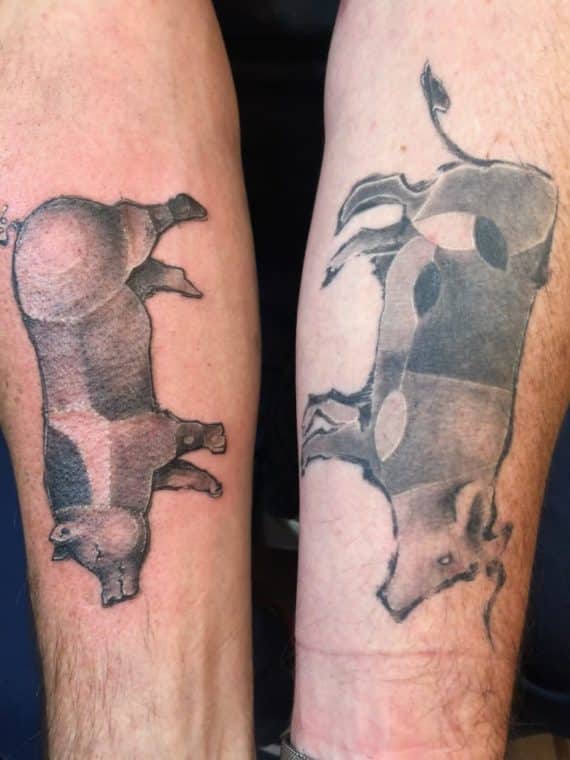 I have heard of 18Chefs as saw their place at Downtown East once – we did not go in sadly. There are actually 13 branches across The Red Dot.
A few months back I bought this new cook book by some Chef called Benny Se Teo. Never heard of him. But the photo on the front was a major pull to explore within. So glad I did. What a cracking cook book. Mix of East meets West. I HIGHLY recommend it. Chef Benny Se Teo, Honest Good Food. It really is a cracker.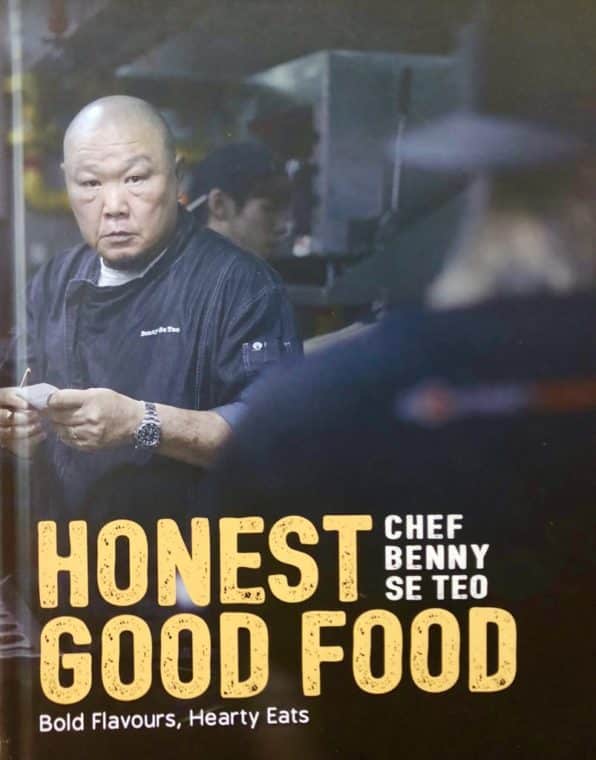 Jamie Oliver's Fifteen concept and TV series was inspirational to me when I was in UK – I even had fortune to dine at Melbourne branch when I lived there.
I used to go to Cambodia every single year with my good buddy, Doug Peris, to build little houses on stilts for the less fortunate there through the charity Tabitha. Dougy and I are both massive foodies, and would always, always visit Friends Restaurant, Phnom Penh. I also had a great chance to go to their 'sister' restaurant in Siem Reap, Marum. What do these restaurants do? They take the less-fortunate off the street and train them in F&B to enable them to find work and become self-sufficient.
Maybe on the last three items you may think so what??? Well Chef Benny was a drug addict, and is an ex-convict, and managed to become part of Jamie Oliver's internship to Fifteen in London. Because of that he decided to co-found 18Chefs and enable some re-habilitating convicts, drug addicts to change themselves through food and become self-sufficient again – as he himself had. On FaceBook he is a friend of my mate Doug. Now do you see what I mean regards to fate.
So this is what I mean. Jude and I go to the 5th floor of the Mall and work our way down, as Tott is not open until 11am. We espy the, at that time, completely empty The Meathouse by 18Chefs, but both decide this is where we will be having lunch. Then on the way down to 1st floor to visit Tott, there is this HUGE 20′ tall sign with Chef Benny stood there. Angry faced, and garbed out in is faded denim – announcing that his new restaurant The Meathouse by 18Chefs was open on 5th floor. That was the moment it all came together – OMG. Can you believe it.
So a quick shop at Tott and back to Chef Benny's and The Meathouse by 18Chefs– and bugger me he is behind the pass cooking. Couldn't quite believe it. I would have loved to have said hello, but it was seriously mobbed, with a massive queue out the front to boot – luckily Jude and I were well early to sit down. Like midday on the dot.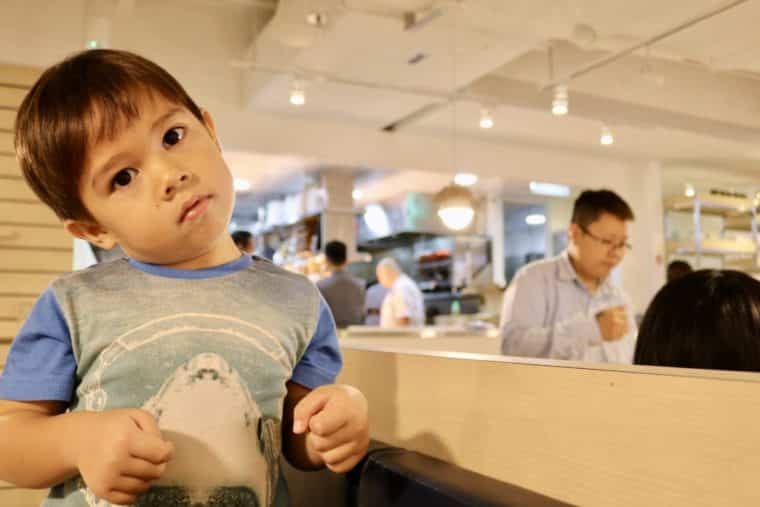 I would suggest you book guys – seriously – I hate queuing – have a look.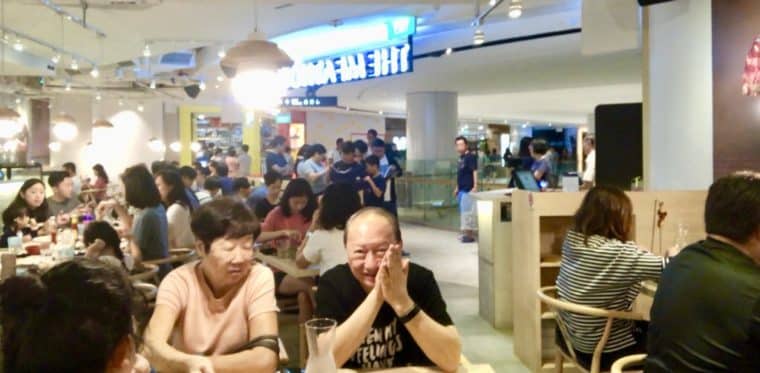 Too many 18Chefs to mention. But ring AVN (Front of House), at 8267 8245 to book The Meathouse by 18Chefs. It is at 05-04, Century Square Shopping Mall, 2 Tampines Central 5. I would recommend that indeed. Some real cool booths for bigger parties too. Only downside for us non Halal is no beer with your steak, but now let me get to the food which will kill any of that angst. The menu is a cracker.
It is such a good variety. But Jude and I, for this trip, came for MEAT. That is what we ordered, and that is what we got. And I tell you folks, that lunch was some of the very best meat I have had go down this gob, at the most reasonable pricing, served by such cool and polite staff (be proud Chef Benny – that is a great crew you have).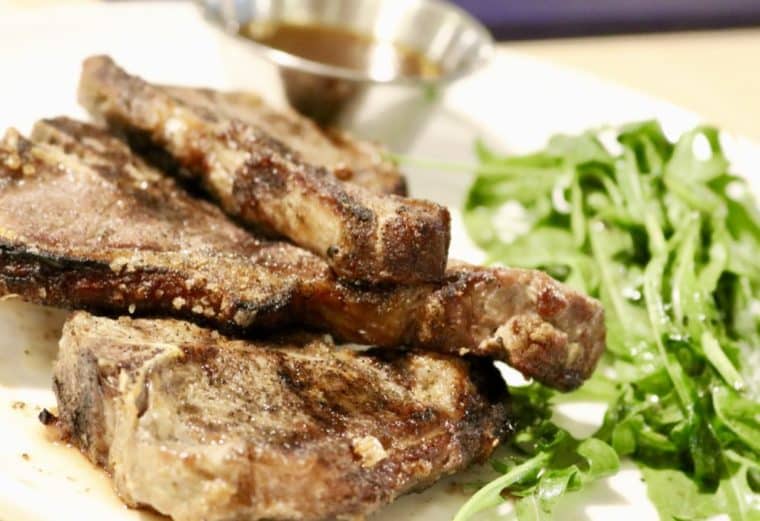 Jude went for Lamb T-Bones (sorry Chef Benny, my wife demands well-done). Even so the flavour of this dish was incredible. The char and smoke was just perfect. Jude, who is four, wolfed it down.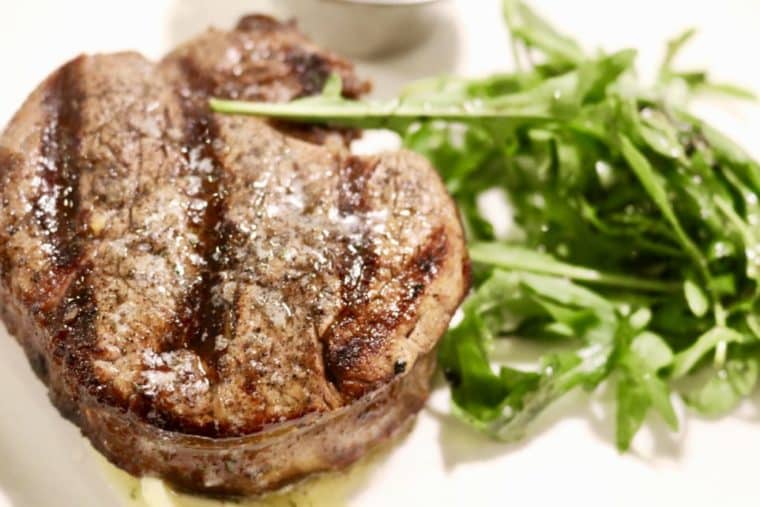 Next to mine. Angels were a singing believe me! How beautiful does this look. I love the simplicity, I truly do. Steak. I don't want mounds of other stuff, I can order them as sides. In we did have truffle fries, but anyway… Some seasoned rocket, some stunning garlic gravy and my STEAK. Ladies and gentlemen this hunk of Filet Mignon, was $42. Yep, $42. Now that is true value – but wait…
You just have to come to The Meathouse by 18Chefs. I tell you it is way way up there for me. Really was a WOW moment when I had that first bight if that steak. I was blown away. I am in a bloody shopping mall after all, not Marina Bay Sands – have to say better than any food eaten there to date, and at $42 that's one carrot with the steak there. I am blown away truly. The issue I now have is that I will never want to meander from that Filet Mignon and get anything else. Bugger. What a nice problem to have!!!
So Chef Benny and crew be proud – you made a 50 something and a 4 something so happy today at lunch. That was a cracker. Seriously one the very best steaks I have ever every had. Incredible. I can't say anything else folks but book up The Meathouse by 18Chefs, first and get yourself down. I will absolutely eat my hat and that of every patron in that room, if you don't
ENJOY!!!
2 Tampines Central 5, #05 – 04, Singapore 529509