ChillaxBBQ does Saba Saurus' 50th
Another day, another ChillaxBBQ. This time it was a 50th Birthday. I reckon about 60 pax, of which about 10 were kidlets. Mike had chosen us to cater for this auspicious event, his 50th. For that, we thank you, Mike. The ChillaxBBQ crew is honoured to have been part of your celebrations with friends and family. Truly honoured. We hope you and guests enjoyed the fare we served up. We did get quite a few verbal recognitions which, of course, keep our spirits high. Thank you. So folks here comes ChillaxBBQ does Saba Saurus' 50th.
As this was a monumental occasion ChillaxBBQ splashed out for Mike and we got his own beer label made up for him. When we do a BBQ, we do a BBQ. And we did ChillaxBBQ does Saba Saurus' 50th.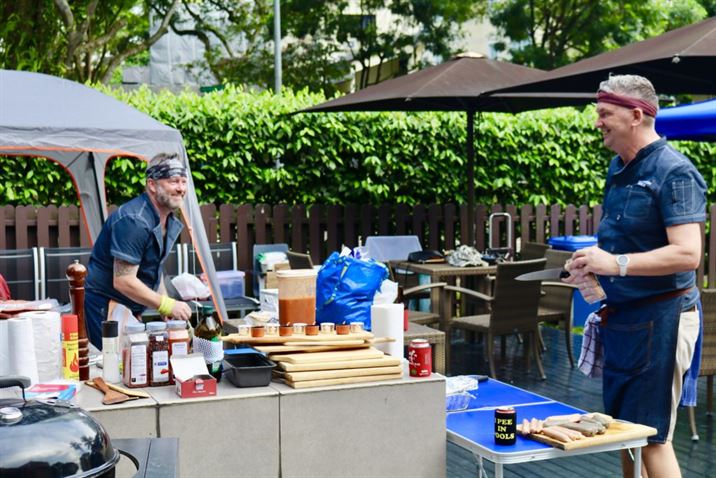 And that was that folks. Guests were still arriving at 2130. We were making steak sandwiches at the end which were off-piste. We had special requests for more of this and more of that. We have a conclave of people next to the serving jump that we were serving individually. It was a cracking effort from the ChillaxBBQ crew today. ChillaxBBQ does Saba Saurus' 50th was incredible. Massive thanks to Big Bird, Marky Mark, #1, Soph, Jess and Cass. Good work ladies and gents. You absolutely rocked. It was indeed a #knockedoutofthepark experience. Mike, Happy Birthday again my friend. Thank you so much for choosing ChillaxBBQ for your party. It was an honour to serve and to meet all your amazing family and friends. Folks if you like what you see, we are only a phone call/email away for you to also be able to – ENJOY!!!
Is Life a Recipe YouTube Channel
(Visited 42 times, 1 visits today)