Katherine's Iranian Lamb Recipe
Whilst having a pre-Xmas beverage with customers, colleagues and friends I had the good fortune to meet Katherine. The wife of my mate Darren Thayre. And one of the few Iranians I know. Whilst chatting we got into food in a big way, and she released to me a new dish, one from her Mum, but I cam calling it out as Katherine's Iranian Lamb Recipe.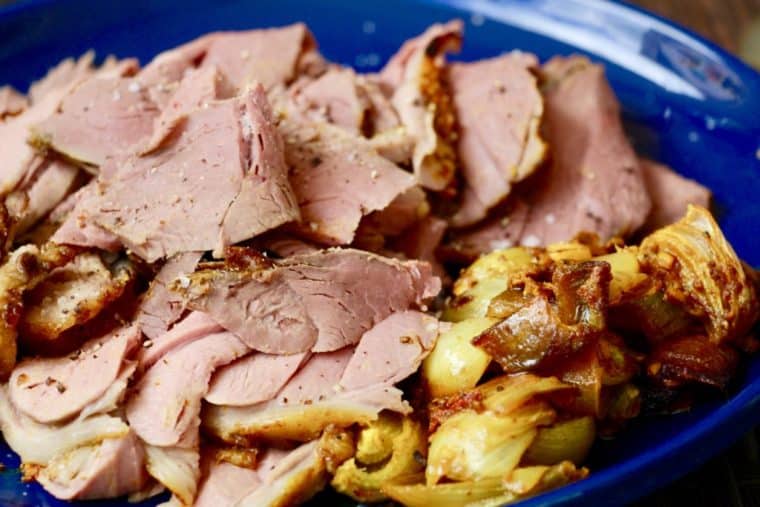 It's a cracker.
I did it for Christmas Day at Rutherford's party and it disappeared off the plate. Always a good sign! Katherine's Iranian Lamb Recipe was a great hit.
This is what you will need;
3-4 lamb shanks (for the purists), but I used a lamb roast roll (all they had in Cold Storage);
The zest of about half of one lemon;
2-3 red onions, peeled and roughly chopped;
2 tablespoons of turmeric;
A packet of saffron;
3 teaspoons of finely chopped garlic; and
Sea salt and cracked black pepper.
Place the lamb in a roasting tray, drizzle with a little oil, and cover in all the ingredients above. You want this all over so the entire meat is coated. Cover this in foil. Stick it in the oven (another meander from Katherine's Iranian Lamb Recipe, as she does hers on the gas, but we were off out so I could not), on 90 degrees for 4 hours. Wow, that's hard – NOT!
When you get back 4 hours later, it will be perfectly cooked, but a little 'pasty' as it has not browned due to the low temperature of cooking. So yesterday I took that bad boy, warmed it, and charred it on the BBQ. Blacken it up to really boost the flavour attack. I then let it rest for about 30 minutes. I used my sharpest knife to carve against the grain as thinly as I could. This was almost like lamb pastrami, but so so moist. I served it up with a crack of black pepper and sea salt on top, and the roasted onions to one side.
Katherine also adds crushed dried limes to hers at the end, but I could not find any. But she gave me a tip, do to Mustapha's.
Katherine's Iranian Lamb Recipe is an amazing recipe. One you absolutely should have a crack at yourself. It literally disappeared off the plate as it was served. People were asking for more, but sadly it was all gone! It's a cracking recipe, and so so simple, as I think you'll agree. Have a go, because if you do you surely will – ENJOY!!!