Georges bar has come a long way since its humble beginnings in 1999 as a small beverage kiosk at Pasir Ris Park started by a group of friends known as the Georges brothers. What began as a spot for beachgoers to grab a drink evolved into a laidback beach bar serving western grill favorites. The wildly popular Georges expanded over the years, bringing its signature brand of good food, live music, and friendly vibes to new locations across Singapore.
Now, 20 years after the original Georges opened, the brand has launched its 10th outlet – Georges @ Oasis. Staying true to its roots, this latest addition retains the rustic, beachy feel that Georges is known for. Nestled in the Parc Komo development along Upper Changi Road North, Georges @ Oasis offers a cozy, welcoming space to enjoy drinks and bar bites with the locals.
Though the new bar offers a fresh setting, the Georges ethos remains the same – it's a place to meet old friends and make new ones over good drinks, food, and music. Georges @ Oasis marks an exciting milestone for this homegrown brand as it continues to thrive two decades later.
Soft Launch of Georges @ Oasis
Brian and I arrived early (2.98pm) for the 3pm kick off, the signboard at the top of the steps saying "5 Minutes to Happiness" gave us a good indication of a good night to come! When we arrived at the door said is said Sorry we're Closed, panic ensues! The sign is the same sign we use for an outlet when they close down on our blog, another good sign!
We were meet at the door with 2 mins before the 3pm open by a lovely lady called Red and she said we could enter but its not open until 3pm, phew! (PS the time being 2.98, instead of 2.58 was something I mis-said at one point in the evening and became a running joke for the night!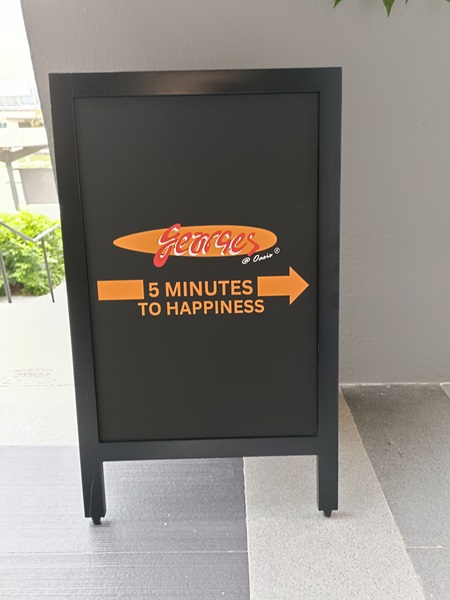 Georges @ Oasis Decor
When we entered Georges both of our jaws dropped, the place was decked out like an old English pub from back home! Wow! Look at the Chesterfield furniture, a reminder of home for sure!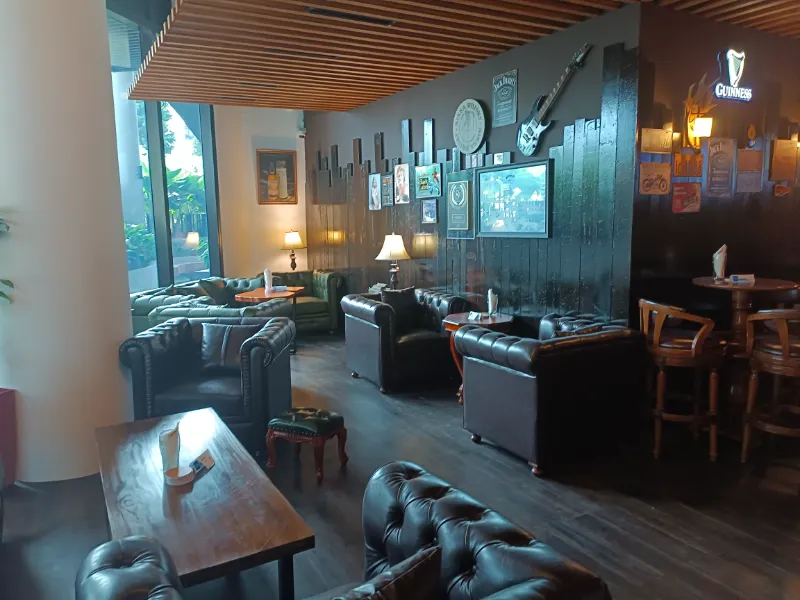 George's Bar – Lock and Stock and two Smoking Beer Barrels!
Brian and I were the first customers in the latest George's, which is now their tenth outlet in Singapore! With only Tiger and Guinness on tap I opted for the Black stuff and Brian his favourite Tiger, unfortunately Tiger tap was not ready so Brian opted for a Carlsberg Smooth!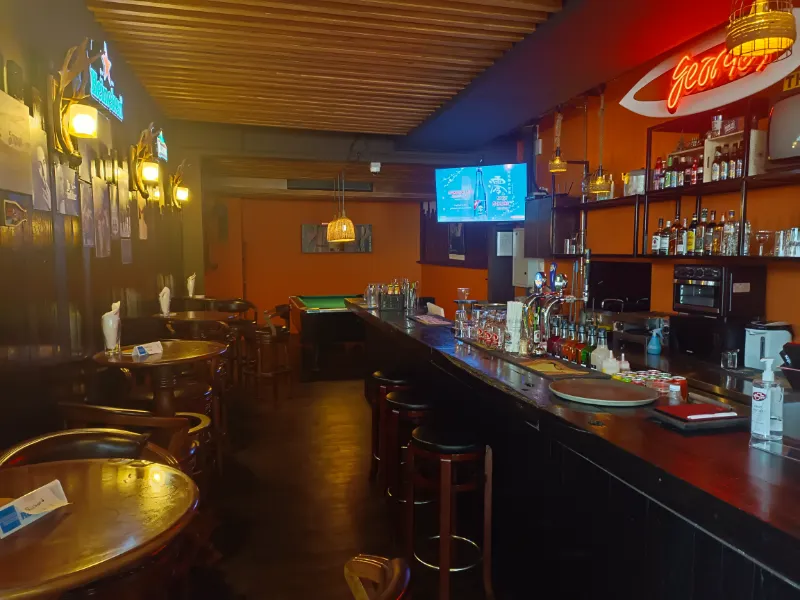 Whiskey Wah Wah he breathed!
If you are a whiskey/whisky lover then George's @ Oasis has you covered! Check this little lot out on the shelves below! On the night so many people ordered by the bottle and had their named added to the bottle for their next visit
Brian introduced me to a lovely couple Kenneth and Faith who live nearby, Kenneth kept slipping us shots of Johnnie Walker Gold Label Reserve which I can still feel the next morning as I write up this blog post We had such a giggle, so think we might be catching up again real soon!
Dip into the Pool at Georges
Whilst George's usual theme is Bali Beach style this upmarket English pub styling would not be complete without a pool table! As the night went on this end of the bar was packed with pool loving drinkers!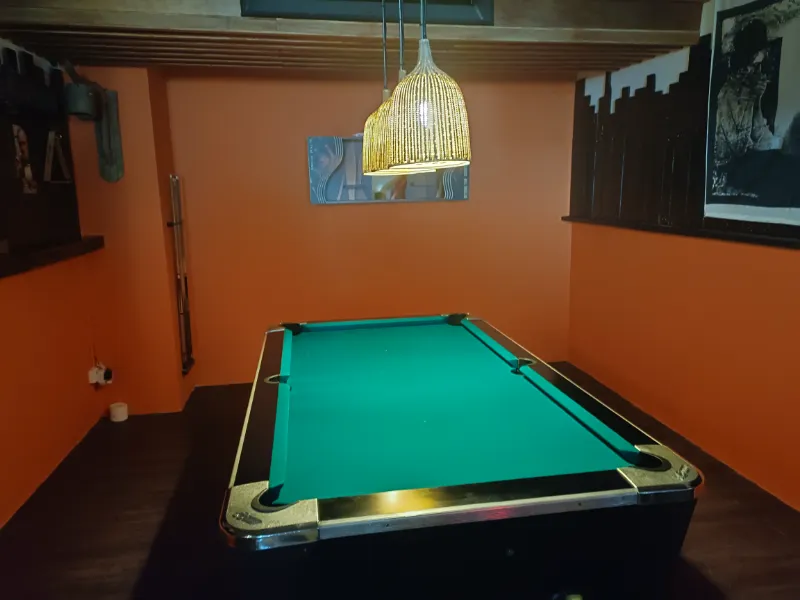 Beer, Beer we want more Beer!
Finally someone turned up to fix the Tiger tap and Brian was a happy man! Not sure why they have Heineken, Kilkenny signs up with only Tiger and Guinness on tap!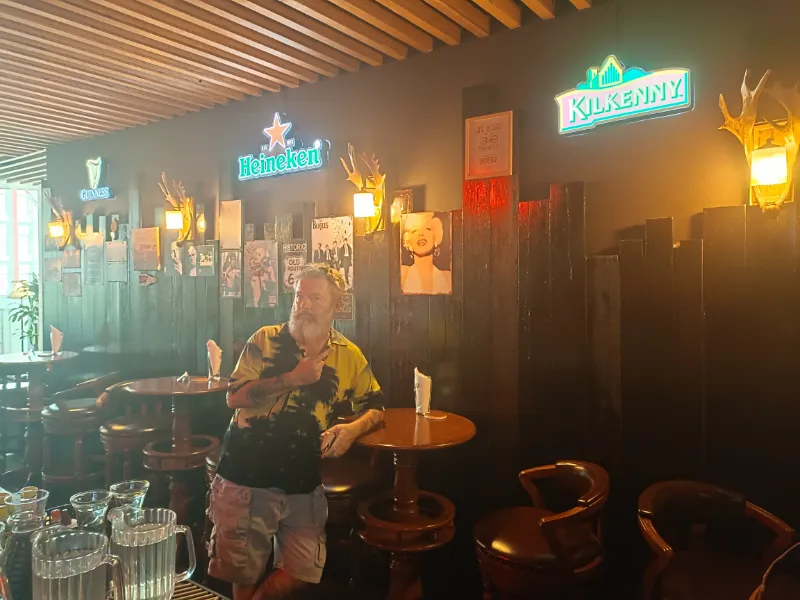 Georges Food Menu
There is no kitchen at George's but they have made the most of the space they have by adding some cooking equipment behind the bar and offer up Tapas style bar food. David the manager knew Brian and our crew from George's in Siglap and comped us the two food items below and what a treat they were.
The quesadilla was hot but once cooled down was delish! Next up was the Georges Corn John, I had expected actual Corn (not a fan) and so when I saw it was Corned beef I was elated as was Brian! it did not last 2 minutes, Woof!!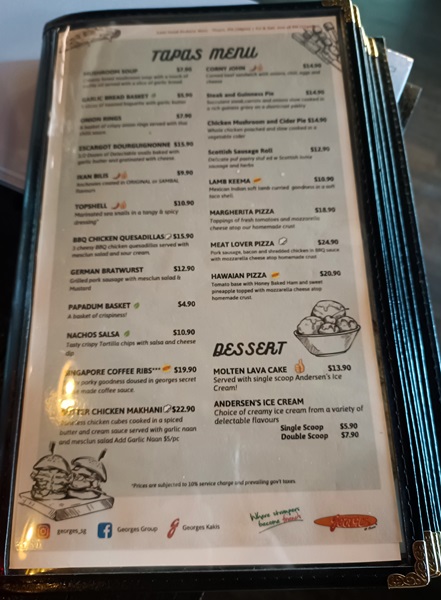 Everybody needs Good Neighbours!
Despite the bar being opposite the prison does not mean all the neighbours are criminals, in fact their next door neighbour is in fact Ding Heng Kitchen and Georges allows food to be bought there and dabao (take-away) and eat at the Bar! Talk about symbiotic! Last orders at Ding Heng Kitchen is 9.30pm.
So what are you waiting for, do book a table in advance as the place was packed yesterday and pre-bookings are advised.
Georges @ Oasis Opening Hours
Mon – Turs
03:00 PM – 11:00 PM
Fri & Sat
03:00 PM – 12:00 Midnight
Sunday & PH
Closed
Georges @ Oasis Address & Telephone
KOMO SHOPPES #01-12, 963C Upper Changi Road North, Singapore 506790
Telephone: +65 63227836