Eel stock and liquor
Remember the pie n mash blog with Mr C aka The Shamen, well this is the Eel stock and liquor blog from The Semi-Naked Chef. How did I get that stock to make the liquor and the jellied eels in the first place? The easiest way is to show right?
So what did I have and what did I do.
I took a large stockpot and into that added;
3 white onions roughly chopped;
4 stalks of celery roughly chopped;
3 carrots roughly chopped;
A good pinch of salt and black pepper; and
A good glug of Olive oil.
Get that on the heat and sweat the vegetables down. Not cooked, just until you see the onions getting translucent.
We are getting near the start of the Eel stock and liquor.
Throw in the gutted eels. I had three big ones as you can see – watch the Memoirs of wet markets and eels for that.
Actually apologies before throwing in the eels you need to pour over about three kettles of boiling water. This is the weirdest experience as they puff up and open their mouths. All a bit scary really. Now, why the hell are you doing this? Remember picking them up, all that slime from years of living on the river bed. Well, the boiling water sort of 'cooks' that and turns it to a skin that you can rub/peel off. Now, this is gross – so I got my Mary to do it ha ha. So now that you have cleaned the eels, throw them in the pot with the vegetables and cover them with cold water. Back on the heat, bring to boil, reduce to simmer.
Once the eels are nicely cooked – you'll see white flesh that is light and flaky. Off the heat.
Take another stockpot and strainer, and strain the eel stock in the other pot. Obviously, keep the eels.
Now to make the liquor you need first to make a roux.
Take a large frying pan and melt a good knob of butter over the heat. Gradually then sprinkle in plain white flour and stir it gently but continually (no lumps please). This will gradually start to form a white paste or actually the roux, a white sauce base. Once you are there and it is all nice and smooth start to spoon in the eel stock and stir. It will start to absorb the roux. So slow and steady, slow and steady. The liquor needs to be a sauce-like consistency, not really runny but not really thick. Like a light gravy. Add in some malt vinegar – about 2-3 tablespoons. I had already placed a couple of chilli padi in my vinegar for a few days to give it some bite. Give a good season with salt and pepper and then add in a finely chopped half bunch of British parsley – not Chinese as that is coriander – it must be the curly kind.
Have a wee taste to see if you need any more seasoning.
That is that. The Semi-Naked Chef's Eel stock and liquor – this is how it should look like. Well, basically how mine did.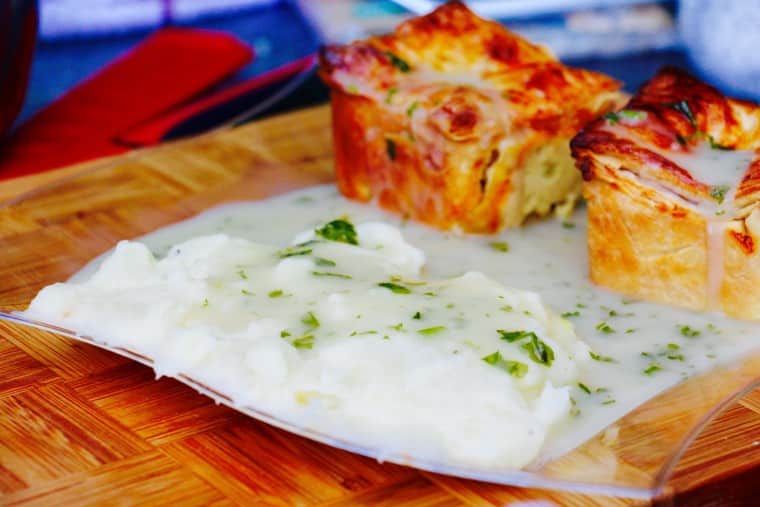 Eel stock and liquor – ENJOY!!!