Tomato Thyme & Ham Focaccia Toasties
ChillaxBBQ Stay@Home Recipes #30
I am using leftovers and fridge only available ingredients for Strawberry Blonde's breakfast today. This was a stunner I have to say. I tried a little of this and it was super-delicious, and she also endorsed that with a clean plate in minutes. You'll see again that this is just so very easy to make, but it looks all restaurant-like and tastes the same too. I'd be more than happy if I order this and this beauty rocked up. Delicious folks and really easy to make is ChillaxBBQ Stay@Home Recipes #30 – Tomato Thyme & Ham Focaccia Toasties.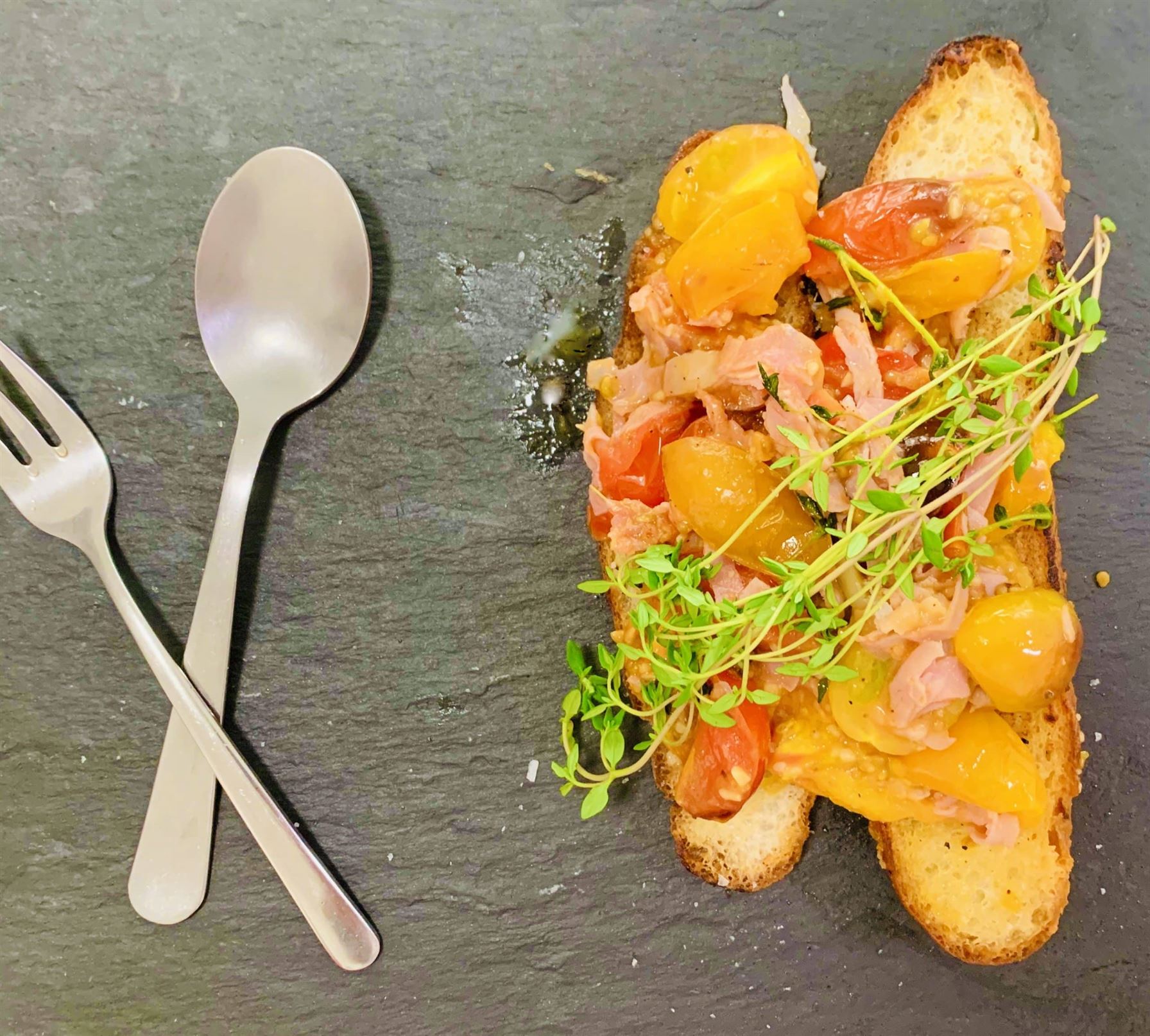 You will need for a single person brekkie serving;
1 Tsp of finely chopped garlic
2 slices of leftover Focaccia bread (any bread)
3 sprigs of fresh Thyme
1″ knob of salted butter
10 small tomatoes cut into quarters (I used some Heirlooms to get amazing colours)
2 slices of good quality ham – I simply sliced this into thin strips
Sea salt & cracked black pepper
Do this folks;
Pan on a high heat
When hot pop in the garlic and butter and sweat it down a little
In with the tomatoes and half the Thyme
Give the tomatoes a sprinkle of sea salt & cracked black pepper
In with the bread slices like the picture, making sure you move them around on both sides to soak in the garlic butter juices
Cook-off until the bread is toasted on both sides to a lovely golden brown
Off the heat and stir in the ham to the tomatoes
Pop the bread on a platter and spoon over the tomatoes mixture, juices and all
Garnish with a little spring or two of remaining Thyme
A little sprinkle of sea salt and you are off and running
Come on. Anyone can cook this. It's a stunner to look at and to eat. This is a flavour explosion whilst being so beautiful on the eye with all those colours. It rocks does this dish. I am very happy with ChillaxBBQ Stay@Home Recipes #30 – Tomato Thyme & Ham Focaccia Toasties. So was Strawberry Blonde. Jude's recipe for his breakfast coming up next. But if you are peckish for a brekkie or lunch snack, look no further than this recipe – ENJOY!!!
Connect with Us on Social Media