I am writing this from UK – South East Side, down in a place called Margate, Thanet, Kent, England.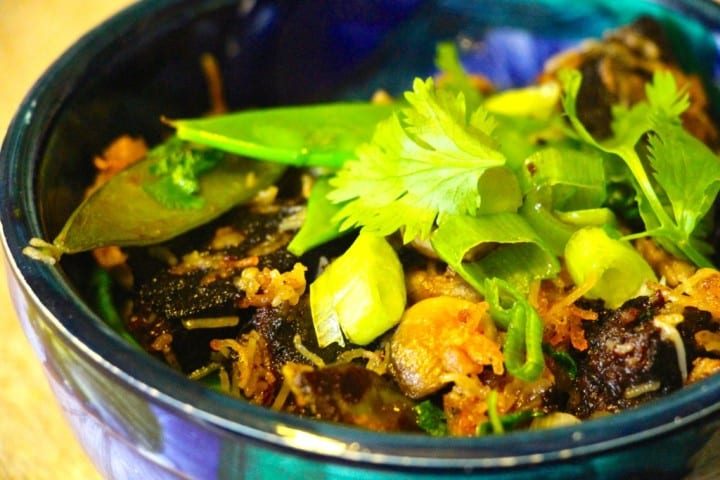 I am at me Mum's.
Don't get me wrong I love coming home to the very food I learnt cook with, my Mum's and my Nan's. Shepherd's pies, Pork pies, Sunday Roasts etc. But we still need our Asian injection whilst here to break down the carbs bombardment. That carbs bombardment is a war that most in the UK seem to be losing, as man oh man I have not see so many 'large' people in one small town. They make me look like Twiggy.
I decided the other lunch-time to go Asian as best I could, bearing in mind when you walk in Sainsbury's now there is something like a half mile long aisle of pre-cooked/pre-prepared packeted food. Quite shocking actually. Just throw in microwave, ping and hey presto Mum has made dinner. Absolutely shocking in fact. Why are we not cooking England? Looks to me like you are cheating the need to cook with the pre-cooked packets of non-fresh crap, or you are packing out on the usual shit fast food – clearly demonstrated by the huge queues pouring from McD, KFC, Subway etc. and the huge girth of the individuals pouring out on to the street after they have gorged. Almost like watching hippopotamus grazing at a watering hole.
Sorry England that is what I have seen so far here in Margate.
Anyway enough, to the recipe – enough for four easily;
4 garlic cloves chopped finely
1 packet of rice noodles
6 pork sausages skinned (yep I could find no pork mince) – I actually used sage and onion sausages to give a little spin on the taste
2 stalks of lemon grass, peel a couple of layers of skin off, top and tail and chop finely
10 button mushrooms cut to quarters
4 slices of black pudding – about 1/2″ thick
1 packet of coriander
4-5 Spring Onions sliced – separate the green bits from the white
1 cup of snow peas
3-4 teaspoons of soy sauce
Salt & Pepper
And we're off.
Take a large fry pan and fry off the black pudding in a little oil until slightly blackened on both sides. Remove and leave on a plate to rest.
In to the same pan throw in the sausage meat with the garlic and lemon grass, add a little more oil and fry this until the sausage meat is cooked and browning. Keep chopping at this as you want to break the sausage meat in to a sort of mince texture. It will also speed up the cooking.
Add in the, noodles, mushrooms and snow peas, the salt & pepper and soy and stir fry for another 5 minutes or so. Keep moving it around as no burning please.
Now cut the black pudding into to bite sized pieces and throw back in the pan. Fry off for another 5 minutes so the flavours all start to muddle. Add in the white part of the chopped Spring Onion and fry off again for a couple of minutes. Take off the heat.
Stir in the wrapped coriander. The heat of the dish will wilt it down after a couple of stir throughs.
Serve immediately and sprinkle atop the green part of the Spring Onions and a sprig or two of coriander.
There you have if Fanet. Something made from food from your supermarket. Away from the pre-prep crap. Away from KF Mc Sub. Low in fat, fresh, low in carbs. Get your podgy little fingers on a pan, a knife, some fresh ingredients and cook – PLEASE!!!
This was delicious even if I say so myself. Even baby Jude had some for breakfast.
Enjoy!!!