The creator of Singapore's iconic dish, Chilli Crab, sadly passes away 15/2/2023
Singapore Chilli Crab is likely THE dish you'll shout out when asked; "What is Singapore's number 1 dish, or what is the favourite hawker food in Singapore?" You would have been shouting this out since 1950, which is when this iconic Singapore foodie Cher Yam Tam invented it. It is reported that Cher Yam Tian created chilli crab in the middle of the 1950s when she added bottled chili sauce to her meal of stir-fried crabs rather than using tomato sauce, which was her typical ingredient. In 1956, she and her husband started selling the meal along the Singapore coastline from a pushcart.
Our mate KF Seetoh said in a lovely Facebook message about this incredible woman; "She once sold seafood by the seashore in Bedok…" Now, there's an obituary.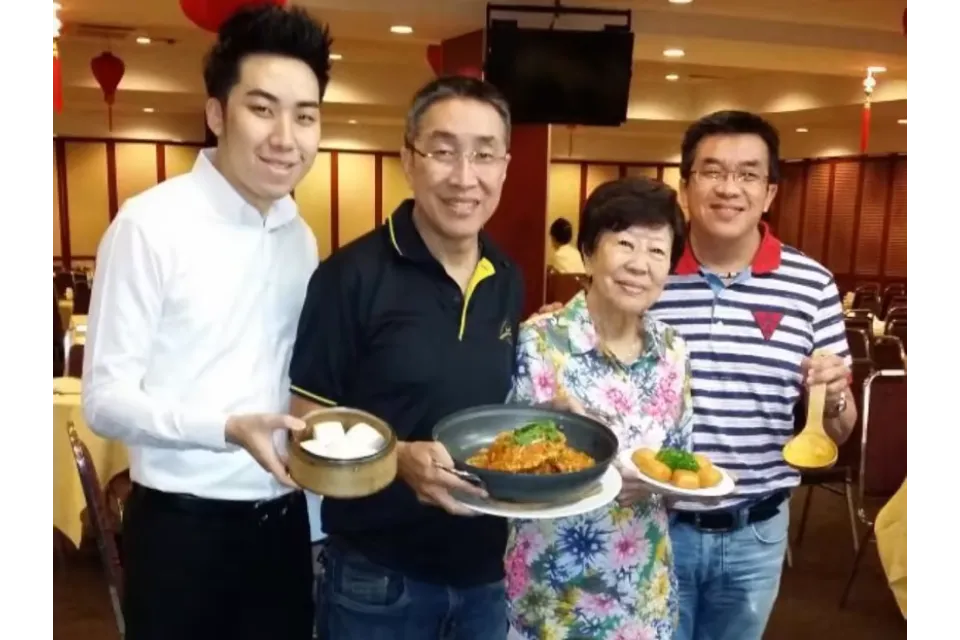 Cher mentioned in an interview that she had begun serving her chili crab dish to her friends and family, which resulted in them advising her that she ought to start selling her unique invention to the public. 
Therefore, in the year 1956, Cher, along with her husband Lim Choon Ngee, started serving the meal that would later become famous in Singapore from a pushcart along the Kallang River.
They ultimately opened a restaurant in 1962 along Upper East Coast Road and named it Palm Beach Seafood.
In 1985, their son Roland succeeded them as head of the family company. Today, the restaurant with the same name may be found in Marine Parade. It is owned and operated by Roland, his wife Lilian, and Richard, Roland's younger brother. At Roland Restaurant, the spicy crab dish is still prepared in accordance with the recipe that Cher created. Long may that practice continue.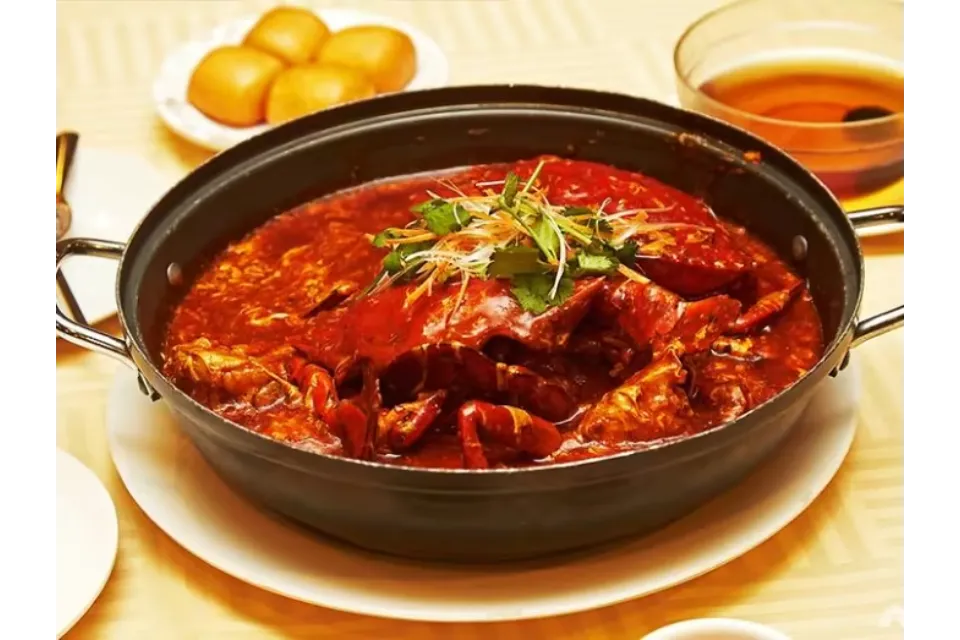 Obituaries and tributes have been flooding in across social media
Our mate KF Seetoh, of Makansutra, Gluttons Bay, and Urban Hawker NYC penned;
"It was Mdm Cher Yam Tian that came up with our iconic chilli crab in the 50s. Her audacious idea to cook a bold crab with a bolder chilli sauce has made it into our Makan history, We will remember you and thank you for this gift of culinary. May you rest in peace."
Dr. Leslie Tay, the infamous Singapore Food Blogger of I Eat I Shoot I Post…
"Today we bid farewell to a culinary legend. Mdm Cher Yam Tian, who would have turned 90 this year was the lady who created chilli crabs in the 50s. I first met her back in 2009 when there was the Chilli crab dispute with Malaysia over where Chilli crab originated from. 
The best way to remember her is to be familiar with the story of chilli crab! May she rest in peace!"
Where did Singapore Chilli Crab come from?
Cher's husband was a policeman, and after work, he'd run to the beach and catch crabs and bring them back for Cher to cook. This was when East Coast Road was literally the beach and Kampungs were dotted along the waterfront.
If you walk in Siglap to the car park near LTN Foodcourt you'll see a placard with some incredible black and white photos of the Kampungs of Siglap and Bedok. THis is where Cher and her husband lived and set up that very first push cart selling Singapore chilli crab. It happened right where I live today.
Because she was of Teochew descent, she would merely steam their crabs and consume them in their natural state. But one day, her husband posed a question to Cher, requesting that she try something a little bit unusual and jazz up the plain steamed crabs.
At that point, she cooked the crabs in tomato sauce while stir-frying them. Mr. Lim thought the flavour was fine, but it was a touch too sweet, and he advised that she add some chili to the sauce as well. The establishment of a Singaporean culinary institution started this way. What a beautiful story.
The origins of Singapore Chilli Crab
The Singaporean chilli crab is a well-known and much-loved delicacy that exemplifies the distinct fusion of Chinese, Malay, and Indian cultures that characterizes Singapore food. It is a meal that everyone who travels to Singapore absolutely must sample, and it is also gaining appeal in other areas of the world, especially when you have the likes of KF Seetoh opening Urban Hawker New York.
Chilli Crab from Singapore: A Brief History
It is widely held that Lim Choon Ngee and Cher Yam Tian, a husband-and-wife team, were responsible for the invention of Singapore chilli crab in the middle of the 20th century. They were the proprietors of a seafood establishment known as Palm Beach Seafood Restaurant, which could be found on the East Coast of Singapore. The dish was an instant hit with both natives and visitors to the country, and it was not long before it became a mainstay of Singaporean cuisine.
The mud crab, which is a species of crab that is frequently discovered in the mangrove swamps of Southeast Asian countries, is the primary component of the Singapore chilli crab dish. The crab is stir-fried in a wok with a spicy tomato and chili sauce, and it is often served with mantou, which are buns that have been steamed or fried, in order to soak up the sauce from the crab.
Mdm. Cher was also one of Singapore's first Zhi Char Restauarants
Mdm. Cher's evolution from iconic Singapore street food creations to the opening of her family restaurant called Palm Beach Seafood, which was located on the beach in the Eastern part of Singapore is also a heritage legacy she leaves behind. This evolution from street food cart to restaurant is a 'thing' in Singapore. It has a name. It is called Zhi Char.
Ze Char, also romanized as Zi Char, is a Singaporean Singlish colloquialism that originates from the local Hokkien dialect and is used to describe an affordable food stall that offers a broad selection of typical and inexpensive dishes that are similar to home-cooked meals. 
The majority of Zhi Char stalls can be discovered in the hawker centers and kopitiams that are located in the central regions of Singapore. These establishments sell foods that are typical of the cuisine of Singapore. As a consequence of this, the majority of them are typically located in environments that are not air-conditioned.
However, there are a few Zhi Char stalls and restaurants that also have their own air-conditioned dining room, and the government mandates the installation of ceiling fans in those stalls that do not have air conditioning.
Mdm Tian, and family; the crew at ISLIFEARECIPE would also like to add our condolences to the long long list, and pass our deepest sympathy. A Singaporean icon that changed the face of food here sadly leaves us, but her heritage and legacy remain embedded in Singaporean food legend. It is one of the Singaporean dishes that made the job easy for the council to award Unesco Heritage status, so be continually proud of that. RIP Mdm Tian and thank you for making so many of us happy as we dine on Singapore Chilli Crab.
To honour Mdm. Tian and her family, why not pop down to see her family at Roland Restaurant and chow down on THE ORIGINAL SINGAPORE CHILLI CRAB RECIPE...?
Roland Restaurant Address & Telephone
Address: 89 Marine Parade Central, #06-750, Singapore 440089