Singaporean Chili Crab but with lobster
Sacrilege, Blasphemy – yes folks I have tackled Singapore's iconic Chilli Crab, but to make it mine this is Singaporean Chili Crab but with lobster. Oh dear what have I done? I apologise to the purists.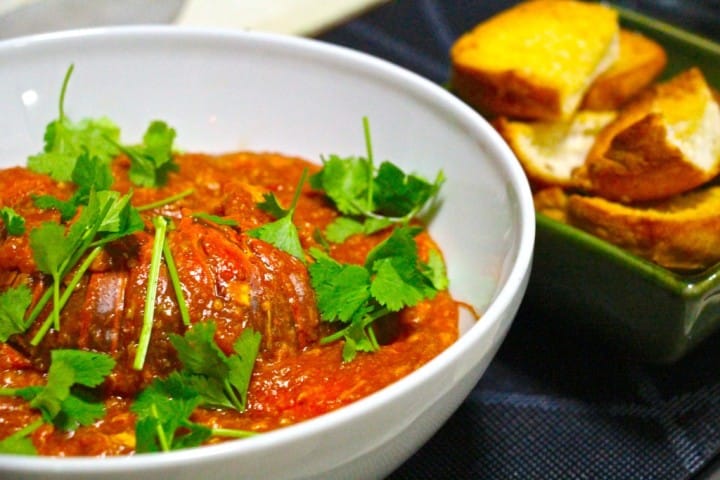 I am actually hiding behind closed doors, that are double locked as I type this.I have tackled the mighty Singaporean, very special, loved, neigh worshipped dish – Chilli Crab. But I have changed some of the ingredients now to make my new version of Singaporean Chili Crab but with lobster.
Despite some wrangling with Malaysia regards whom originally created the dish, if you stick with the Singaporean version it goes like this. Back in the day, well back in 1956 a lady and her husband – Cher Yam Tian and Lim Choo Ngee – started selling stir-fried crabs from a push-cart using bottled chilli and tomato sauce. Hey presto. As this grew and grew in popularity they opened a fixed restaurant in Palm Beach, and the rest is history.
Now I had to consult to get some basics, but true to me this is indeed my version of this dish, even down to replacing the crab. Anyways have a go, as it is actually pretty simple to be honest, and it looked and tasted absolutely incredible. It's good people, he comes enough for 4 people of my Singaporean Chili Crab but with lobster;
4 small bread rolls – I got some real nice ones from Swissbake;
1 lobster tail;
8 prawns, keep the shell on;
2 rough chopped red onions;
3 chili padi – just take off the stalk and squash them with the side of a knife;
2 teaspoons of shrimp paste or belacan;
1 small tin of tomato puree;
1/2 cup tomato sauce;
2 finely chopped garlic cloves;
1/4 cup light soy sauce;
1/4 cup sugar;
2 tablespoons white vinegar – I used Filipino vinegar;
A dood pinch of salt;
2 tablespoons of corn starch dissolved in a little cold water to thicken the gravy;
2 lightly beaten eggs; and
1 bunch chopped coriander for dressing.
In a blender zap the onion and chip padi until they form a paste. In your smoking hot wok with some cooking oil, add some of the paste above and the shrimp paste. Fry this off until it thickens and then add in tomato puree, tomatoes sauce, garlic, soy sauce, vinegar, sugar, salt and cook this for 5 minutes or so on a medium heat. It should start to bubble away. Quick taste test. Nice and sour, warming not massive chili hit, tomato flavoursome – nice.
In with the lobster tail now. I had simply cut it in half lengthways down the tail. In go all the prawns. Then reduce to a simmer for about 10 minutes to cook the shellfish through. Nearly there now for my Singaporean Chili Crab but with lobster.
Whilst the shell fish is cooking cut the rolls in half. Lay on a baking tray and drizzle with some oil, and a sprinkle of salt. In an oven on 200 for the ten minutes or so, so they come out lightly browned and crispy. Cut them in half once more and place in a serving bowl. These are the dipping buns for the curry sauce. I know not deep fried or steamed like tradition, but these were good too.
In to the chili sauce now goes the corn starch, give a good stir through. Watch how the gravy thickens to a gravy like sauce. Add in the beaten egg and stir that through too. It should go streaky through the sauce. Serve in a bowl with the bread rolls. Sprinkle on some coriander leaves.
I apologise Singapore for doing this dish. But it was very delicious, I have to say. I can only thank you for the original idea to create this dish. My Singaporean Chili Crab but with lobster. Come on have a go at mine, I dare you. ENJOY!!!