Thai pomelo and passion fruit salad
An absolute cracker of a salad and will go with any other dish in my reckoning. Or thrown in some beef and it becomes a meal in its own right. But the day I created this salad it was accompanying a BBQ this day. So smoky and fatty meats that this citrus and sour salad cut right through. Almost like a palate cleanser. Stunning look to it with all the vibrant colours and then the taste – Thai in style as it was zesty, fruity, sharp, sour, salty, spicy, minty, nutty all in one. Oh yeah – my kind of salad, my Thai pomelo and passion fruit salad.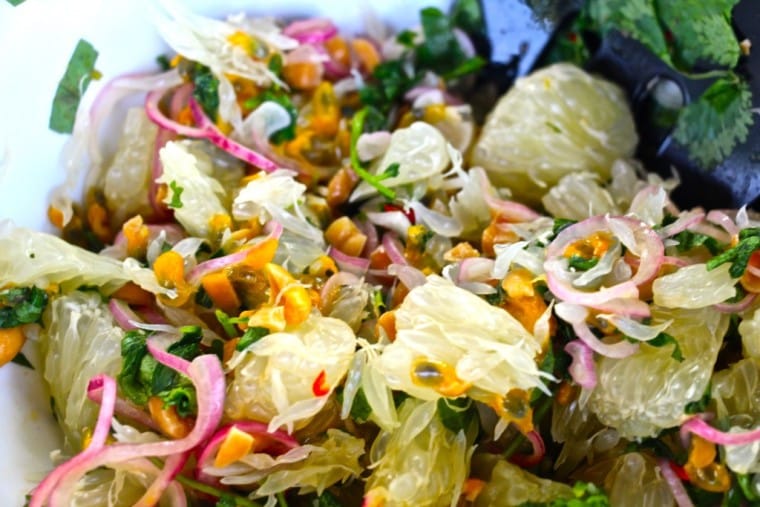 My Thai pomelo and passion fruit salad, is as usual, kept so so simple with hopefully amazing outcomes. SO just follow the steps my friends, follow the steps. Here we go.
The dressing;
3 tablespoons of lime juice;
2 tablespoons of fish sauce; and
1 teaspoon of sugar.
Mix these up until the sugar dissolves and stand aside.
The salad;
In to large salad bowl throw all these ingredients.
1 pomelo peeled and de-pithed, yes folks you gotta take the pith – as in remove the white stuff, and break up the segments in to those little beads of juiciness;
4 passion fruits – simply cut in half and spoon the colourful seeds in the bowl with the pomelo;
1 packet of mint, just pull off the leaves from the stalk and give them a rough chop;
1 packet of coriander or Chinese parsley and again rough chop;
4 small red onions finely sliced;
1 chili padi finely chopped; and
1 cup of salted peanuts, give this a bash with something hard – chunky not powder.
Over you go with the dressing. Give her a toss. Serve away as soon as you can, as the fresher the better because those flavours together will explode in your gob, and you don't any wilting. No one likes that – right girls…
Believe me – I can't this enough, this is a cracker. PLEASE give this one a go. Here is my Thai pomelo and passion fruit salad. It seriously is a stand out from the crowd. I just know you will like this. And it is easy, you could do this stood on your head, believe me –
ENJOY!!!