Thai lobster fried rice
Thai style lobster fried rice
Thai style lobster fried rice is inspired from many egg fried rice dishes consumed whilst visiting Thailand. The closest dish to this recipe that I have found Khao Pad Goong. But this is my recipe. This is a cracker for all the family. Kids and adults all love this. And how good does it look too? Here we go – read on folks.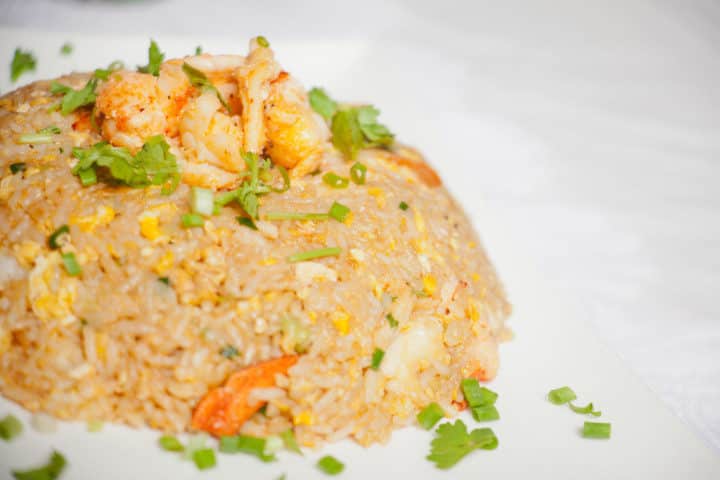 This will make a large bowl of Thai style lobster fried rice. Believe me you'll need it. This stuff flies off the plate when you serve it up. This has been a favourite at all dinner parties when I have served it at. It has been a recipe that I have been asked to share many a time. So here it is, you lucky people. You'll need to grab the following.
3 fresh lobsters, boiled for 20 minutes until pink and remove all the meat;
5 garlic cloves – peeled and chopped finely;
A large pinch of salt;
Vegetable oil;
4 eggs mixed up;
A load of cooked rice (slightly warm so as not stuck together);
4 tablespoons soy sauce;
A pinch of sugar;
A teaspoon of white pepper;
1 knob of salted butter;
4 spring onions chopped in to thin slices; and
When serving add some ripped coriander leaves and some lime wedges.
OK if you have all that lot, you are ready to rock and roll.
Melt some butter in a pan and stir fry the lobster meat with some salt and pepper for 5 mins;
Bring our your pestle and mortar and attack the garlic and salt, until it forms a paste;
Take a hot pan and add the oil and garlic paste and cook without burning;
Add the eggs and mix gently keeping the eggs light and fluffy, until cooked through;
Add in the rice and stir through making sure there are no lumps of rice sticking together;
If the rice is not frying pour some more oil down the side, but don't over do this as it will become too oily.
Turn down the heat and stir though until nicely mixed up. Season with the soy, sugar and pepper – I personally add a fair bit of soy to make it a little more salty;
Add most of the lobster, including the melted butter which makes the flavour even more rich and deep, then add the spring onions and stir through saving some to sprinkle on top when serving;
Stir through again and keep tasting to make sure the saltiness is there;
Plate this up by pushing the rice in to a bowl, really packing it down. Then put your serving plate on top, spin it over and as if making a sand castle lift off the bowl and it should look like the picture above;
Add some wedges of lime in a corner and sprinkle over some coriander and last remaining lobster and spring onions.
There you have it folks, this one is an absolute cracker! The Semi-Naked Chef's, Thai style lobster fried rice – ENJOY!!!
Is Life a Recipe YouTube Channel
(Visited 316 times, 1 visits today)