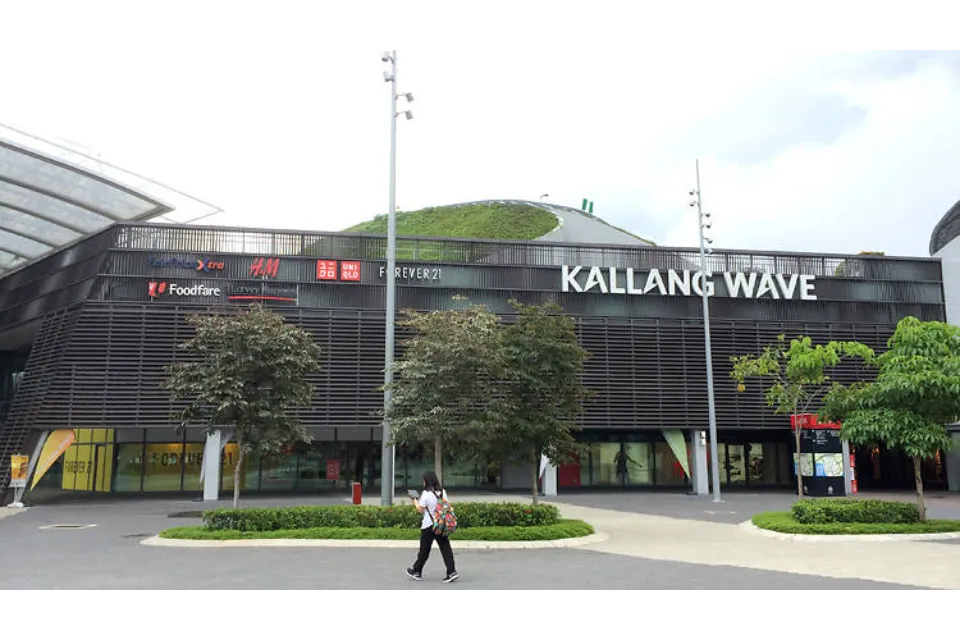 The Kallang Wave Mall: A Sports and Entertainment Mecca
Kallang Wave Mall is a vibrant retail and leisure hub in the heart of Singapore's Kallang Sports Hub. The mall is ideal for sports enthusiasts as well as families seeking a fun day out. The mall is readily accessible by public transportation, with the Kallang MRT station nearby.
Recreational Equipment
The mall is part of Singapore's top sporting and lifestyle destination, the Kallang Sports Hub. The National Stadium, the Indoor Stadium, and the OCBC Aquatic Centre are among the world-class amenities at the Sports Hub. Visitors to Kallang Wave Mall can easily reach these facilities, making it an excellent starting place for a day at the sports hub.
Shopping and Eating
The retail outlets at Kallang Wave Mall appeal to sports enthusiasts, fashionistas, and foodies. With over 41,000 square meters of space, shoppers can enjoy browsing through the mall's many stores and specialized shops. Popular brands such as H&M, Uniqlo, and Harvey Norman, as well as local boutiques and specialized stores, are among the mall's tenants.
After a long day of shopping, visitors can head to the mall's dining choices, which include fast-food chains, cafes, and restaurants serving both local and foreign cuisine. Visitors can sample a variety of culinary delights, ranging from casual dining choices like McDonald's and KFC to more upscale dining experiences like Astons Specialities and Fish & Co.
Kallang Wave Mall has a cinema, arcade, and bowling facility among its many attractions. The mall's cutting-edge cinema is outfitted with cutting-edge technology, providing tourists with an immersive movie-going experience. The arcade and bowling alley are both enjoyable activities for families, with a variety of games appropriate for all ages.
Events
Throughout the year, the mall also holds a variety of events such as sporting events, live performances, and exhibitions. These events provide a chance for visitors to witness the sports and cultural heritage of Singapore.
Accessibility
The Kallang Wave Mall is centrally located in the Kallang Sports Hub, making it readily accessible by public transportation. The mall is a short walk from the Kallang MRT stop and is served by a number of bus routes. Visitors can also ride their bikes to the mall and use the abundant bicycle parking facilities.
Conclusion
Kallang Wave Mall provides a one-of-a-kind retail and entertainment experience that is ideal for sports fans, families, and anyone looking for a fun day out. Kallang Wave Mall is a must-see destination in Singapore due to its prime position in the Kallang Sports Hub and its diverse range of sporting facilities, retail outlets, dining choices, and entertainment offerings.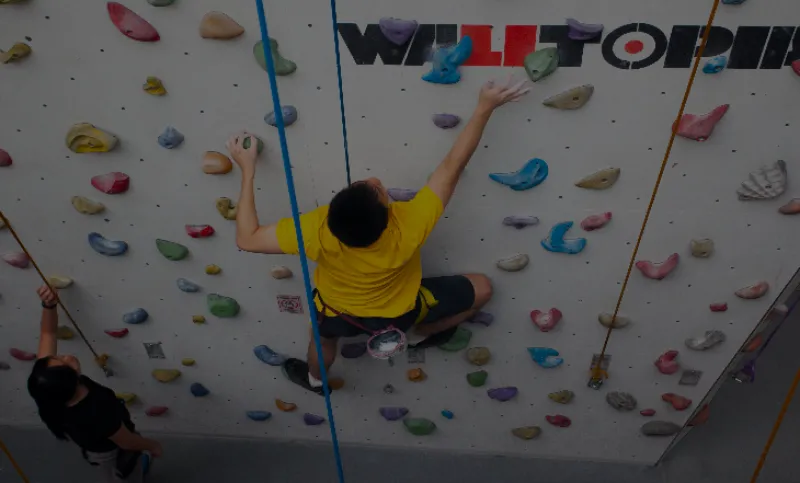 Singapore's Kallang Wave Plaza offers rock climbing.
Singapore's Kallang Wave Plaza is a well-liked hangout for sports fans, offering a variety of options. Rock climbing is one such exercise that can be done at the mall's Climb Central gym. Rock climbing at Kallang Wave is a great option if you're looking for an engaging exercise that will put your strength, stamina, and problem-solving abilities to the test.
With more than 1,000 square meters of climbing space, Climb Central is one of Singapore's biggest indoor climbing facilities. The gym is a fantastic choice for those who prefer to exercise in a comfortable setting because it is completely air-conditioned. Climb Central offers something for every level of hiker, from beginners to experts.
The gym provides introductory classes for new climbers that go over the fundamentals of the sport, such as safety precautions, equipment use, and climbing techniques. You can gain confidence and hone your abilities in these classes at your own pace. The gym's challenging routes, which include a range of angles, holds, and obstacles, are best used by experienced climbers.
Additionally well-liked as a venue for business team-building exercises and birthday parties for kids, Climb Central. The knowledgeable teachers at the gym can create special programs to suit the requirements of groups of all sizes and abilities. Additionally, the gym rents out climbing gear, such as shoes and harnesses, making it simple for guests to begin rock climbing.
There are a few things to consider if you want to attempt rock climbing at Kallang Wave Mall. First, make sure you're dressed comfortably and with plenty of range of motion. Furthermore, it's crucial to wear appropriate climbing footwear, which can be leased at the gym. Second, be ready to get physically exhausted because climbing can be a strenuous exercise. Finally, keep in mind to observe all safety precautions and pay close attention to your instructor.
Overall, rock climbing at Kallang Wave Mall is a fantastic way to push yourself while staying active in a friendly and encouraging setting. Regardless of your level of experience, Climb Central has something to give you. So, get your loved ones together and head to Kallang Wave Mall for a distinctive and thrilling exercise.
Journey Through Kallang Wave's Diverse Dining Options
Upon entering Kallang Wave, the vibrant atmosphere and the enticing aromas of various cuisines instantly captivate the senses. With a plethora of food options ranging from local favorites to international dishes, there's something to satisfy every palate.
Local Delights: The Flavours of Singapore
Our first stop on this culinary adventure is a local hawker stall, where we get to taste some of Singapore's most beloved dishes. The Hainanese Chicken Rice, with its tender, succulent chicken and fragrant rice cooked in chicken broth, is a must-try for anyone visiting Kallang Wave. Another local favorite is the Laksa, a spicy noodle soup with a rich, coconut milk-based broth that boasts a symphony of flavors from shrimp, chili, and aromatic herbs.
Asian Fusion: A Tantalizing Mix of Flavours
As we continue our exploration, we stumble upon an Asian fusion restaurant that combines the flavors of various Asian cuisines into creative, mouth-watering dishes. One standout dish is the Thai-inspired Tom Yum Seafood Pasta, a unique blend of Italian and Thai flavors. The tangy, spicy Tom Yum broth complements the al dente pasta perfectly, while the generous portions of seafood add a touch of luxury to the dish.
Western Fare: Comfort Food with a Twist
Kallang Wave also offers a delightful selection of Western food options, ranging from hearty burgers to delicate pastries. A noteworthy dish is the Truffle Mushroom Risotto, which elevates the classic Italian dish to new heights with the addition of fragrant truffle oil and a medley of earthy mushrooms. The creamy, umami-packed dish is a true testament to the power of simple ingredients cooked to perfection.
Sweet Treats: Indulgence at Its Finest
No culinary journey is complete without indulging in some sweet treats. Kallang Wave is home to various dessert outlets, offering a wide range of delectable delights. One such dessert is the Japanese Matcha Lava Cake, a rich, moist chocolate cake with a molten matcha core that oozes out upon cutting. The contrasting flavors of bitter matcha and sweet chocolate create a harmonious dance on the taste buds.
Final Thoughts: A Food Haven Worth Exploring
Kallang Wave offers a diverse range of food outlets that cater to all taste buds, making it a haven for food lovers. From local delights to international dishes, there's something for everyone to enjoy. As a food critic, it is essential to maintain an unbiased perspective and write about my experiences with honesty and integrity. With that in mind, I highly recommend Kallang Wave as a must-visit destination for anyone seeking an unforgettable dining experience.
Kallang Wave: A Popular Restaurant for Everyone
In the center of Singapore's Kallang district, Kallang Wave serves as a one-stop shop for all of your dining requirements. Kallang Wave has everything, from upscale places to family-friendly eateries. Let's examine what this restaurant has to give in more detail.
Towards the Family
Look no further than Kallang Wave if you're searching for a restaurant that welcomes both adults and children. There are many choices available, including KFC, Subway, and McDonald's. These well-known fast food restaurants provide reasonably priced meals that will please the entire family.
For Something Alternative
There are many options available at Kallang Wave if you're searching for something a little different. For instance, Yoshinoya is a good option if you're craving Asian food. This fast-food restaurant offers a variety of mouthwatering and reasonably priced Japanese dishes, including beef bowls, teriyaki chicken, and more.
Visit Putien for a more upscale eating experience. The delicious Fujianese cuisine served at this Michelin-starred restaurant is guaranteed to please. Try the crispy Fujian oyster omelet or the stir-fried clams with ginger and scallions, two dishes of the restaurant's excellent shellfish.
For the Health-Aware
At Kallang Wave, you can choose from a wide variety of calorie-conscious meals. For instance, SaladStop! provides a variety of nutrient-dense salads, wraps, and munchies. Cedele, which offers nutritious sandwiches, salads, and soups prepared with only natural ingredients, is another excellent choice.
After Dinner
It's always a good idea to indulge in a sweet treat after a filling dinner. Starbucks, which provides a variety of coffee and tea beverages as well as pastries and cakes, is one of many dessert choices at Kallang Wave. Visit Geláre for delectable ice cream and waffles if you're craving something a little more hearty.
As a result,
No matter what you're craving—fast food, Asian food, or something a little fancier—Kallang Wave has it. This dining establishment is ideal for everyone because it offers a wide variety of healthy, sweet, and family-friendly alternatives. In order to have a genuinely unique dining experience, visit Kallang Wave the next time you're in the Kallang district.
Kallang Wave Mall Location
Address: 
1 Stadium Pl, Singapore 397628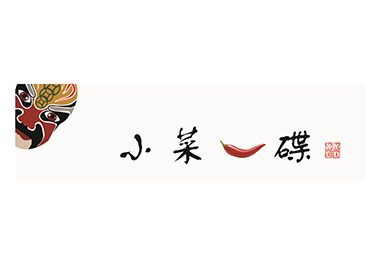 A-One Signature Kallang Wave Established since 2008, A-One Signature meticulously crafted menu is a good balanced combination of soul foods, incorporated with the local palate,
Connect with Us on Social Media