Gales @ Level 44, Hatten Place, Melaka
As we shared in the Ninakennett.net blog today was Saturday and the first official day of Chinese New Year. Because of that Malacca was pretty much on shut-down, as in like the old public holidays of the UK. It was SHUT. We also had to wait for our room-keys so had to leave our bags after check-in. So we decided to depart the 12th-floor check-in, drop our bags to the ground floor concierge and then meander on up to the 360 Sky-Deck and the announced French restaurant Gales @ Level 44, Hatten Place, Melaka.
Actually, it was not French at all. It was a fusion place of lots of different styles and varieties. It was cool. Completely empty sadly when we arrived, I think maybe one more couple in there only. Which is why I was bemused with the service, and I have to call it here too. I really think the staff need some F&B training. For example; our starter cutlery & plates were all left even when our mains arrived and were finished. We ordered dessert, the waiter took our order. Then came back 10 minutes later to advise that the kitchen had closed. Er, WTF. I think you should advise when the kitchen is closing to give a chance to place last orders, or at the very least say kitchen is closed sorry. So you lots more $$$ on dessert and drinks guys, and leave a pissed-off client who won't be coming back and will write about it despite your amazing food.
Gales @ Level 44, Hatten Place, Melaka = great food but lacking experienced service.
CLICK HERE to watch a walk around 360 SkyPark – the Malacca version of Marina Bay Sands.
I can't find their menu on-line, and the receipt is too vague so I write from memory, food experience and what I found in the public domain.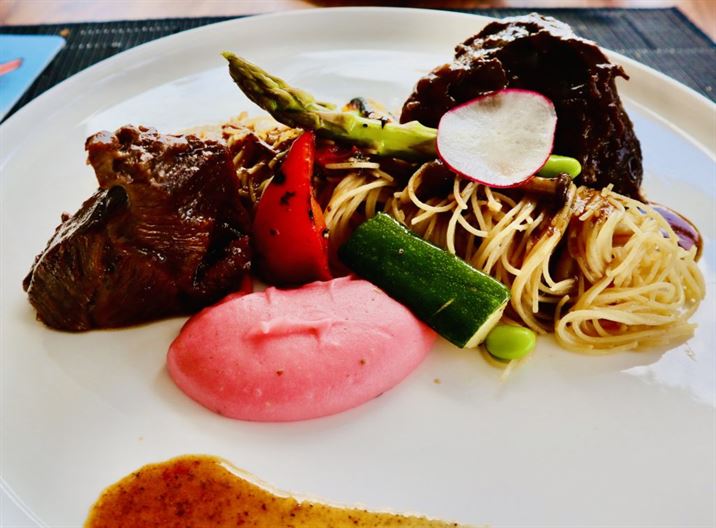 So there you have it folks Gales @ Level 44, Hatten Place, Melaka, our first meal in Melaka this trip. It really was rather good, despite the silly service issues which were just schoolboy errors in hospitality. The taste was King here today. Winner dish for me was absolutely the Wagyu Cheeks. For once it paid us to be cheeky. Great work Chef and crew, some bloody good food there, just enhance them comms with your front of house staff and it would be double groovy. If you are down this end of town folks I would pop in and have some grub and take in that amazing view. I am hoping that for our day #3 Wifey and I will be back to Level 44 and The Drift Bar for a date-night cocktail or two up there in the clouds if Jude allows us and #1 baby-sits haha. Come and eat guys, it's bloody good. Hope you – ENJOY!!!