Wedding Anniversary @ Home – ChillaxBBQ
Covid is causing so many things apart from sad illness and death. Milestone events like birthdays and anniversaries are flying past, and some monumental like 50th birthdays and 10-year wedding anniversary. Not to say they are forgotten, just scaled down to that magic number of 5 only allowed to your house. And this is what happened this weekend. ChillaxBBQ was called in to perform two in a row. There's a 1st. 4 people for dinner with the happy couple at home + yours truly being the 5th, and 3 guests plus the happy couple and yours truly actually being hired by the yacht as staff for the second event.
Yes, event #1 was at their house and event #2 was on a superyacht. How cool is that. Many cuts and burns later though…Living to the ChillaxBBQ mantra of Spotify for BBQ I had met the client 1st and organised the menu playlist for both days. I love doing that – such a giggle.
Let's have a look;
Wedding Anniversary @ Home – ChillaxBBQ
Here is the review 1st; "I've been waiting for an opportunity to experience Brian's cooking for a few years so when Covid meant that our 10 year wedding anniversary would have to be a small occasion at home with just a few friends, it was just the excuse. We made Brian's job hard as we had a Jewish Hindu mix in our guest list so we had to be careful to cater to everyone's meat options. Brainstorming ideas with Brian was really fun. We ended up with four delicious courses – the ceviche was so fresh and tangy, we all wanted more! And the lamb rack was so tender and melted in the mouth. It was such an amazing evening and so nice to be able to sit back and spend time with my guests and not worry about the food. It made the evening very special and we can't wait to have Brian back again!"
I'll take that any day of the week.
OK, I missed some photos as was double busy doing this session alone today. But the menu was;
Black truffle Tartufata garlic mushrooms & sourdough crisp
Tuna Tataki 'w' red salsa & lemon pepper mayo
3-Cheese fondue & toasted sourdough
Main Course;
Mint sauce lamb rack
Orange Fanta beer-bum chicken
Roasted potatoes 'w' Thyme
Roasted carrots 'w' honey
Brussels sprouts 'w' Chili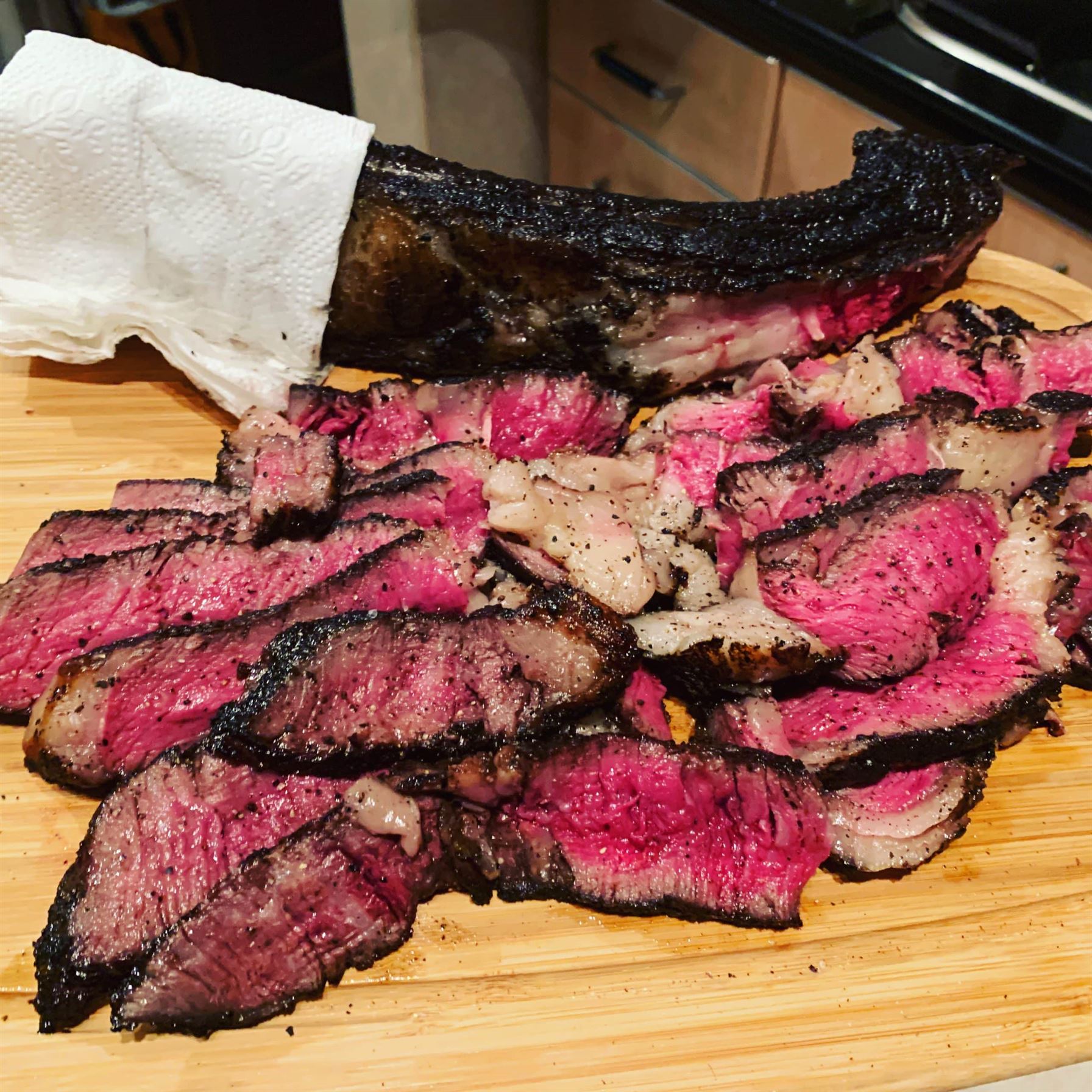 And that was Wedding Anniversary @ Home – ChillaxBBQ. Thank you to my clients for asking ChillaxBBQ to be trusted with your wedding anniversary meals. Orca & The Cheese Shop – just amazing produce as always, like incredible. Watch the blog for event #2 tomorrow to come. It's a superyacht time. Give me a bell if you also want to – ENJOY!!!