Cheap and good food in the East – Siglap
We have been coming here for nine years or so now since our very first visit to Siglap and enjoying the Cheap and good food in the East – Siglap. We had the good fortune to watch some live music at what was then called LTN Food Village. We have seen many new hawker stalls open and many close, sadly thru Covid,  but one constant is our BFF Anne and Thow Yen Seafood. It is a family favourite, so we're giving the blog a facelift and a bejazzle… Thow Yen Seafood 936 Food House Siglap 2022.
Our mate Anne working the counter with her fun and frolics pre Covid and recently in 2022. Not much has changed at all apart from the mask...
Let's check the Thow Yen Seafood Menu 2022
Watch our little video reel of the incredible 936 Food House Siglap, including our BFFs at Thow Yen Seafood
Let's check some food out, but 1st let me APOLOGISE for the shocking photo quality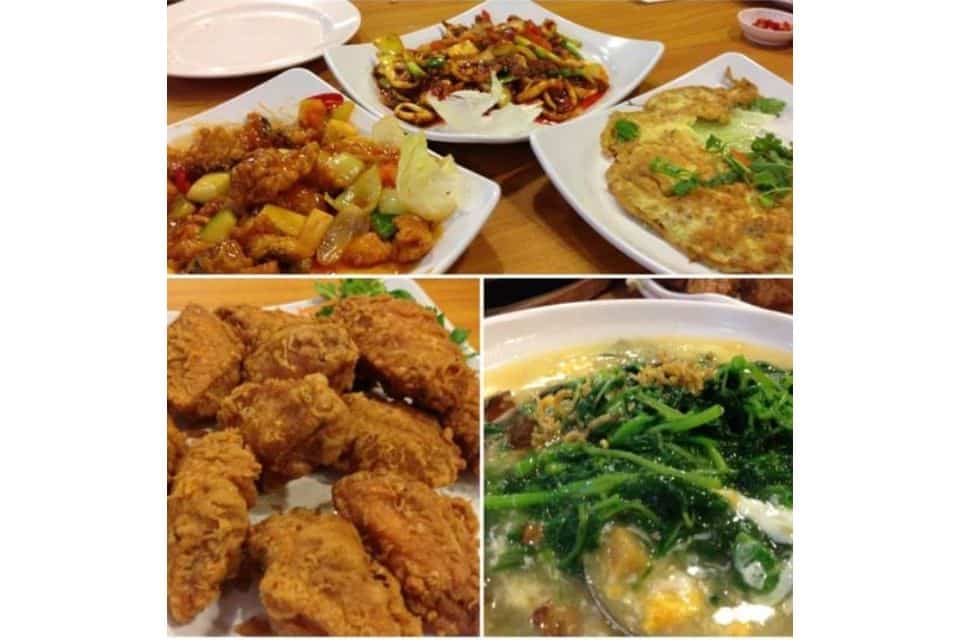 Above you have Jude Jude's favourite Prawn Paste Chicken Wings @ $10, their Sweet & Sour Pork @ $10, Sambal Sotong @ $12, kicking Onion Omelet @ $6, 3-Egg Spinach @ $10 small. The food really is just no-frills BUT stunning!!!
We will eat at LTN 2-3 times a week, and at Thow Yen Seafood @ LTN Food Village, at least once a week. If you want consistently good quality, extremely fresh, cooked from scratch, tasty every so tasty, and extremely affordable food then this is the place. We love the food from here. I have written before about here, but we received some inside information that there was a new dish they were trying out – so here we are and here it is. You are so going to like this, especially if you live in Siglap, so next-door neighbours to this place.
Some of the best Egg-Fried Rice you are likely to have – smokilicious… This is delicious sigh little bits of shrimp and char siew too. Absolutely amazing!
@ $4
Claypot Chicken  – slow slow braised and baked in a claypot – yum. Like holy moly yummo yum…
@ $25
Up next with their Kai Lan Steamed in Garlic, likewise, this has to be up there with the very best consumed by the mouth of Kennett. Simply steamed and maybe a quick wok stir with garlic. Goodness me.
@ $7 small
Broccoli Steamed in Garlic This was another new one for us tonight. I tell you what this was superb. Steam and a quick fry with garlic, even thinly slicing the stalk so as not to waste anything. Usually, that stalk would be tough and woody, this was sweet, with a little crunch, but certainly not woody. Seriously good food experience for something so simple.
@ $8 small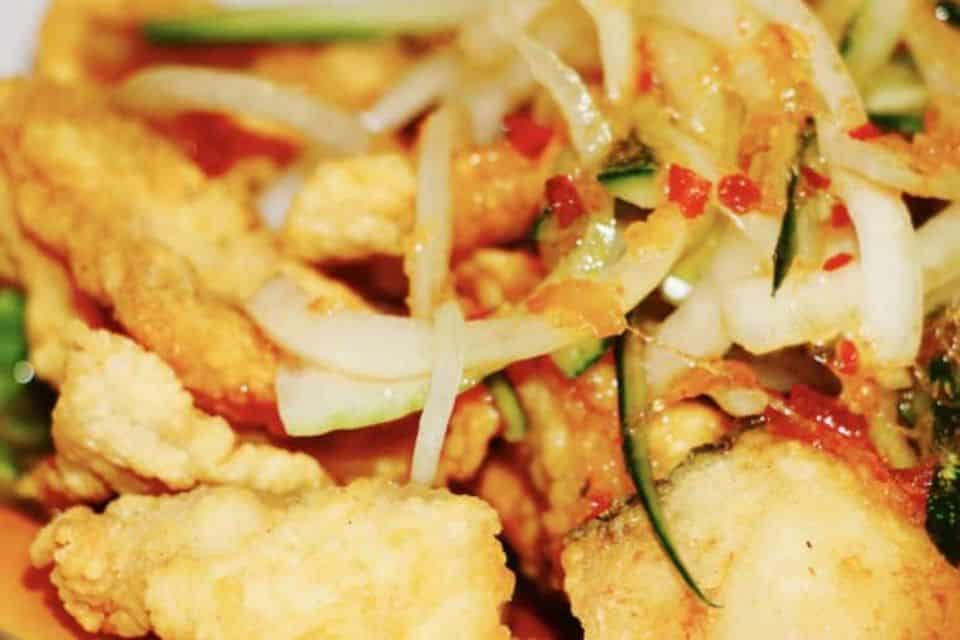 Thai Style Sliced Fish Mary's Thai Sliced Fish – mmmmm Jammy. Mary loved it because it was deep fried, very fresh and came with this gooey chili jam as you can see from the photo. Combinations of texture, and flavour. Oh yeah and it looks amazing!
@ $12 small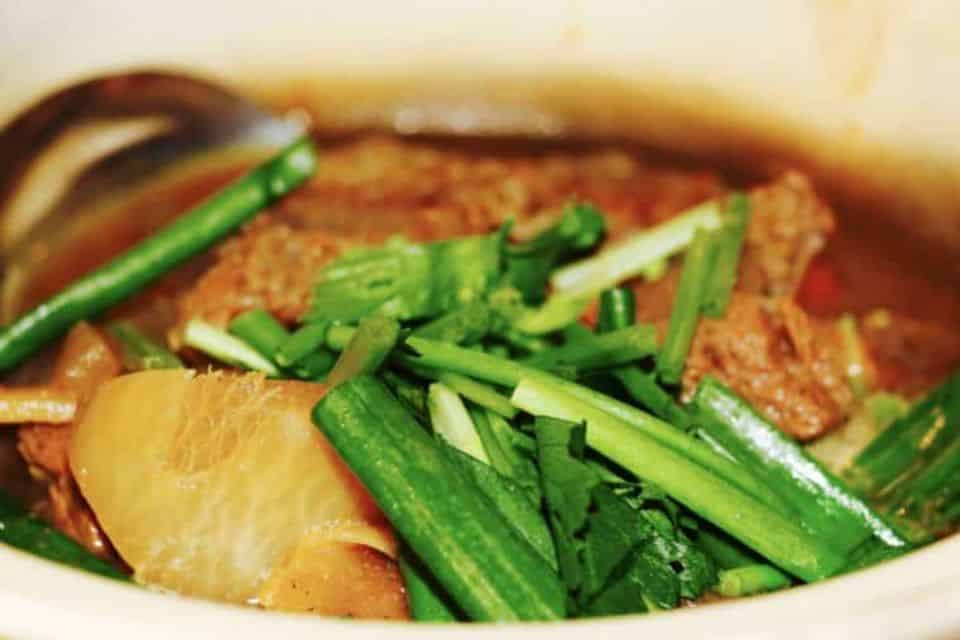 So this is the best til last. This is the new dish. This is not yet on the menu and is only served on Saturdays and Sundays if you are lucky. We also recently tried the chicken version and man that is so good too. I am not even going to try to guess what goes in this, but it is clearly slow-cooked for hours as the meat falls apart it is so so tender. The flavours are intense, but the broth is super light. It is really just so damned good and worth a trip to Thow Yen Seafood just for this, believe me. The vegetables are super soft too. Carrots and Winter melon, with ginger, Spring Onions, a little parsley, and secret stuff too. Secret stuff I very much doubt they will ever share with me, and doubtful I could recreate it myself.
Yes, we'll be back for more!!! This is Thow Yen Seafood @ LTN Food Village and this is their new Claypot Beef @ $18
Also, ask Anne for Brian's Noodles (literally ask Anne for Brian's noodles) – Beef Hor Fun that is not on the menu, but @ $6 for a small it is heavenly especially when you squeeze that Calamansi lime over… WOW!!!
Our conclusions of Thow Yen Seafood 936 Food House Siglap 2022
So my friends if you want a fantastic family meal at affordable prices. Get down to Siglap, and come see the lovely staff at
Thow Yen Seafood @ Siglap 936 Food House
. Ask for a big table. Get your friends and family with you. Order hard. Order variety. And eat and eat and eat. Wash down with some of those local beverages they call beer. I tell you what you'll be happy, you'll be full, and you'll be licking your lips and planning your next dinner visit.
ENJOY!!!
Address & Telephone Number
Yes, they do delivery and pick up from the usual suspects GrabFood and FoodPanda.
Or give Anne a call, be nice to her, on 9369 3688.
They're open now 7 days a week from 11:00-14:00, and then 16:00-00:00
Connect with Us on Social Media