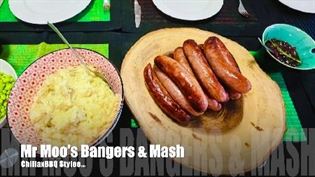 Bangers & Mash the Challenge…
So my BFF, who has his own food wholesale and now bistros business in Thailand set me a challenge, which was to cook his homemade pre-cooked meals in my own style. Challenge accepted Fidock and #1 knocked out today with great feedback from the family for dinner tonight. It's a British Classic.
I chose the first challenge dish to be;
Mr Moo Bangers & Mash
Have a look below for his restaurants if you happen to be in Phuket and the neighbouring area – I kid you not – BEST SAUSAGES ON THE PLANET!!!
I cooked for five this evening and got through the following ingredients;
– 1 packet of white potatoes – skin on (watch the video)
– 3 packets of Mr Moo Cumberland sausages
– 4″ of garlic butter
– 1 packet of Edamame
– 4 small red onions
– 1/2 cup red wine
– 2 Tbsp Balsamic vinegar
– 1/2 pot of thickened cream
– 2 sprigs of fresh rosemary
– Sea salt & cracked black pepper
I love challenges like this.
I think I rose to the occasion.
Feedback from the family was that it was awesome – so winner there.
The only issue I have is that Fidock cannot taste the outcomes and compare them to his kitchen version. Bugger. Hey, a picture paints 1,000 words and if only there was smell-o-vision I think he'd get it.
ChillaxBBQ version of Mr Moo Bangers & Mash rocked, try it.
ENJOY!!!