JumpTopia by KidzTopia @ Marina Bay Sands Convention Centre
JumpTopia MBS Review
I think I am like all parents on Red Dot as we manage our kids through Covid, and try to keep them entertained. I am therefore always looking for the next new thing for them to do. Keeping them off the electronics and in the fresh air, exercising, and having fun.
Well, here is one new option for you that delivers ALL those things. JumpTopia Singapore. Brought to you by another Kennett family favourite, KidzTopia.
Available until 2/1/22 so hurry up folks. Oh yeah, it gets PACKED, so book your slot ASAP.
[Klook Exclusive] Playgrounds Pass - Bundle & Save!
Whilst you're in Marina Bay Sands why not try some of these dining delights
We booked online through our BFFs, Klook, to get some discounts, and pottered down to join the back of a rather monster queue at Marina Bays Sands Expo. Was JumpTopia going to live up to the massive expectations?
Excitement was filling the air. As was the waft of hand sanitizer being squirted around by the gallon. Kids EVERYWHERE. An excited buzz everywhere, AKA NOISE!!!
But, the parents have a plan… Drop the kids off for two hours and go to a bar for a nice drink overlooking the water. Now, that gets my vote. And that is indeed what we did!!! Dallas Bar here we come.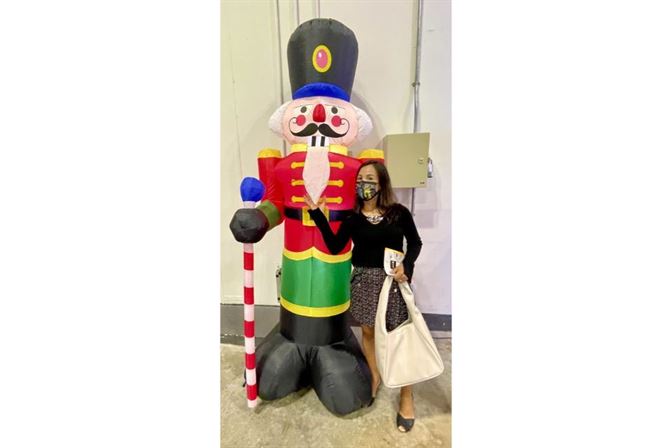 Should I be jealous? Wifey clearly taking a shine to the soldier…
We got a great deal from Klook. It was an incredible deal, in fact.
Two of my kids went for TWO HOURS and the cost of the JumpTopia MBS Ticket was just over $50.
How good is that? Two hours of fun for the kids, and two hours of downtime for Mum & Dad making the JumpTopia Ticket for less than $100 a bargain. Brilliant!!!
Get access to 2-7 attractions with this one pass for a great price to visit Singapore!
This Singapore tourist pass includes general entry to your favourite Singapore's attractions, including Universal Studios Singapore, Gardens by the Bay Singapore, Singapore Cable Car, Skyhelix Sentosa Singapore, Singapore Flyer ticket, Singapore Zoo, Singapore River Cruise, Big Bus Singapore tour, and many more!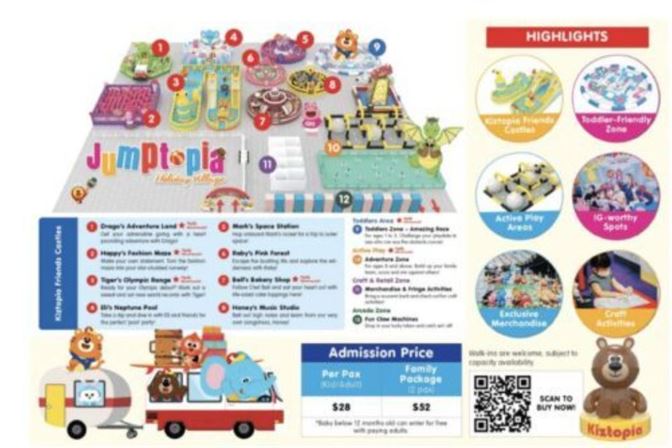 Have a look at that. The JumpTopia 'menu'…
About JumpTopia Singapore
Triple the size, triple the fun! Get ready for the ultimate action-packed holiday experience at JumpTopia: Holiday Village! 
Occupying a whopping 44,000 sq ft of space, highlights include 15 giant Bouncy Castles at MBS for kids of all ages, craft activities, IG-worthy spots, exclusive merchandise, and much more!
Join JumpTopia at the perfect holiday destination for families to spend quality time together, create unforgettable memories and enjoy the experience of a lifetime!
It really was great fun. The kids absolutely loved it. And Mum and Dad had two hours of 'me-time' over a lovely cocktail or three at Dallas Bar. Yeah, what a cracking day today was.
This is just a sample of some of the bouncy fun on offer at JumpTopia by KiszTopia. It's just brilliant.
JumpTopia Marina Bay Sands YouTube fun for the family...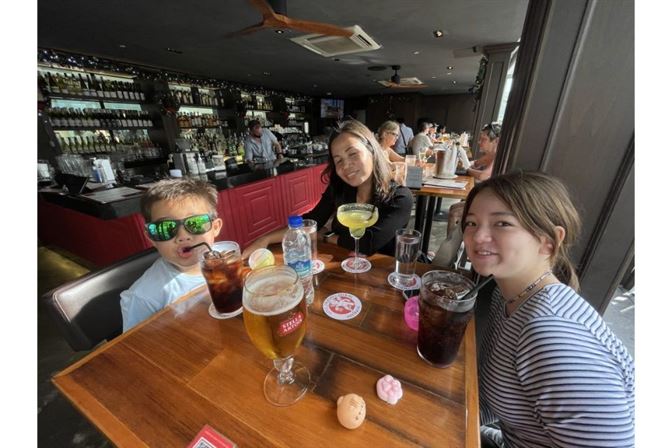 Thirsty and VERY happy kids after a superb two hours of fun fun fun.
Not at thirsty as Mum was though. 2 hours of downtime from the kids and some wonderful Margaritas at Dallas Bar on the Bay.
Super nice!!!
What are the contact details for JumpTopia by KidzTopia?
Telephone : +65 6493 0211 (10am – 7pm daily)
Mobile : +65 8201 0393 (10am – 7pm daily)
Email : hello@kidztopia.com
What are the opening hours of JumpTopia by KidzTopia?
10:00 am – 12:00 pm
12:15 pm – 02:15 pm
02:30 pm – 04:30 pm
04:45 pm – 06:45 pm
07:00 pm – 09:00 pm
*15 mins cleaning will be carried out after each session ends.
How to book tickets for JumpTopia @ Marina By Sands Expo?
[Klook Exclusive] Playgrounds Pass – Bundle & Save!
Get access to 2, 3, or 4 Indoor Playgrounds with this one pass for a great price!
The pass includes general entry to your all time favourites – Kiztopia, Kidz Amaze, Tayo Station, Pororo Park Singapore, T-Play, The Polliwogs and many more!
The pass is valid for 45/60/90 days (depending on the selected pass) and gives you flexibility to pick and choose depending on when and where you would like to go!
Also check out the Adventure Pass - Bundle & Save!
The pass includes general entry to your all time favourites – NERF Action Xperience, HeadRock VR, Superpark, AIRZONE, Katapult Trampoline Park in Orto Yishun, VR Game Experience by Hologate, Jumprrocks @ Kinex Singapore, VR Escape Room Adventure by Virtual Room, Axe Throwing Experience in Singapore, Laser Quest, TactSim
What is the address of JumpTopia by KidzTopia?
KIDZTOPIA PTE LTD
Address; JUMPTOPIA
: HOLIDAY VILLAGE – MBS EXPO HALL B
If you missed the chance to visit JumpTopia by KidzTopia why not try some other family fun from ISLIFEARECIPE