Kuy Theaw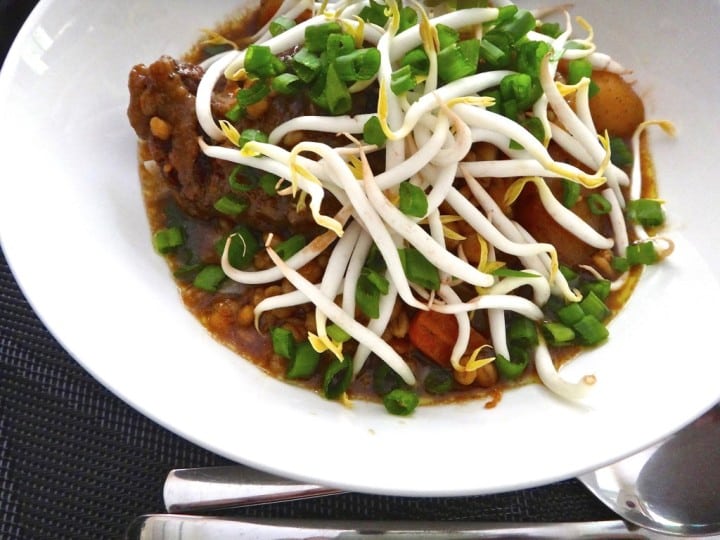 Kuy Theaw
Kuy Theaw, a Cambodian beef curry noodle dish – how did come did I come about this recipe? Well me and my mate Dougy were reading the in-flight magazine on our way to Phnom Penh for our Tabitha Foundation house building in October'12. This edition happened to have a section on Cambodian street food, and a must try were these amazing looking breakfast noodles. Curry beef noodles to be exact, named as Kuy Theaw. Try and find a recipe for this, you just can't, well I couldn't. It's a staple food for the market vendors, 1st thing in the morning you wolf this down to sustain you for the rest of the day. And boy does it do that. It is simply a gorgeous dish – actually at any time of the day!
So with no recipe on hand at all, it is time for a Semi-Naked Chef create moment. What were those flavours. What was the garnish? How did they get the meat and tendon so so soft? What was that after taste? Well here we go, my recreation of this thick, sticky, curry gravy on glass noodles, with slow and long cooked 'fall apart' beef with soft soft tendon that melts in your mouth. This will really set you up for the day, clearly why so popular with the market stall owners. Of course as we were on a volunteer vacation we washed it down with a local beverage or four.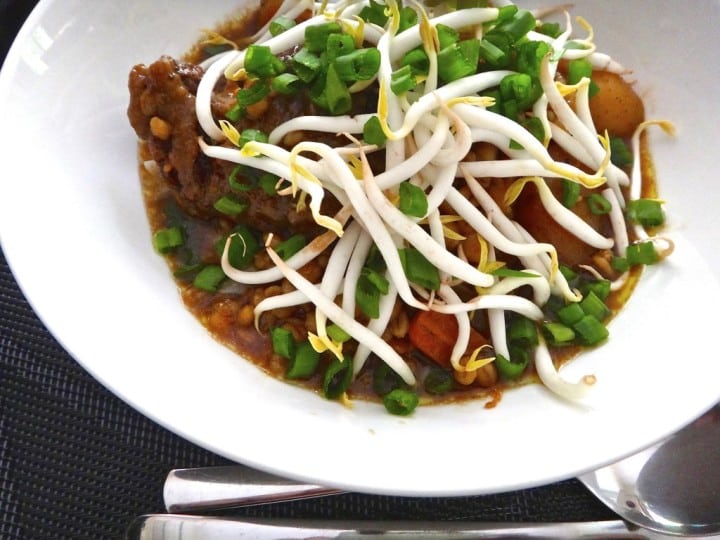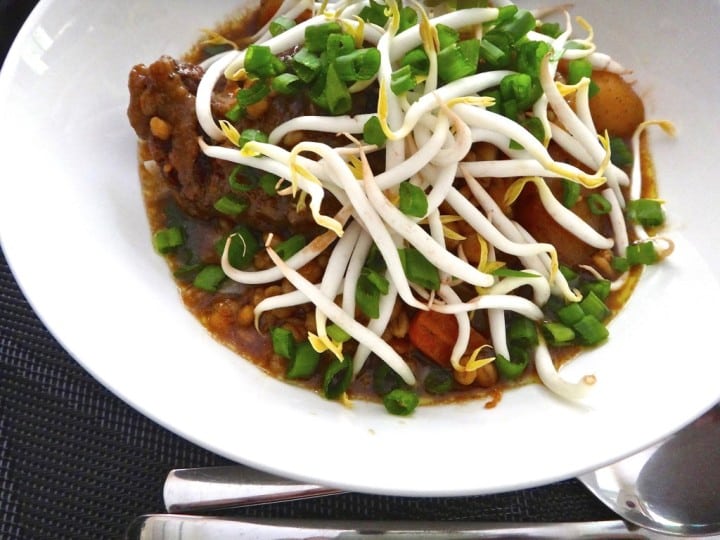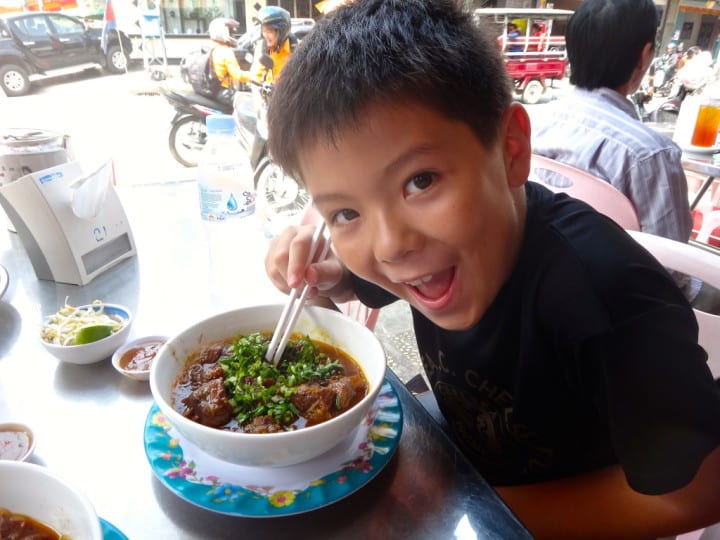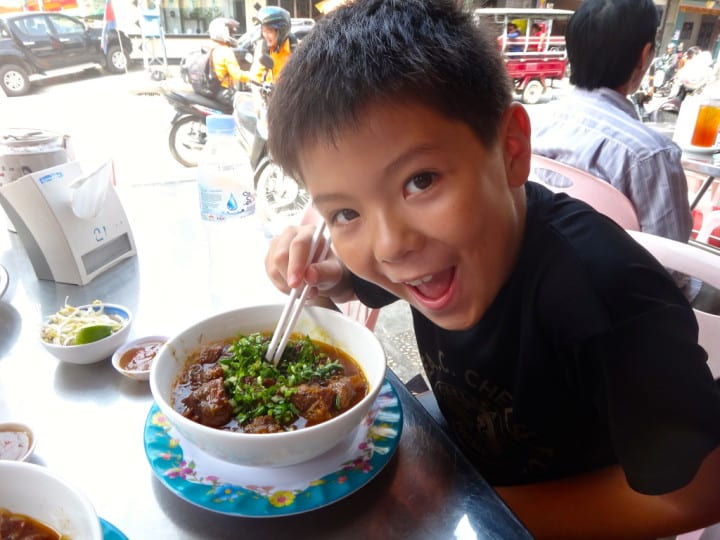 My recommendation of the local beverage to have with this soup is called Angkor. The locals of Phnom Penh also call it "Beer". It really goes together well no matter what time of the day it is. If ever you have the good fortune to get to Phnom Penh, please please try this dish and try it at this restaurant! Ask any tuk tuk to take you to 126 hawker/foodcourt, next to the food market – 10am is a good time. Sit, relax, chill, people watch, sip that beverage and enjoy the dish. I know you will.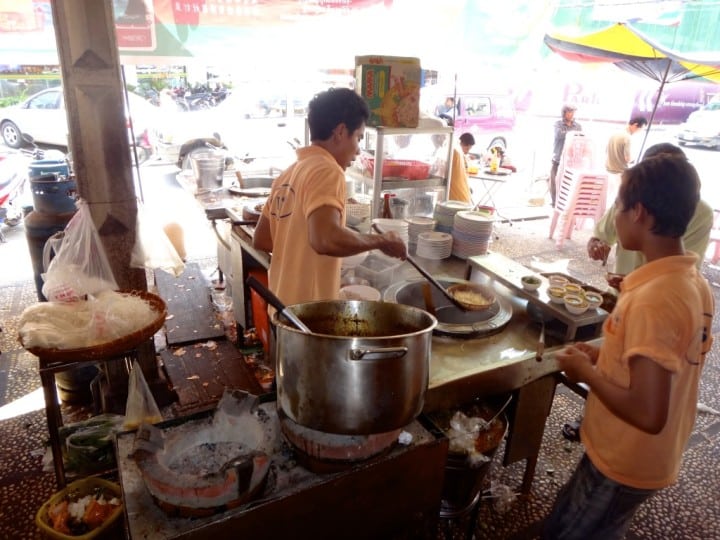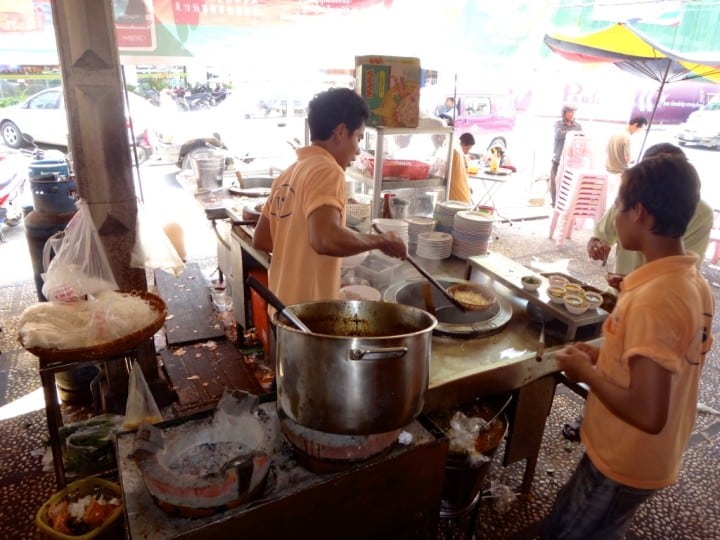 This will be enough for easily 4-5 – or has happened in my place enough for 2, as Ollie and Mary ate it all:
2kg of oxtail or beef tail and some beef tendon (if you like that type of thing);
Half a cup of dark soy;
2 cinnamon sticks;
4-6 whole cloves;
A knob of butter;
2 chili padi chopped;
2 garlic cloves chopped;
3 litres of beef stock, and I added another beef stock cube to really get the beef flavour going;
2 tablespoons of your basic "run of the mill" curry powder;
If you need to thicken (you shouldn't if you did indeed leave this for 2-3 hours) add some corn starch that you have dissolved and stirred in some cold water;
A pack or two of  Kway Teow Noodles or flat rice noodles – or to be honest any noodle or even plain steamed white rice. However for the more authentic Cambodia market experience go with the flat rice noodles;
Finely chopped green tops of 4 or so spring onions; and
A handful of beansprouts for garnishing the soup on serving.
Marinade the oxtails in the soy sauce, with some salt and pepper and set aside.
In a big pot place all the ingredients, excluding the oxtail, soy sauce, Spring onion tops, and beansprouts. Bring to boil, drop the heat to a simmer and then add the oxtail and soy sauce. You are nearly finished, as all you do now is let this simmer away for about 2-3 hours until the oxtail is cooked – it needs to be soft and literally falling from the bone.
Then zap the heat on high and let it go for about 15 minutes on full boil to really reduce the gravy down. Whilst that's going on, quickly blanch some flat rice noodles in some boiling water (about 1-2 minutes) and drain. Place the noodles in the bottom of some soup bowls, serve the oxtails and the gravy on top, and sprinkle the green tops of the onions, and the bean sprouts – you'll get the idea from the picture.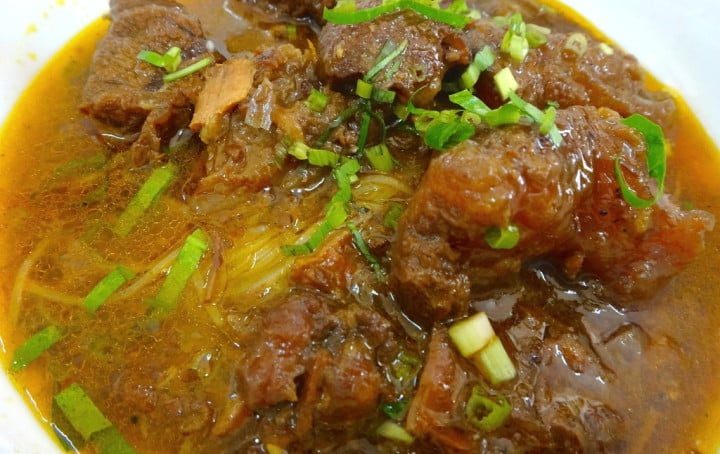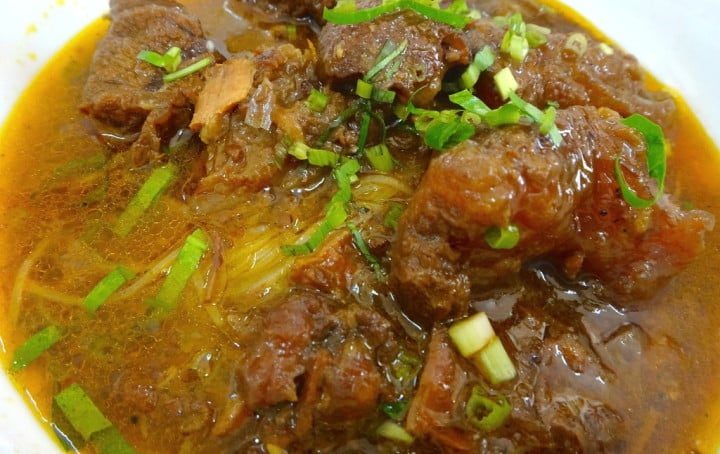 Dig in fellow foodies, this is one of the best I have ever created from a traveling experience – I seriously recommend this. It's a curry dish to die for. Meaty, fatty, lightly curry flavoursome, and hit with a variety of spices and herbs. Damn good in my reckoning and always reminds me of great times in the wonderful country of Cambodia. Such a beautiful place. Such beautiful people. I reckon you really should have a go. ENJOY!!!
Is Life a Recipe YouTube Channel
(Visited 22 times, 1 visits today)