Baked Beans on Toast
So the poor Semi-Naked Chef came home one day from work one day and thee was not a scrap of food was available for him. So what to do? I know, I really fancy beans on toast. Bloody hell, no Heinz in the cupboard at – just like Mrs Hubbard it was bare. I still want it so now I'll have to make my own, so I created my Baked Beans on Toast. These would be for a breakfast or brunch, sitting outside somewhere with a lovely hot cup of coffee.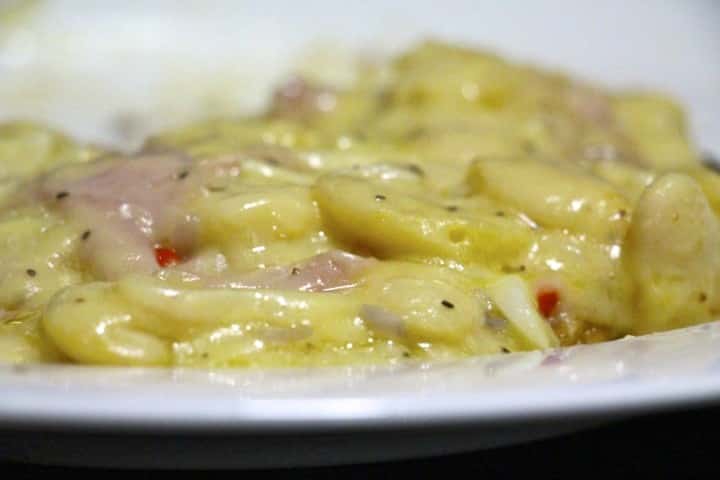 This would probably be enough Baked Beans on Toast for 4 people, or one pig with 4 slices of bread to him/herself;
4 slices of thick cut crusty white bread;
1 tin of drained butter beans;
1 good knob of salted butter;
3 finely chopped shallots;
3 finely chopped garlic cloves;
1 finely chopped chili padi (you could leave out, but it really does make a difference);
A good pinch of salt and ground black pepper;
2 tablespoons of double cream;
4 or so slices of honey glazed ham, that I then sliced in to thin strips; and
1 handful of grated mozzarella cheese.
And here we go, The Semi-Naked Chef's Baked Beans on Toast.
In a hot pan throw in the knob of butter and a drizzle of oil. Let the butter melt, and the add in the onions, garlic, and chili. Fry this off a little. Keep it all moving around as you don't want burnt, you're just sweating it down a little and keeping a little crunch;
Add in the beans, ham, cream, salt and pepper and let this bubble away, continually stirring as you want the cream to thicken but you do not want it to burn;
When thickened, sprinkle in the cheese, and take it off the heat as you can naturally melt the with the heat from the pan and the ingredients now within;
Now cut those big thick slices of Farmhouse White Bread and get it toasted, ad slather with some salted butter – one to two slices per plate, your choice;
Pour on the beans – maybe add a little garnish of a sprig of Thyme or something – serve.
There you have it the Semi-Naked Chef's Baked Beans on Toast – see you later Heinz, You're toast!!! These are cheesy, a little heat from the chili, nicely salty from the ham and every so gooey and creamy. Indulge yourself, these are damn good, and if you are making breakfast in bed one day try it and earn some serious Brownie points. A winner. ENJOY!!!
Is Life a Recipe YouTube Channel
(Visited 27 times, 1 visits today)