Asian Lasagne
I had to make dinner for the kids one day. But what to make? I know, let's have a twist on a classic. Let's make that classic dish with some Asian orientation. This dish is so very simple, and so very absolutely bloody delicious. This is a keeper folks. This is my Asian Lasagne. Come on boys you can do it – give this one a go for the family one day.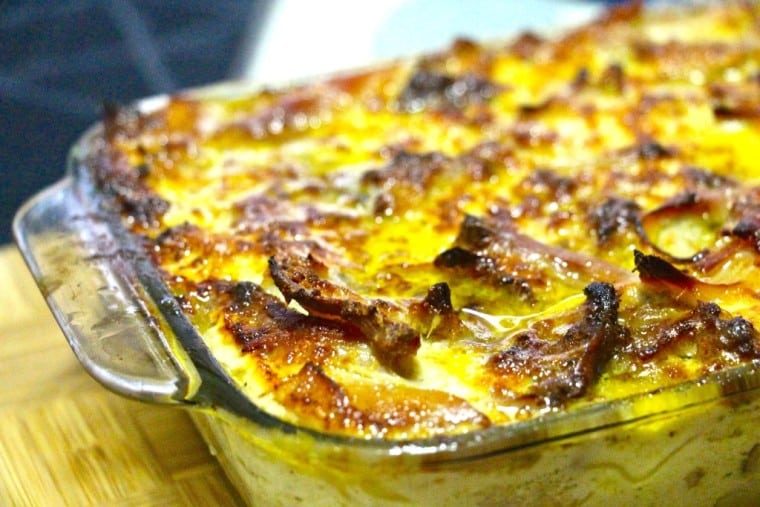 1 – Cheese Sauce
In a pan add in about 2 cups of milk, a tub of thickened cream, a sprinkle of salt and pepper, and then about 6 different cheeses. I went with loads of different varieties from Emmenthal, to Gouda to Parmesan. Bring the heat up and keep stirring until all the cheese has melted and the sauce is a thick consistency. Set this aside. That's your cheese sauce for the Asian Lasagne.
2 – The lasagne
Go to the supermarket and buy some roasted pork belly (take off the crackling and eat it separately – hey why not!) and chope to bit sized pieces. Also get a roast chicken, and pull off the meat from the bone. In a baking tray layer some lasagne sheets to cover the bottom. Spoon over some of the mixed meat – chicken and pork belly, Spoon over some cheese sauce. Layer some more lasagne sheets and repeat the meat and cheese mixture. Repeat this to the top of the tray. That is now you uncooked Asian Lasagne.
Heat the oven t0 220 degrees. Bang this bad boy in for 20-30 minutes until the lasagne sheets are cooked in the cheese sauce, and the cheese is nicely browned on top – as you can see in photo. You have now finished Asian Lasagne.
I mean come on that's not hard to cook right? Looks amazing and the taste, well what can I say.
This is a WINNER!!! The every so very simple, but so effective Asian Lasagne. ENJOY!!!