Spam frittata
Emergency, emergency – I was trying to order dinner from this real cool Thai place. "Yes Sir that will be delivered between 2030-2100." Said he. "But it is 1800 now!" Said I. "Yes sorry, we're busy." Said he. Bugger, no food and the kids can't wait that long. Time to create. In the fridge, we have loads of eggs, and in the cupboard, we have loads of spam – I know let's make Spam frittata. Come on fellas, you want to impress your squeeze, this is so so simple and very tasty for the whole family.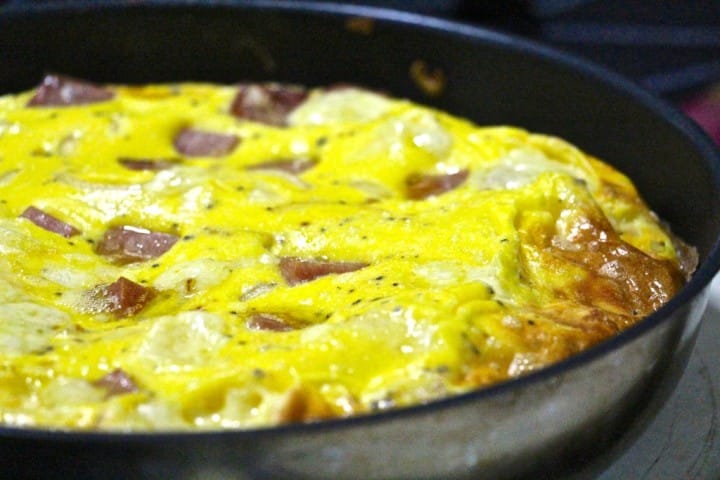 Big one this, this Spam frittata served 5 of us;
8 eggs, beaten;
4 tablespoons double cream;
1 finely sliced red onion;
3 finely chopped garlic cloves;
A good pinch of salt & cracked black pepper;
A good block of cheese (I used medium cheddar) cut into cubes; and
A tin of Spam (yep Spam) is again cut into cubes.
Off we go. You will need a frying pan with a metal handle as this needs to go in an oven for finishing off – get that oven hot on about 220 degrees. Put your pan on the heat and add a good glug of oil. Add in the spam, onion and garlic and fry that off a little;
Get your 8 eggs cracked in a bowl, add in the cream and a good pinch of salt and pepper. Add that mix to the onion, spam and garlic and move the ingredients around evenly within the egg. Then dot your cheese cubes all over it, as this will allow it to melt evenly into the Spam frittata;
Let that now cook as if it were an omelette for a couple of minutes to brown the bottom. Don't panic re the top still all being a gooey eggy. After 5 minutes on medium heat have a little look at the bottom of the omelette using a spatula. You want golden brown colour;
If that is there turn off the heat and in the oven, she goes. Let that go for about 5 minutes and have a check. You should notice it has risen somewhat;
Check again another 5 minutes later and it should have started to set, give it a little poke with a finger. Spongy is good;
A couple of minutes later when the top starts to brown, bring it out and serve straight at the table from the pan.
Providing some Health & Safety advice to all cooking this, not to grab the panhandle without a towel or something. Provide oven gloves with a spatula for cutting your own piece from the pan at the table. This was really good with the cheese melting all the way through the frittata, and that porky, salty Spam kick. What a very versatile and simple dish to knock up from leftovers, Spam frittata. ENJOY!!!