Slake Restaurant Siglap
What a lucky boy I am (well old man actually) as on 28th June I turned 48 and my lovely family decided to take me out for a wine and dine, And that event took place somewhere new we have not been before, despite it has been open for two years already, it's in Siglap and is actually next door to Amy's school – here comes my review of Slake Restaurant Siglap.
Asian fusion food was a little up there price-wise, but it was extremely good quality food – so worth paying it.
Telephone number for Slake: +65 6243 6220
What I haven't included here is a list of their sauces, sauces that you can take home too – colourfully named; "adopt a jar…" Very cool Slake Restaurant @ Siglap. We had most of the sauces though all included in the meals we ordered below – let me take you through those choices now, but first a quick look at the menu.
I like this menu – not too much to choose from. There were also a few specials on the board, but it is not overpowering with too much choice. Nice…
Yep it's SPAM fries, OMG so so decadent
Yes folks, SPAM fries. Absolutely amazing. Spam cut to chips, floured and coated in a light batter, and then deep fried. Well done Slake Restaurant @ Siglap, these little blighters were incredible. And served with this chili padi mayonnaise. Damned good!!!
OMG – probably the best nachos I have ever had, clearly homemade, but then top with sauces, mayonnaise, salad, and beef rendang – yes folks these are beef rendang nachos – BOOM!!!
Up next was the grilled Halloumi cheese, with a spiced apple chutney style topping and tomato relish, you just have to love grilled Halloumi and I sure did like their version
Even their Spring rolls were so good, freshly made (you could just tell), fried to perfection and no grease, just crunch and such a nice filling.
The only slight disappointment was the beef. Incredible sauce accompaniment with little beads of pomegranate too, that was genius. I ate the first bit you can see in the picture, crunchy charred meat, and a smoky taste that was so good.
But then the inner pieces of the steak became rather chewy sadly – so one criticism Slake Restaurant Siglap.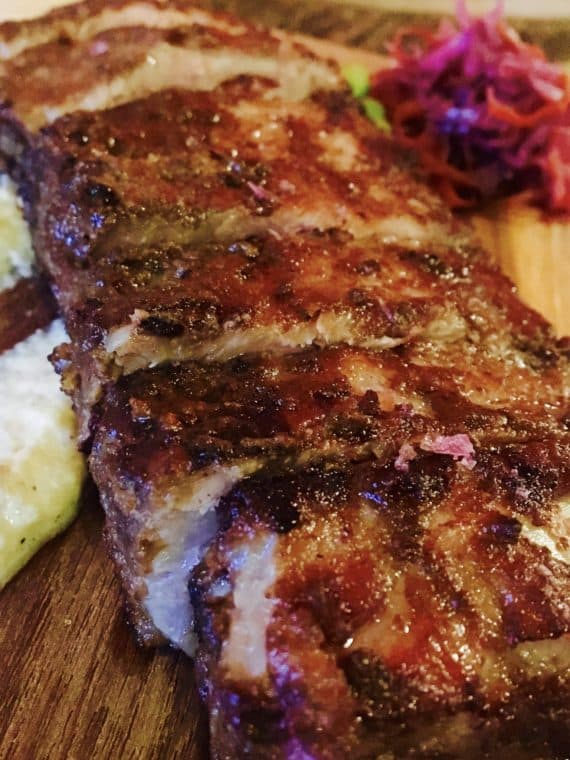 Perhaps should have saved the best until last; the pork ribs. Apparently, these get the top rating for the most favourite dish here, and now having eaten these I can see why – we actually had two portions of this, and they were just so good. With cauliflower puree and a mustard and kaya sauce – double BOOM!!!
And then we get hit with the Iberico pork jowl cutlet, almost Tonkatsu in style with a beautifully deep-fried, nonoily breadcrumb casing. This was a belter of a dish, nicely done
So there you have it folks – we had a cracking meal here at Slake Restaurant Siglap. A new location for us, a wonderful birthday surprise from my gorgeous wife Mary. Loved it entirely, well just one poke re the steak, but the rest was superior. I love the fusion nature of the food style, the sauces were so varied and so intense and a perfect companion to the food.
Great job Slake Restaurant Siglap, simply delicious, and we absolutely will be back for more, more, more and if you happen to be in Siglap I suggest you get in there and have some tucker from them too – ENJOY!!!